J. Joksimović and Szynkowski vel Sęk: Strengthening cooperation between two countries
September 24 2021 | Belgrade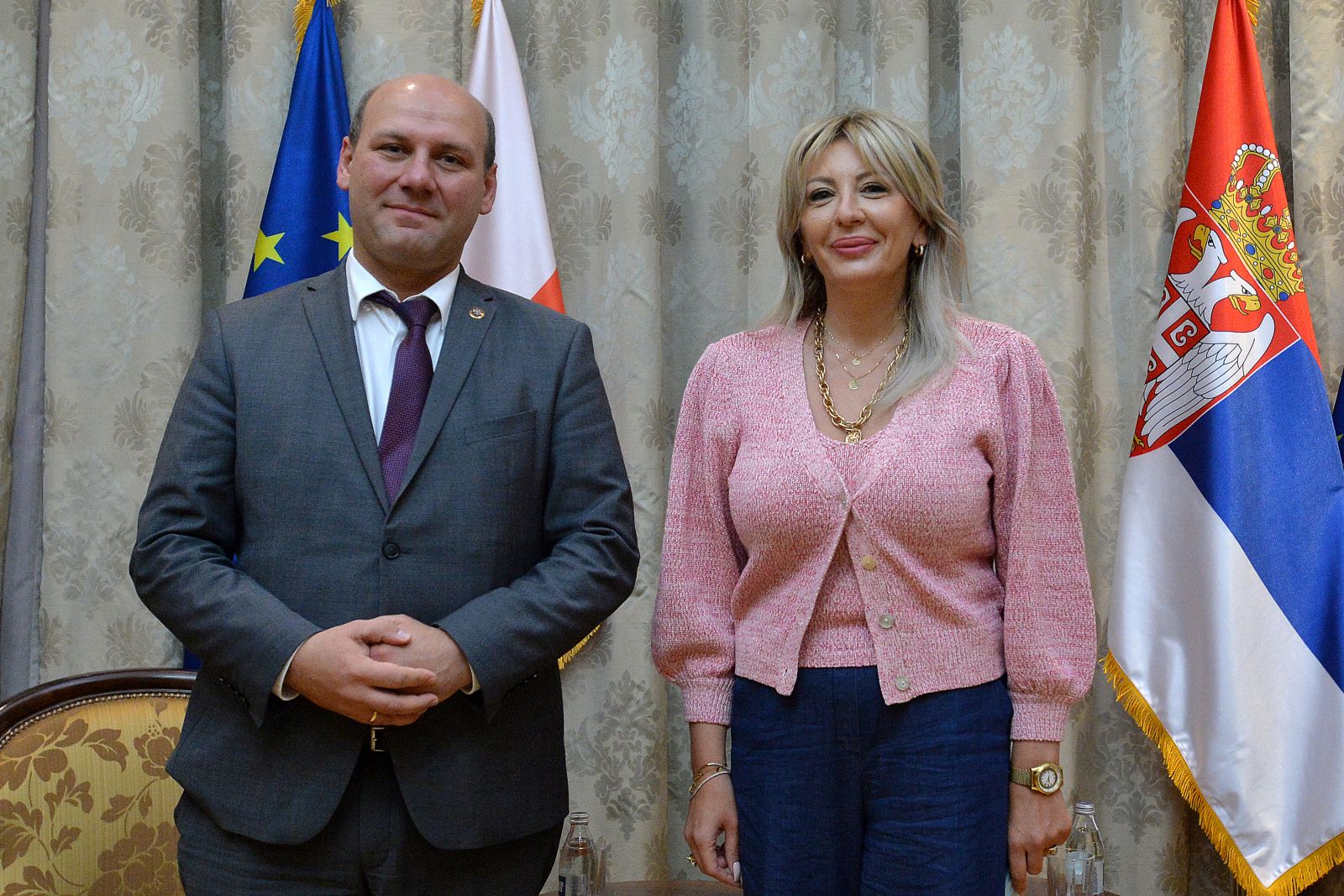 Minister of European Integration Jadranka Joksimović has met today with Szymon Szynkowski vel Sęk, a Secretary of State at the Polish Ministry of Foreign Affairs. They have discussed Serbia's European integration, bilateral relations and situation in the region.
Minister Joksimović has informed Szynkowski vel Sęk about the latest reform activities of the Serbian Government aimed at meeting all necessary requirements for the continuation of membership negotiations.
"Since the middle of this year, Serbia has been ready for the opening of two cluster, cluster 3 – Competitiveness and Inclusive Growth and cluster 4 – Green Deal and Sustainable Connectivity, and we have also accelerated our pace on improving the legislative framework and implementing the things adopted in opened cluster 1 – Fundamentals, in the area of the rule law", emphasised Joksimović.
In that regard, she has added that the judicial reform aimed at strengthening judicial independence is in the final stage of adoption, that the Media Strategy is being implemented, and that Serbia is working on improving the Law on Public Information in an inclusive way, as well as on further enhancing human rights, gender and any other type of equality, and the fight against corruption and organised crime.
Joksimović has stated that she is convinced that Poland will acknowledge everything that Serbia has achieved since it started applying the new EU enlargement methodology, and that it will continue to support Serbia's European path.
"We expect commitments to become more concrete on both sides, both from Serbia and the EU, that the EU enlargement policy continues to be implemented credibly, primarily through the formal continuation of negotiations, and I believe that Poland supports us in it, as a true political and economic partner", said the Minister.
Joksimović and Szynkowski vel Sęk have particularly discussed the topics of the Belgrade Conference, which the Polish Ministry of Foreign Affairs is organising in Serbia on 22 October.
This fourth bilateral conference is aimed at addressing the topics of special interest for Serbia's future European path. The interlocutors have agreed that this will be an opportunity to discuss, both at the political and expert level, the EU Common Foreign and Security Policy, reforms in cluster 6 – External Relations, cohesion policy, and the improvement of cooperation with the Visegrad Group countries.
In addition, they have stressed the importance of improving public and cultural diplomacy, as a special dimension connecting the two friendly countries and peoples, and of cooperation between the cities and regions of Poland and Serbia, which can contribute to the economic and political improvement of their relations.

Source: Tanjug