J. Joksimović: Hungary wants a strong EU, Szijjártó: There is no strong EU without Serbia
August 25 2021 | Budapest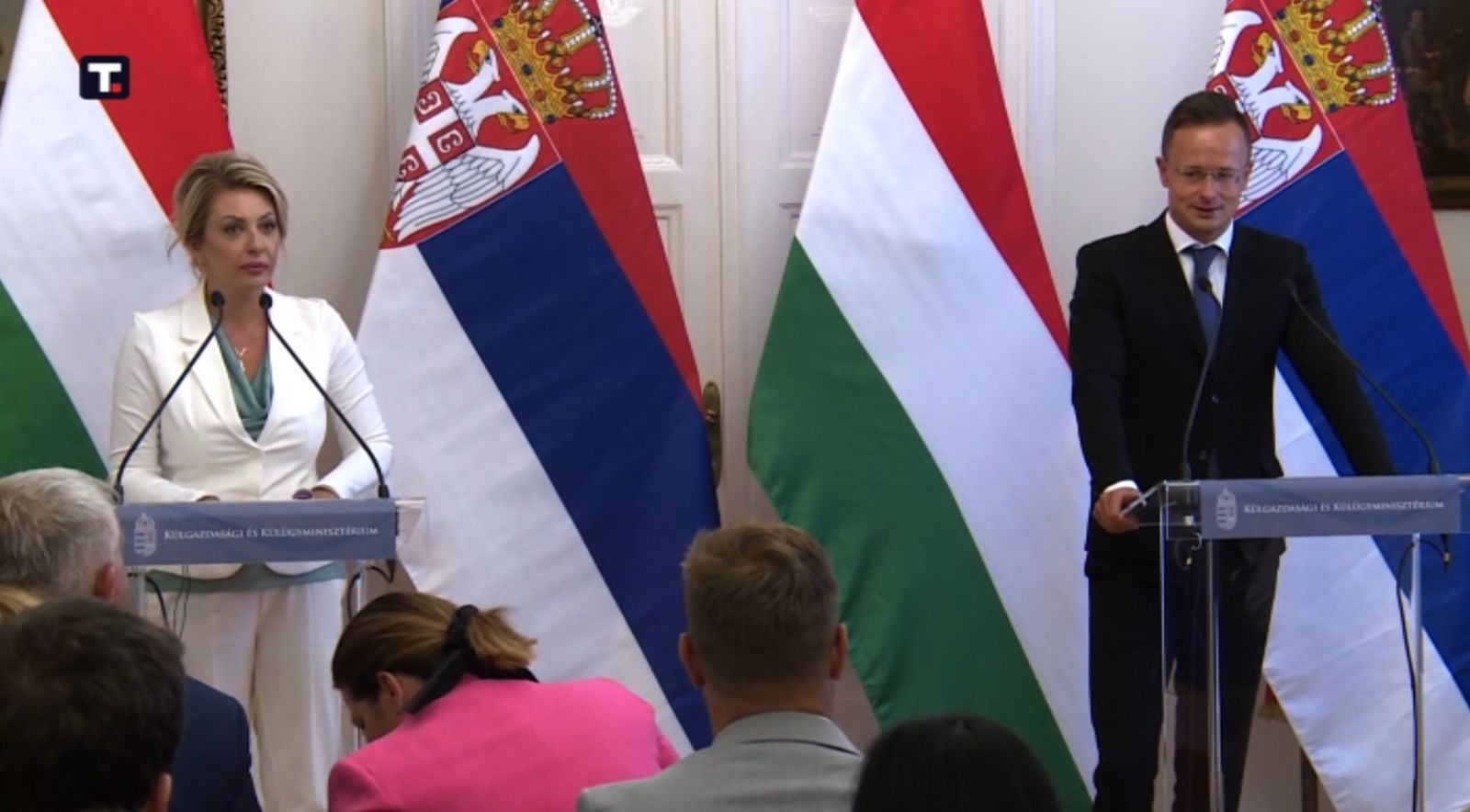 Minister of European Integration Jadranka Joksimović has stressed today that Hungary wants a strong EU and that this is a very important message, because Hungary is an important partner and a true friend to Serbia.
Joksimović has stated this at the press conference following the meeting between Péter Szijjártó and Hungarian ambassadors abroad and her tête-à-tête conversation with the Hungarian head of diplomacy.
Joksimović has stressed that the enlargement policy is in fact a policy of finalising the project of integrating Europe, as envisaged by the Paris Charter, adding that the EU project will only be over when all the countries are integrated.
"That process has entered a slow and not so popular stage, in the candidate countries as well. Serbia is striving towards the EU with great enthusiasm and readiness, not feigning but actually conducting serious reforms in line with the new methodology, having accepted new obligations as well", said Joksimović.
She has emphasised that Serbia is currently ready to open 12 chapters grouped under two clusters.
As she has explained, one cluster covers eight chapter, while the other covers four.
"Progress in the rule of law is the precondition. We will finalise the process by the end of the year. We are genuinely working. The EU itself also faces problems", said the Minister.
She has added that the enlargement policy must be credible and in the interest of everyone.
"Many member states believe that the EU functions well as it is, and that any new country is a problem. I don't see that Serbia is a problem in any area that we want to contribute. It is not in our interest to be a second-rate member, but an equal one, and we demonstrated that during the migration and COVID-19 crisis, when we distributed vaccines and other equipment, at a time when the EU could offer nothing to the countries of the region", said Joksimović.
According to her, Serbia does not run away from conducting reforms, but, on the other hand, the EU should speak with a single voice about the enlargement policy.
"I expect progress by the end of the year and to open at least one cluster, because the region would otherwise be left without a positive signal. We are not feigning our interest in the membership, but we would like to hear the EU speak with a single voice about enlargement", said Joksimović.
Speaking about today's meeting, Joksimović has stated that it was the second time she has had the honour to address Hungarian ambassadors and tell them about Serbia's EU accession process and regional cooperation.
"There were also colleagues from Croatia that we have outstanding issues with, but this is a good opportunity to show how important dialogue is even when you don't have perfect relations, but you want to improve them. It was also useful for us", said Joksimović.
She has noted that economic cooperation with Hungary is continuously improving, adding that, in the previous period, Serbia has attracted the largest investments out of all Western Balkan countries.
"We are showing political and every other kind of trust. We know that Hungary is supporting that. We have continued acting in line with the foundation of our relations, a that is respecting the rights of national minorities. I believe that, in this context, we have established an honest and fair treatment, which can be an example to everyone else in Europe. We have resolved previous disputes owing to Prime Minister Viktor Orbán and Serbian President Aleksandar Vučić", concluded Joksimović.
The Hungarian Minister of Foreign Affairs and Trade, Péter Szijjártó, has stated that it is good that discussion about EU enlargement and its strengthening has been reopened, adding that Hungary wants a strong EU, but that it cannot become such until the enlargement process is finished.
"When the EU talks about enlargement it refers to the Western Balkan countries, and Serbia is the key country in that region. Therefore, there is no strong EU without the enlargement process , that is – there is no strong EU without Serbia, and we ask the partners not to block the process", said Szijjártó.
He has said that certain member states say they support the enlargement process, but that they never make a decision to officially support it, adding that he primarily refers to Scandinavian and Benelux countries.
"This is not something you do to a proud nation such as Serbia – to say one thing and do the other – this represents disrespect to a nation", said Szijjártó.
He has emphasised that Hungary supports the opening of all chapters with Serbia, and has asked other EU member states to do the same.
"The importance of the Western Balkans is now particularly highlighted due to the events in Afghanistan, because it is a further problem for Europe, because if people from Afghanistan start leaving, they will not stop. Turkey is the first destination, and then the Western Balkans, where we can stop the migration", said Szijjártó.
Joksimović and Szijjártó have announced a joint government session scheduled for 7 and 8 September in Budapest.
Source: Tanjug