Vučić: IPA funds important for acceleration of reforms
July 15 2021 | Belgrade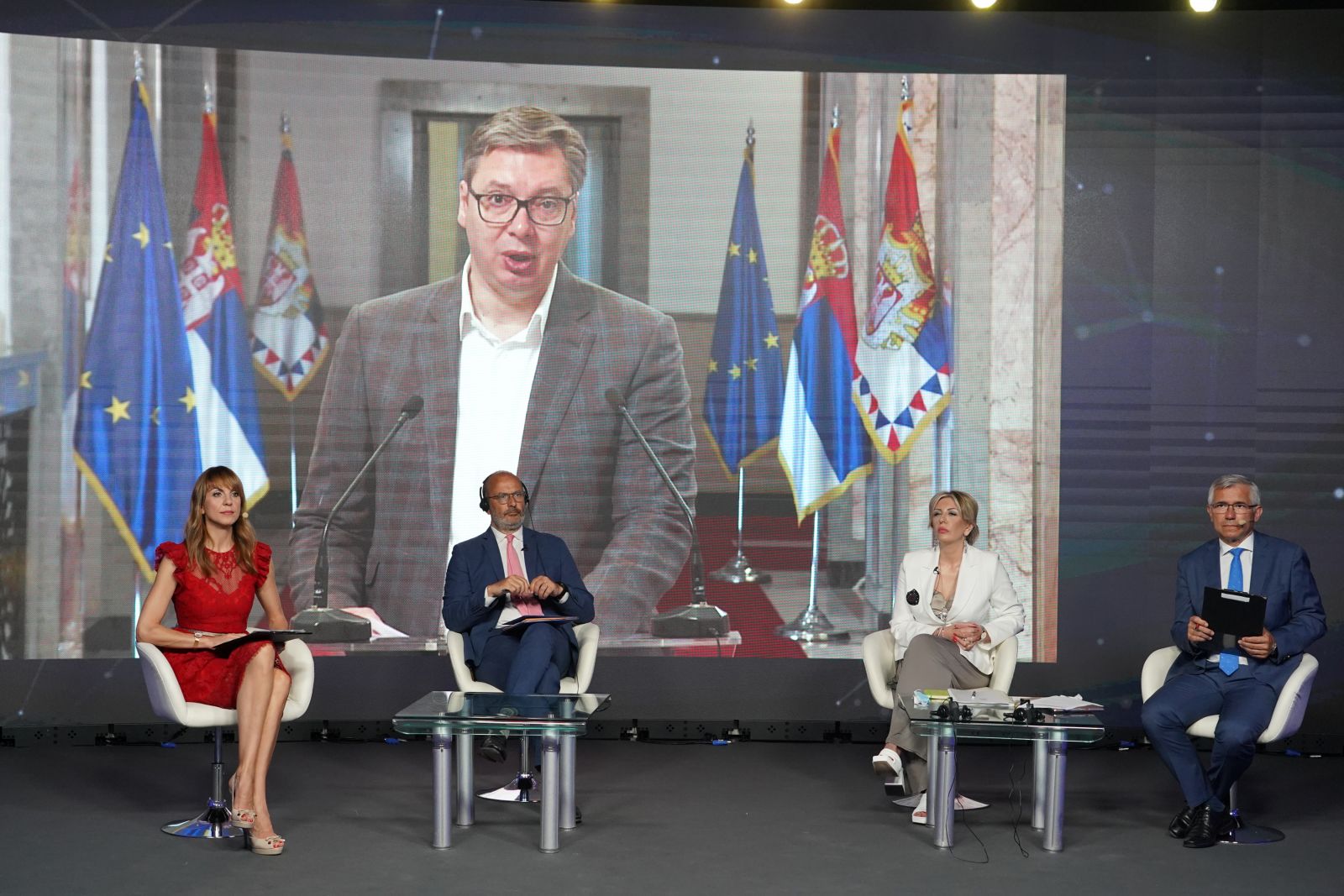 Serbian President Aleksandar Vučić has stated today that EU financial support through pre-accession funds is important as these funds are used to accelerate the reforms and reach the final goal – membership in the EU, and thus achieve the quality of life of Serbian citizens that is in line with the standards for EU citizens.
In his online address at the Conference on the results and possibilities of IPA funds in Serbia 'Serbia and the EU: Support to the development and membership negotiations' organised by the Ministry of European Integration, Vučić has said that every euro that came to Serbia from the EU and its taxpayers is appreciated, adding that he believes Serbia has so far responsibly treated this assistance that is available to it as a country in the accession process.
"In the upcoming seven-year EU budgetary period, Serbia is faced with an important task – to use the extensive available funds in the most efficient way possible. To implement projects from the pre-accession funds so that they would support our reform activities and thus more efficiently contribute to a more balanced development of our country", said Vučić.
According to him, membership negotiations and reform activities within the negotiations represent a vital impetus to Serbia's overall economic and social progress, adding that they are also a condition for sustainable growth and overall development.
As he has noted, he is obliged to address all issues concerning the sustainable growth and development of all our citizens and all parts of Serbia equally.
"That is why we will engage all our potentials, all our remarkable human capacities; we are already transforming education into lifelong learning that connects the needs of the labour market with education profiles, also using two new levers – digitalisation and green transition, which is fairly and properly targeted", added the President.
According to him, Serbia will succeed in it only if it works together with its neighbours in the region and its European partners on achieving a common goal – for Europe to become the first climate neutral continent by 2050.
"This is why it is important that, in agreement with the EU, we direct all future projects that will be financed from EU funds and IPA 3 perspective 2021–2027 into areas that are in line with our national reform goals and that can bring sustainable growth to the whole region", said the President.
He has added that the largest number of projects will be financed through the Economic and Investment Plan for the Western Balkans, as support to a faster development of the entire region, recovery from the crisis, and reaching the social and economic standards of the European Union.
"We know that together we are more successful, and this is not a naive ideal of political unity and unrealistic harmony, but a dynamic movement on the path of exchange of ideas, people, goods and capital", noted the President.
He has also emphasised the results of IPA 2, which covered the financial perspective for the period 2014–2020, and has added that the EU is Serbia's largest donor with more that EUR 3 billion in grants.
The President has said that Serbia is implementing reforms in all important areas, such as the rule of law, energy, agriculture, infrastructure etc.
He has also said that by responsibly implementing sometimes difficult and unpopular reforms, Serbia is now in a position to say that if it were an EU member today, it would not be the poorest one.
Adding that the structural funds used by the EU member states are much larger than available pre-accession funds for countries in the negotiation process, Vučić has said that it is important for Serbia to show the resilience and strength of its economy and society while it is still negotiating.
"I definitely wouldn't like for Serbia as an EU member to be a country which after 30 years of membership would use structural funds, and whose development would constantly have to be financed from the outside. That is why we are now strengthening our resilience, building our growth on sound foundations and project our sustainable development goals", said Vučić.
He has stressed that it is very important that transport connectivity is also financed through IPA funds, adding that this should include a number projects, such as the Niš–Pristina motorway, regulation of the navigable waterway of the Sava and Danube, and development of the railway infrastructure.
Connectivity is a principle that is also incorporated in other areas such as energy, said Vučić, adding that Serbia has defined projects in that area as well.
The conference 'Serbia and the EU: Support to the development and membership negotiations' is organised by the Ministry of European Integration, and in addition to President Vučić, EU Commissioner for Neighbourhood and Enlargement Olivér Várhelyi, Minister of European Integration Jadranka Joksimović has and Head of the EU Delegation Sem Fabrizi will speak at the conference.
Source: Tanjug