J. Joksimović: Czech Republic is an important partner to Serbia on its EU road
June 29 2021 | Belgrade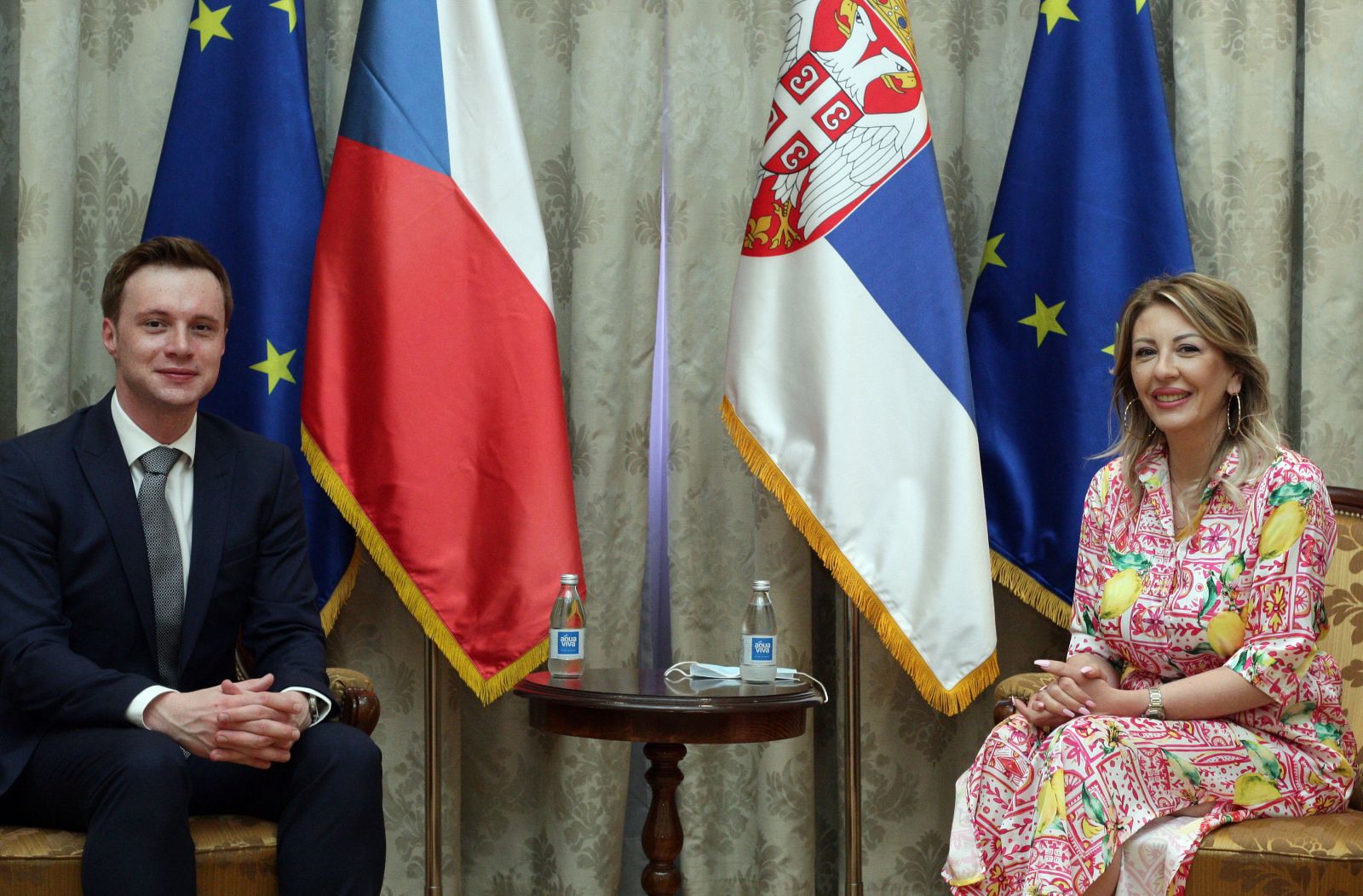 Minister of European Integration Jadranka Joksimović has spoken today with Deputy Minister of Foreign Affairs for European Issues of the Czech Republic Aleš Chmelař on Serbia's accession to the European Union as well as bilateral relations and situation in the region.
"Serbia is especially encouraged by the fact that the Czech Republic has recognised our Government's reform efforts and supported the faster dynamics of pre-accession negotiations at the recently held Intergovernmental Conference with the EU. Such position of our Czech partners, and very good political and economic relations of our countries represent a foundation of stronger connection with the European Union itself", Joksimović has emphasised.
She has informed her interlocutor about the results of the Government in meeting the benchmarks for further continuation of negotiations, both in the rule of law area and clusters 3 and 4, which include inclusive growth and competitiveness, green agenda, digitalisation and sustainable connectivity.
"I expect that in the course of the year our European partners would additionally and specifically recognise the achievements of the new Government, first of all, our high political responsibility and readiness to accelerate the progress both for achieving the EU membership, but primarily to improve the lives of Serbian citizens", Joksimović has emphasised.
Aleš Chmelař has said that the Czech Government is trying to additionally strengthen already good relations between the two countries through consistent support to Serbia in its process of accession to the European Union.
He has indicated the useful experiences they had and emphasised that the Czech Government is ready to provide assistance and support to Serbia's European path.
"The EU considers both Serbia and the Western Balkans as important partners with whom we have to jointly implement the policies based on the European values and standards and whose European perspective is unquestionable", Deputy Minister of Foreign Affairs of the Czech Republic has said.
Joksimović and Chmelař have in particular considered the initiative of ministers in charge of European matters of Austria, Czech Republic, Hungary, Poland and Slovakia referred to the highest officials in the EU on including the Western Balkans in debate during the Conference on the Future of Europe.
Joksimović has underlined that it is very encouraging for Serbia and the region that the EU member states see us as their partner in shaping the new European reality, in view of the fact that future directions of the EU development will have a direct impact on the future generations.
"The position visible in that initiative is that present and future member states have to jointly work on defining the European future and we comprehend it as an important form of support for EU enlargement", Joksimović has said.
Joksimović has thanked the Czech Republic for the support it has been so far providing to our country in the process of European integration.
Source: Tanjug