J. Joksimović: Serbia bravely entered green transition
June 08 2021 | Belgrade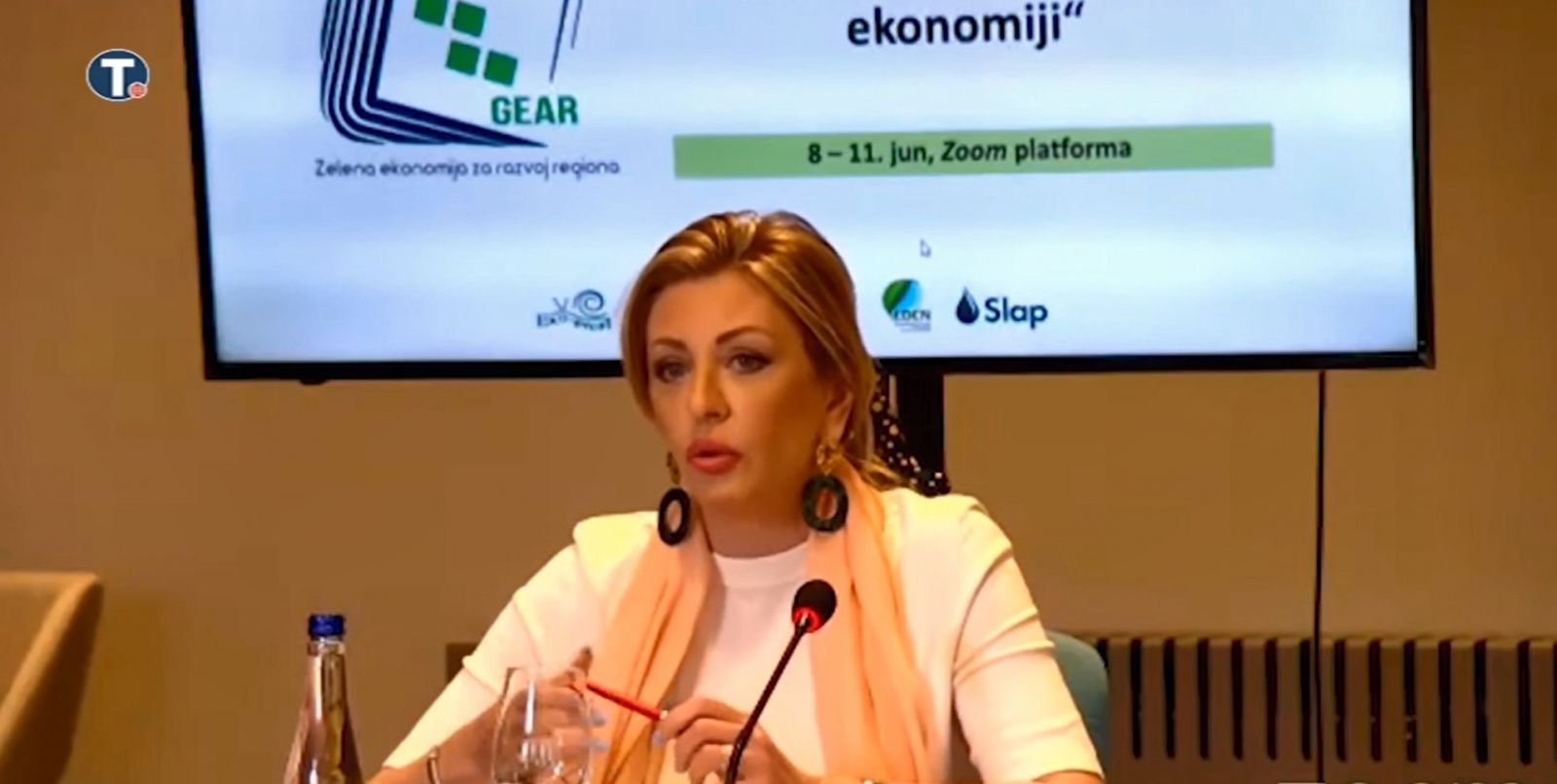 Serbia bravely and responsibly entered the current of global transformation, which includes transition to a green economy, as stated today by Minister of European Integration Jadranka Joksimović.
At the opening of the Regional Conference 'Transition to Green Economy', the Minister has stressed that public policies, particularly those related to the Green Agenda, new ways of operation, production and consumption, and "silent" transition towards a circular economy, are issues addressed by the most developed countries of the world, the European Union, as well as Serbia.
"This topic has not become only a political, economic and philosophical topic overnight, and it is not only a topic for leftists who advocate social justice, freedom and green economy, but also for centrists and rightists, who advocate both the future and the preservation of the family, tradition and nation, and competitive economy", said Joksimović.
She has assessed that this topic goes beyond ideologies and that it must be the subject of interest of all social actors and the responsibility of everyone from central government, academic community, to the local community, and especially the business community.
Joksimović has welcomed the networking of business establishments across the Western Balkans in terms of green economy.
"My key message for today's event is the necessity of partnership at all levels. Of partnership that intertwines traditionally divided public policies, which seemingly have not communicated for a long time and where the work of the public sector, business actors, micro-entrepreneurship, national business associations and international business associations has been separated", emphasised the Minister of European Integration.
She has recalled that, under the new negotiation methodology, the EU grouped chapters into clusters, wherein it identified cluster 4 related to the Green Agenda, digitalisation and sustainable connectivity, which covers four chapters.
This includes chapter 21 on trans-European networks, chapter 14 on transport, 27 on environment and climate change, and chapter 15 on energy.
"All these are important and interrelated chapters, and I must say that, in the previous month and a half, we have made enormous efforts and managed to prepare entire cluster 4", stressed Joksimović.
She has added that cluster 3 – Inclusive growth and competitiveness, which includes eight chapters, has also been prepared.
She has emphasised as particularly important the fact that IPA 3 financial perspective for the period 2021–2027 has been recently adopted, and has stated that, within IPA 2, the Ministry of European Integration has implemented important projects related to environment, digitalisation and sustainable connectivity, which have a vital regional dimension.
"Significant funds have been allocated through the upcoming IPA 3 financial perspective for all of us in the region, but not according to national allocations as before but according to projects that will have a strong element of connectivity and projects that are related to cluster 4", explained Jadranka Joksimović.
She has stated that, last summer, Serbia submitted numerous projects, some of which have already been accepted, adding that those are mostly projects related to green and digital agenda.
Source: Tanjug