Competition for REGIOSTARS Awards 2021
March 30 2021 | Belgrade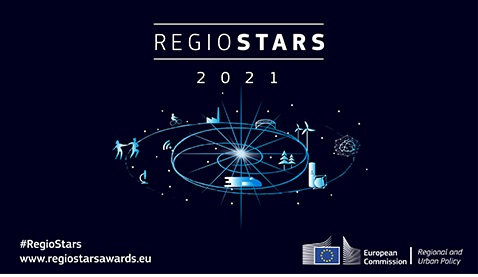 Every year, the European Commission grants awards to EU-funded projects that are characterised by excellence and new approaches to regional development. Projects within this initiative are given substantial media attention at the European level so as to inspire other European regions to participate as well.
Main categories
The REGIOSTARS are awarded to projects in five thematic categories (smart, sustainable and inclusive growth, urban development and a topic of the year). In 2021, the REGIOSTARS are focussed on five areas that are crucial part of the EU's regional policy: 
•    SMART Europe: Increasing the competitiveness of local businesses in a digital world
•    GREEN Europe: Green and resilient communities in rural and urban settings
•    FAIR Europe: Fostering inclusion and anti-discrimination
•   URBAN Europe: Promoting green, sustainable, circular food systems in functional urban areas
•   TOPIC OF THE YEAR: Enhancing green mobility in the regions: European Year of Rail 2021.
A panel of high-level academics in the respective fields will assess the submitted applications and select the winners. In addition, the public will decide on its own winner among the finalists through a public on-line vote and award the Public choice award to one of the projects.
Get more information about the award categories in the Guide for Applicants.
How to apply?
This Guide for Applicants provides you with all the necessary information to make your project a winner. In addition to the detailed description of this year's award categories, the eligibility and award criteria, the Guide contains practical information on the application process.
Guide for Applicants:
https://regiostarsawards.eu/sites/default/files/inline-files/REGIOSTARS GUIDE FOR APPLICANTS 2021.docx.pdf
The on-line application platform is open from 9 February until 9 May 2021.
On-line Application Platform
The news is that in 2021 the finalists are invited to training sessions on communication as part of the European Week of Regions and Cities in October. The winners in the five categories, and the winner of the public choice, will receive their well-deserved prize at the REGIOSTARS award ceremony, to take place in Dubrovnik, Croatia in December 2021.