J. Joksimović: Together with EU in fight against pandemic
March 23 2021 | Belgrade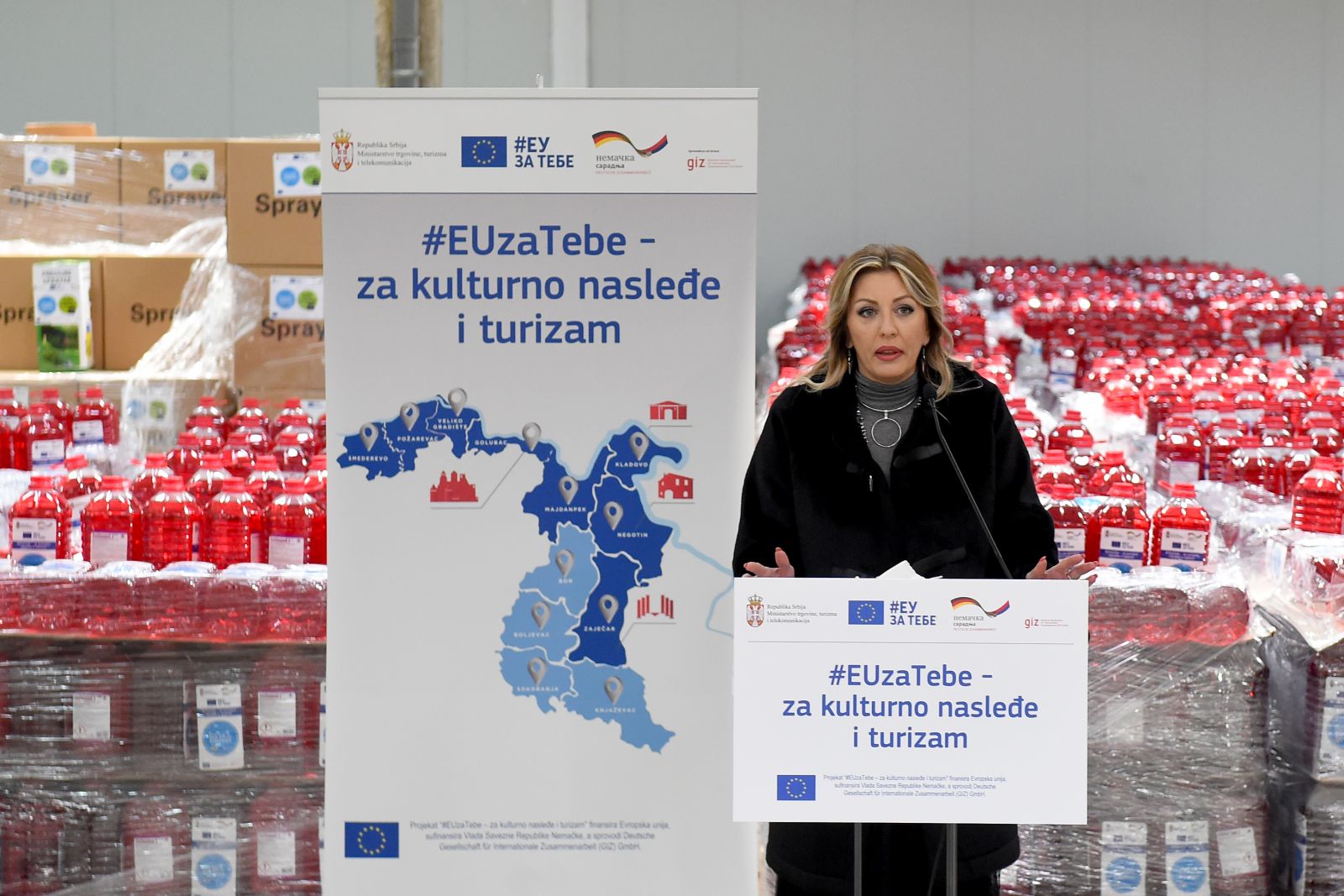 Along with the EU, Serbia has so far taken a series of significant steps in fight against the coronavirus pandemic, in domains of both health care and economy, says Minister of European Integration Jadranka Joksimović, adding that she expects that Covax facility will soon become operational and ensure procurement of vaccines for all countries of the Western Balkans.
Today, Joksimović has attended the outset of distribution of the first amount of assistance from the project "#EUforYou – EU for Cultural Heritage and Tourism", meant for tourist facilities across Serbia in the total value of EUR 662,000, initial amount whereof has been directed to Golubac and Eastern Serbia.
The assistance, says Joksimović, includes disinfectants, non-contact temperature assessment devices and other necessary equipment for maintaining maximum hygienic safety in tourist facilities – hotels, hospitality businesses and restaurants.
She specifies that this support is part of the broader project related to improvement of the tourism sector in general, in the total value of EUR 15 million.
"In the present circumstances, the hospitality businesses are not working, but it is important that they get maximally prepared for the moment when the measures would allow them to work", says Joksimović.
She has mentioned that this assistance would contribute to a higher level of competitiveness of the Serbian hospitality sector, and, with the application of all protective measures it would be able to yield higher income, including the visits of tourists from other countries when the conditions for travelling are met.
She has emphasised that another important part of this project is certification of facilities as "Clean and Safe", which includes the application of all the best standards and protocols in hospitality businesses so the guests would be sure that all hygienic and other health measures have been observed.
"I believe that a large number of our facilities across Serbia will voluntarily join this certification and thus improve their status and contribute to health and safety of present and future guests", says Joksimović.
This current project of assistance, says Minister, is another in a series of steps of joint fight of Serbia and the EU against the COVID-19 pandemic.
"Only with joint efforts can we primarily do everything we can to protect the health of people, but also to ponder on how to overcome numerous consequences that pandemic will certainly have on all societies in Europe, and Serbia too, primarily in economy, but also in any other domain and we have to think about it on time", says Joksimović.
She mentions that since the beginning of the pandemic the efforts were made to make all the funds available to Serbia as the pre-accession country, including IPA funds and other development instruments, redirected whenever possible for the most important needs, all in agreement with European partners.
She has reminded of the urgent procurement of medical supplies at the beginning of the pandemic and mentioned that in the second year of the coronavirus pandemic, the efforts were made to direct all available funds to recover from the consequences of the pandemic in both health care and economy.
Among the most important activities that Serbia has recently implemented with the EU Delegation and in agreement with the EC, Joksimović mentions the recent distribution of 20 ambulance vehicles.
She has said that these funds were obtained through reallocation of EUR 3.2 million.
"We have managed to obtain 20 ambulance vehicles, but we are also procuring vehicles for vaccines transport, especially Pfizer vaccine which is demanding regarding transportation and the overall logistics; we are also buying contactless disinfectant dispensers for 1,000 schools across Serbia so as to provide children attending school with this important prevention and also help them get introduced and adapted to this new reality and something which will become common for many years ahead", Joksimović has said.
She has reminded that Serbia has disclosed all public expenditure as regards urgent interventions in the first four months of the pandemic and it has also submitted application for the EU Solidarity Fund that it has access to as a full-fledged member.
"The European Commission has granted EUR 12 million in grants to Serbia on basis of the precisely presented expenditures that we as a country disclosed", says Joksimović and mentions that among 20 countries that have applied for assistance in the recovery from pandemic, Serbia has been granted more funds than some EU member states and incomparably more than some other EU candidate countries.
She has mentioned that this would significantly reinforce Serbian budget for covering up those very expenditures that were made in the first wave of the urgent state reaction and the cost of medical equipment supply in the first four months of the pandemic outbreak.
She has expressed her expectations that the Covax facility for procurement of vaccines for the entire Western Balkans will start functioning soon, adding that the EU countries are facing huge problems as regards vaccination and that we have understanding in that sense.
At the same time, she says, Serbia has made efforts and strived, especially President Aleksandar Vučić, but also the entire government, to secure vaccines for our citizens wherever possible.
"In that sense we are really a good practice example in Europe, but we hope that the Covax facility that is intended for everyone in the Western Balkans will soon become operational", says Joksimović.
Source: Tanjug