J. Joksimović and F. Jacob: Cooperation plans for sustainable development
March 03 2021 | Belgrade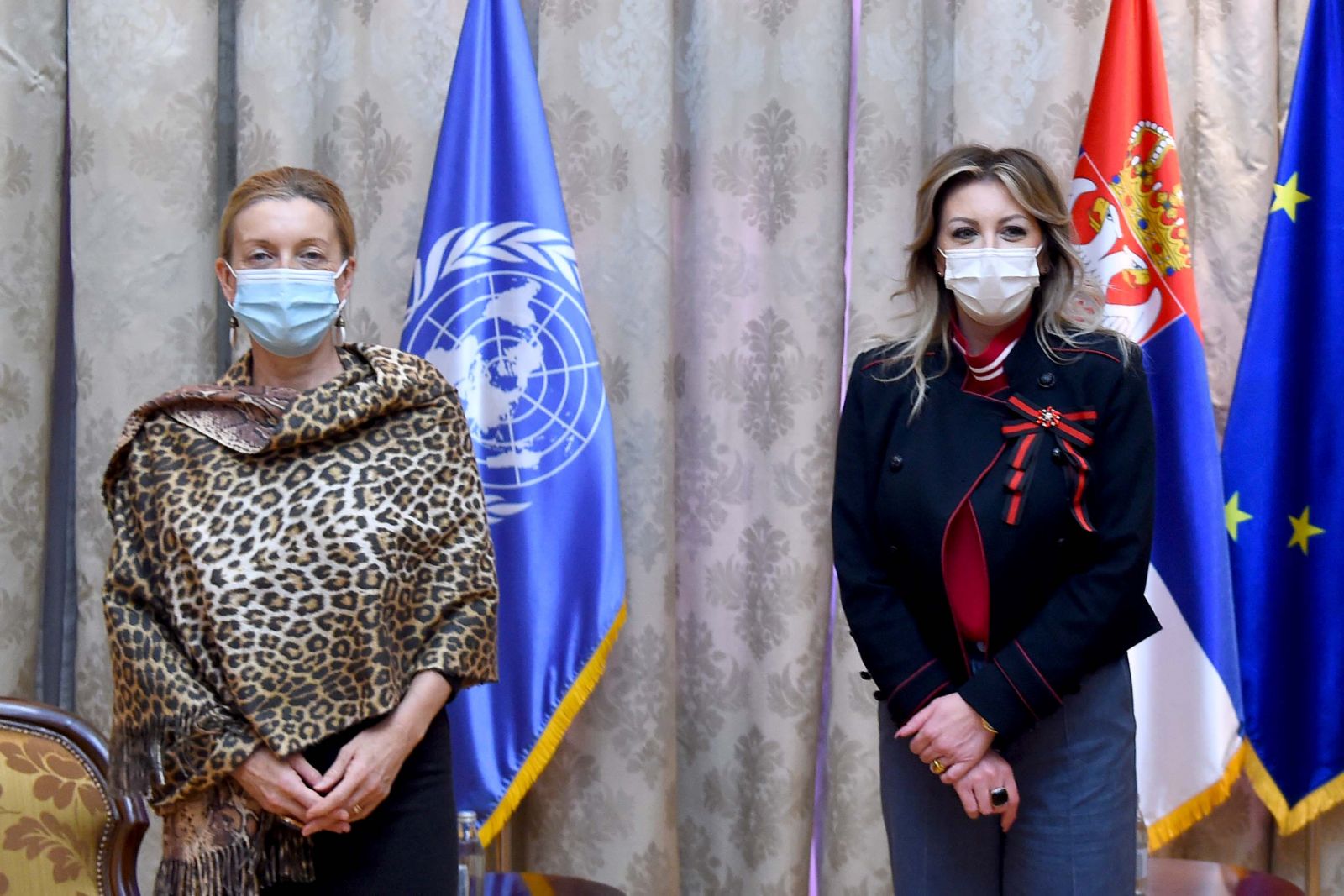 Minister of European Integration Jadranka Joksimović and UN Resident Coordinator in Serbia Françoise Jacob have talked today about mutual cooperation in the upcoming five-year budget period.
They have also discussed the support the UN team in the Republic of Serbia provides in the realisation of projects important for Serbia's European path.
Joksimović has stressed the importance of the expertise and knowledge UN agencies have and use to help in the realisation of projects in numerous areas, with the aim of accelerating the reforms in local development, prevention and tackling of the effects of disasters, human rights, health protection, social inclusion, gender equality, and migration.
Joksimović and Jacob have agreed that the possibility of cooperation on the promotion of the Green Agenda goals is vital, as the Green Agenda is a new development policy that opens new opportunities, especially for younger generations.
The Minister has emphasised that cooperation is particularly important with regard to the implementation of the goals of sustainable economic and social development and the UN Agenda 2030, noting that developed cooperation with international partners, including UN agencies, in these areas is important for the Serbian Government. 
"In this way, during and after the COVID-19 pandemic, joint planning and programming, and subsequent implementation of a large number of projects more swiftly creates conditions in which the results of international development assistance become even more beneficial for Serbian citizens", stated Joksimović.
Jacob has said that the UN team in Serbia works with Government institutions on the implementation of projects in specific areas of cooperation that have been previously defined.
"We particularly focus on those whose results contribute to Serbia's faster accession to the European Union", said the UN Resident Coordinator in Serbia.
Source: Tanjug