J. Joksimović: Cyprus provides consistent support to Serbia's European future
January 22 2021 | Belgrade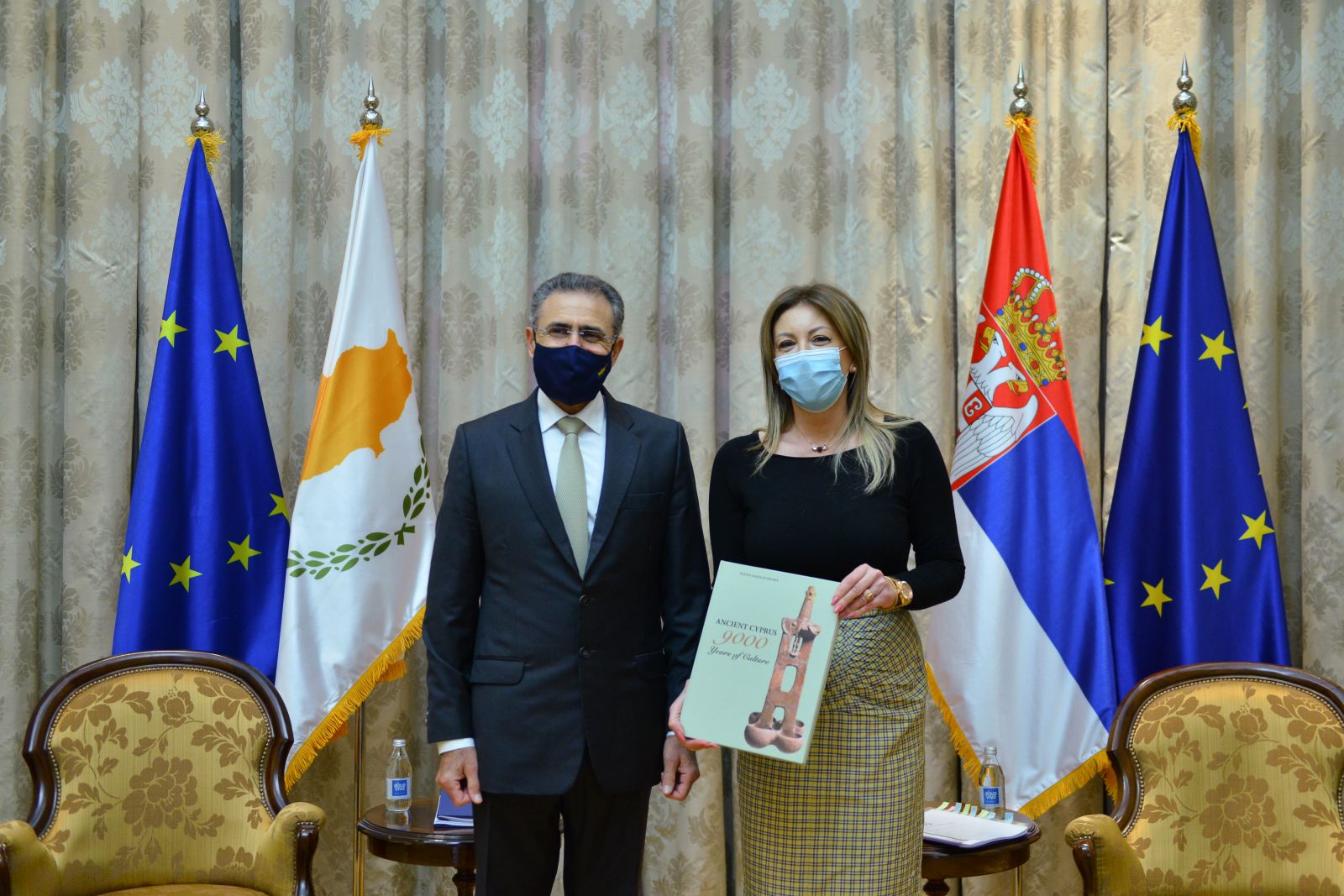 Minister of European Integration Jadranka Joksimović has met today with Demetrios Theophylactou, the newly appointed Ambassador of the Republic of Cyprus to Serbia. They have discussed Serbia's European integration process, bilateral relations and the situation in the Western Balkans.
According to the MEI press release, Joksimović has wished the Ambassador a successful diplomatic term of office, emphasising the highly friendly relations between the two countries.
"The principled position Cyprus holds regarding the respect of international law and the territorial integrity of Serbia is extremely important for us, as well as its support to our country's efforts to find a solution for achieving a sustainable stability in the Western Balkans through dialogue and the mediation of the EU", underlined Joksimović.
Speaking about the continuation of accession negotiations with the EU, Joksimović has said that the Government of Serbia expects the European Commission to soon present detailed procedures for the realisation of the new negotiation methodology, followed by a roadmap that will include the obligations and deadlines for their realisation, acknowledging the progress Serbia has made since 2014.
"The Intergovernmental Conference, where these issues would be discussed at a high political level, should be held as soon as possible. This would also be in accordance with the initial idea of the member states and the European Commission which entails that the new methodology should contribute to the acceleration of the process, as well as to the credibility of the enlargement policy, with significant acceleration of reforms carried out by candidate countries, for which Serbia is ready", said Jadranka Joksimović.
Ambassador Theophylactou has said that he will dedicate his term of office in Serbia to concrete forms of support to Serbia's European integration process, development of economic cooperation, and cultural diplomacy.
"The intention is to follow the priorities of the European Commission in our future cooperation, but also for the governments of Cyprus and Serbia to find the field of cooperation in their mutual interest, particularly in the period of the socio-economic recovery after the pandemic is tackled", stressed the Ambassador.
He has expressed Cyprus' readiness to actively support the reform process and to jointly identify the areas where Cyprus has good expertise and for which Serbia expresses interest.
Source: Tanjug