J. Joksimović: Spain actively supports Serbia's European path
December 14 2020 | Belgrade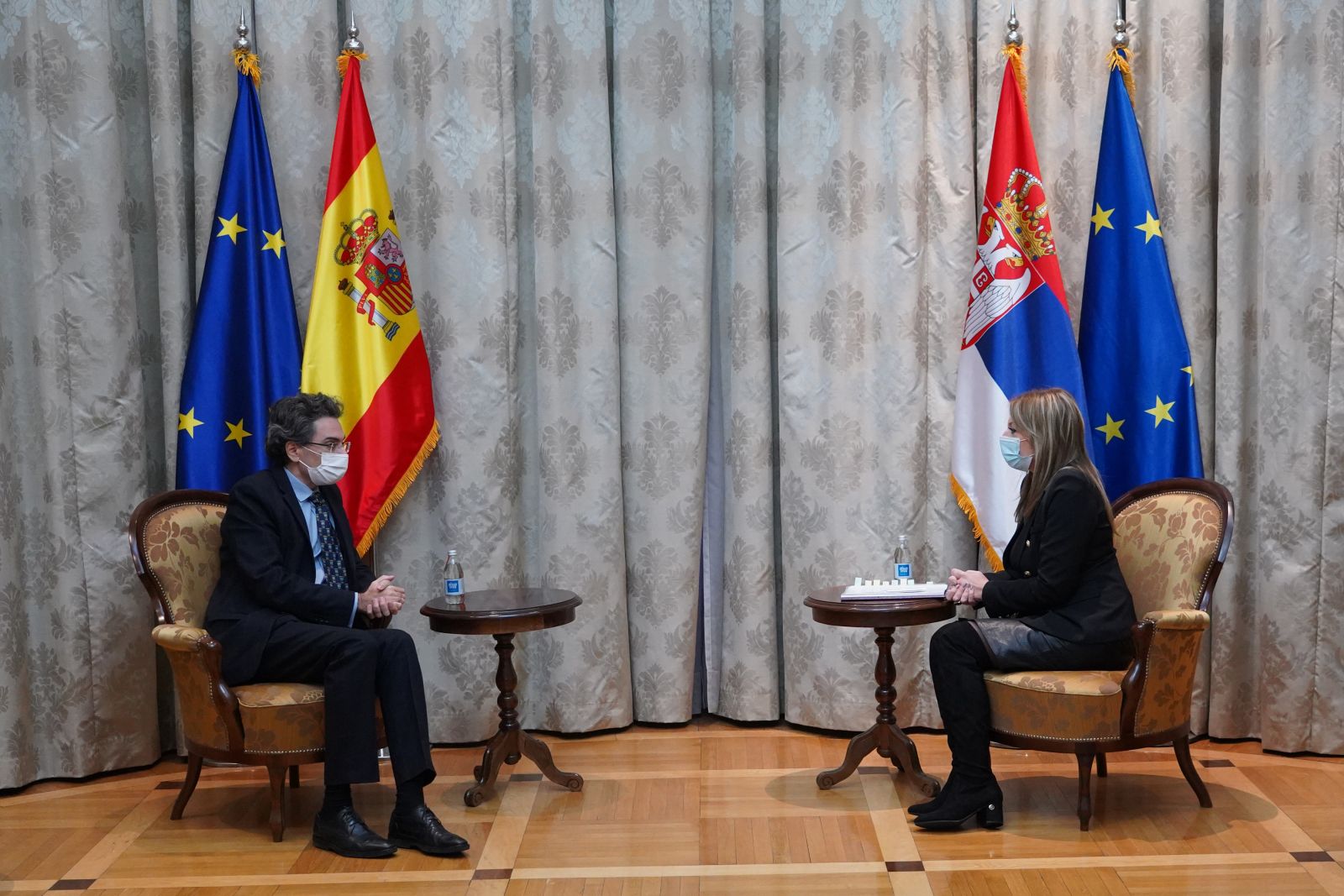 Minister of European Integration Jadranka Joksimović has talked today with Spanish Ambassador Raúl Bartolomé Molina about Serbia's activities in the EU accession process, bilateral relations and the situation in the region.

The Minister has reiterated gratitude for the support Spain has been providing to Serbia on its European integration path, particularly bearing in mind that Spain is a principled advocate of the EU enlargement policy, and that it is consistent in not recognising the unilateral declaration of the independence of so-called Kosovo.

Joksimović has informed the Spanish Ambassador about the activities the Government has taken in the accession process, particularly about the implementation of the Action Plan for the first negotiation cluster that comprises five opened chapters in the area of the rule of law.

"In line with the thoroughly prepared plan, which took account of the European Commission's recommendations from this year's Report on Serbia, an initiative has already been put forward to the National Assembly regarding the adoption of constitutional amendments, while we are also working on applying the agreements reached with journalist associations within the Media Strategy", stressed the Minister.

She has added that the Government's plans include other areas of the negotiation process as well, primarily those related to the Green Agenda, digitisation, sustainable connectivity, and segments of the society and economy that enable an accelerated economic growth and development and a better quality of the life of Serbian citizens.

"I expect that all these activities and the way to accelerate the pace of negotiations under the new methodology will be discussed with European partners at this week's Stabilisation and Association Council session", stressed Minister Joksimović.

The interlocutors have also discussed the Economic and Investment Plan for the Western Balkans that will finance the construction of key regional infrastructure and development of the private sector, with further inclusion of the region into the EU's economic flows.

They have agreed that economic development and regional cooperation is the best path towards strengthening stability and accelerating the EU accession process.

Ambassador Molina has stated that his country will continue to actively support Serbia's accession to the Union. He has particularly emphasised that it is important that reforms in the areas of the rule of law, economic and sustainable growth are producing results and that their continuation guarantees a faster road to membership.

Joksimović and Molina have also analysed the epidemiological situation in the two countries and the EU, particularly stressing the importance of demonstrated European solidarity in times of an extreme health crisis.

They have concluded that the bilateral relations between Serbia and Spain are excellent, and that both countries are committed to their further improvement.

Source: Tanjug