J. Joksimović and Lähdevirta on accession process and application of new methodology
November 16 2020 | Belgrade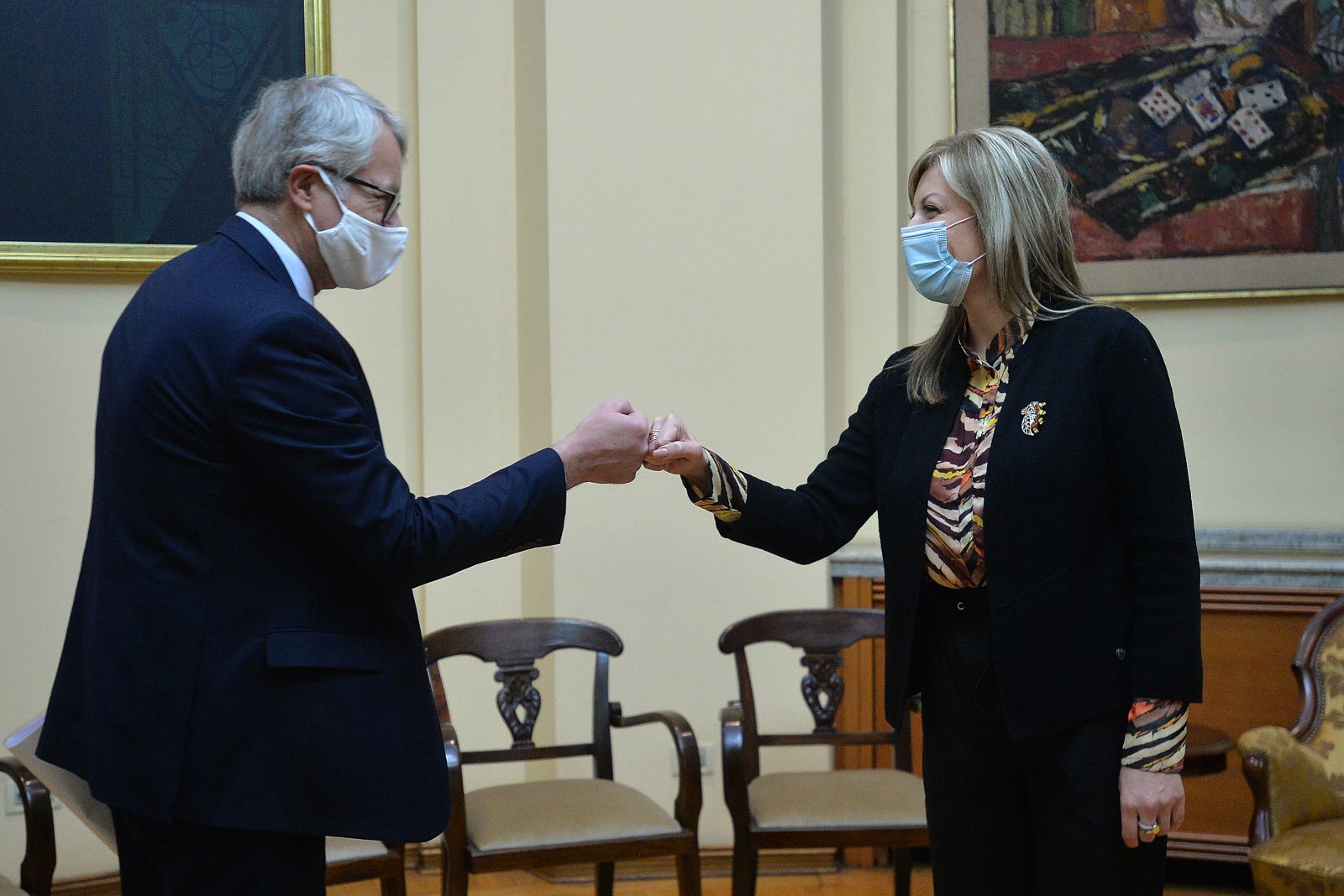 Minister of European Integration Jadranka Joksimović has spoken today with Finnish Ambassador to Serbia Kimmo Lähdevirta about the process of Serbia's accession to the EU, bilateral cooperation and relations in the region.
Joksimović has informed the Finnish Ambassador about the priorities of the new Government, which include the acceleration of the reform process, particularly in the areas important for faster accession of Serbia to the European Union, which are related to the political and economic criteria that constitute the essential pillars of the Copenhagen criteria on which the entire process is based.
She has thanked Finland for its consistent support to the EU enlargement policy and on its understanding that it is this policy that represents a credible mechanism of stabilisation of the entire Western Balkans, as well as that enlargement is a prosperous policy not only for the candidates but also for the EU.
They have also exchanged opinions on the current situation regarding the COVID-19 pandemic in the EU and Serbia, and on the effects it has had on the societies and economies of the affected countries, primarily on healthcare systems and citizens' health, as stated in the MEI press release.
The interlocutors have concluded that Serbian economy has demonstrated significant flexibility and resilience owing to a responsible and stable economic policy in the previous years.
Lähdevirta has stressed that Finland is unequivocally committed to the process of EU enlargement onto the Western Balkans, along with meeting all established criteria for candidate countries.
He has expressed belief that Serbia will continue to implement reforms as a confirmation of its commitment to EU membership and its expressed dedication to EU values, particularly in the area of the rule of law.
The interlocutors have discussed the possibility of holding the Intergovernmental Conference by the end of the year, in line with the new negotiating methodology Serbia accepted, where previous results of negotiations would be addressed, as well as the application of the new methodology on Serbia's EU negotiation process, Serbia's plans regarding the accession process, and the opening of clusters during the upcoming year.
Joksimović and Ambassador Lähdevirta have assessed the previous cooperation in the area of European integration as highly successful, particularly in the areas where Finland, owing to the high level of expertise and technical standards, has been a crucial partner to Serbia, including digitisation, innovation, social protection, labour law etc.
The two officials have agreed to consider possibilities for further improvement and strengthening of bilateral relations, through which Serbia would receive additional expert assistance in aligning with the EU acquis.
Source: Tanjug