J. Joksimović: The world is in a period of transformation, Serbia is keeping pace with the changes
October 16 2020 | Belgrade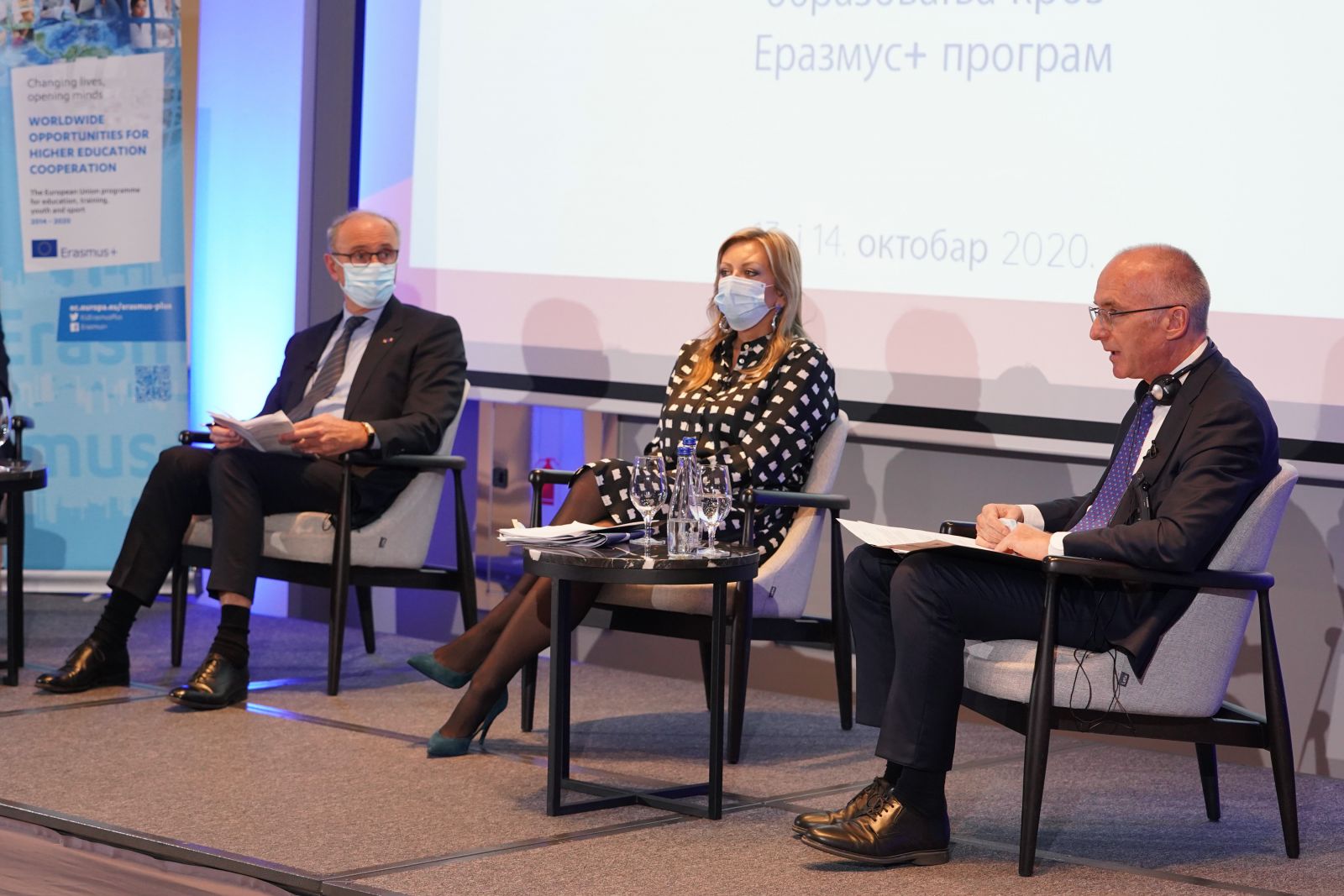 Minister of European Integration Jadranka Joksimović has assessed today that the Erasmus programme is one of the best EU programmes, adding that the whole world is in a period of transformation that requires new knowledge, which is why it is good that Serbia has been a participant in this programme since 2019 and that it is keeping pace with the changes in full capacity.
At the conference 'Cooperation between Serbia and EU – creating possibilities for education improvement through Erasmus Programme', Joksimović has said that the programme has existed since 1987 and that its objectives are the creation of a common European education space, youth connectivity across Europe, student exchange, and the acquisition of knowledge and skills.
However, according to her, we are now entering a transformative period that the entire world faces, which requires new knowledge, new skills and new ways of production and consumption, so as to achieve the goals the EU has set for itself – sustainable development and sustainable way of improving the economy and competitiveness.
"This requires new knowledge, which is why Serbia entered the programme on time and, instead of being just a non-member state with limited access to funds, it is now a full-fledged programming country that has all possibilities for withdrawing funds for good projects," said Joksimović.
She has added that the entire Serbian academic community, including pre-school teachers, teachers and university professors, students and everyone involved in the education system have access to these funds.
Joksimović believes that it is particularly important that the EC announced that additional funds for the Erasmus programme would be allocated in the new 'Next Generation' package, in the seven-year budget.
She has added that, given that the budget has not yet been fully adopted, we cannot talk about specific figures, but there will certainly be a significant increase.
"This is also evident from what European Commissioner Várhelyi presented last week, which is the Economic and Investment Plan for the Western Balkans," said the Minister.
According to her, the Innovation Agenda for the Western Balkans and initiatives aimed at improving skills, knowledge and economy and achieving a green and digitised economy indicates that Serbia needs to create new experts, acquire new knowledge and start using new forms of communication, production, consumption and learning.
"For me, one of the most important and greatest Serbian historical figures was Dositej Obradović, a great educator and the first minister of education in 1811, who used to say – 'Books, my dear brothers, books, not bells and jingles'.
Today, as we are on the verge of one such revolution, we would say: 'digital platforms, educations, tablets, computers and new forms of communication, instead of worn-out platitudes and same stories over and over again'," said Joksimović.
She has stressed that Serbia has entered that current of change, which is also happening in Europe and the rest of the world, through the Economic and Investment Plan, as well as through Erasmus in which it fully participates.
Joksimović has added that Serbia also entered this current of change owing to all its potentials."It is indisputable that Serbia has been recognised in the Western Balkans and as a partner to the EU and as a country with great human potential, resources, knowledge and innovation. Of course, there is a lot of work to be done, but it is important that we all get involved on time, from pre-school teachers to university professors," noted Joksimović.
She has added that it is undeniable that, in the area of education, Serbia is neck and neck with European countries, which is evident from the fact that it is a full beneficiary of the Erasmus programme and that chapter 26 on youth and education has been temporarily closed, meaning that Serbia is largely aligned with the European standards.
However, the Minister has noted that, in order not only to maintain this but also improve it, Serbia has to motivate and engage young people primarily, as well as all others, including professors, teachers and tutors, and to keep up with the developments in Europe.
"We must not fall behind, we must embrace the circumstances and not miss the opportunity," said Joksimović, noting that it is still being said that in 1989 and 1990 Serbia did not recognise what was going on in the world and thus made mistakes.
"We now recognise what is happening, and we are on the verge of a transformative revolution, and I believe that Serbia is keeping pace with the changes in full capacity," concluded Joksimović.
Source: Tanjug