INTERREG IPA Cross-border Cooperation Programme Croatia – Serbia 2014–2020 marks European Cooperation Day
September 23 2020 | Zasavica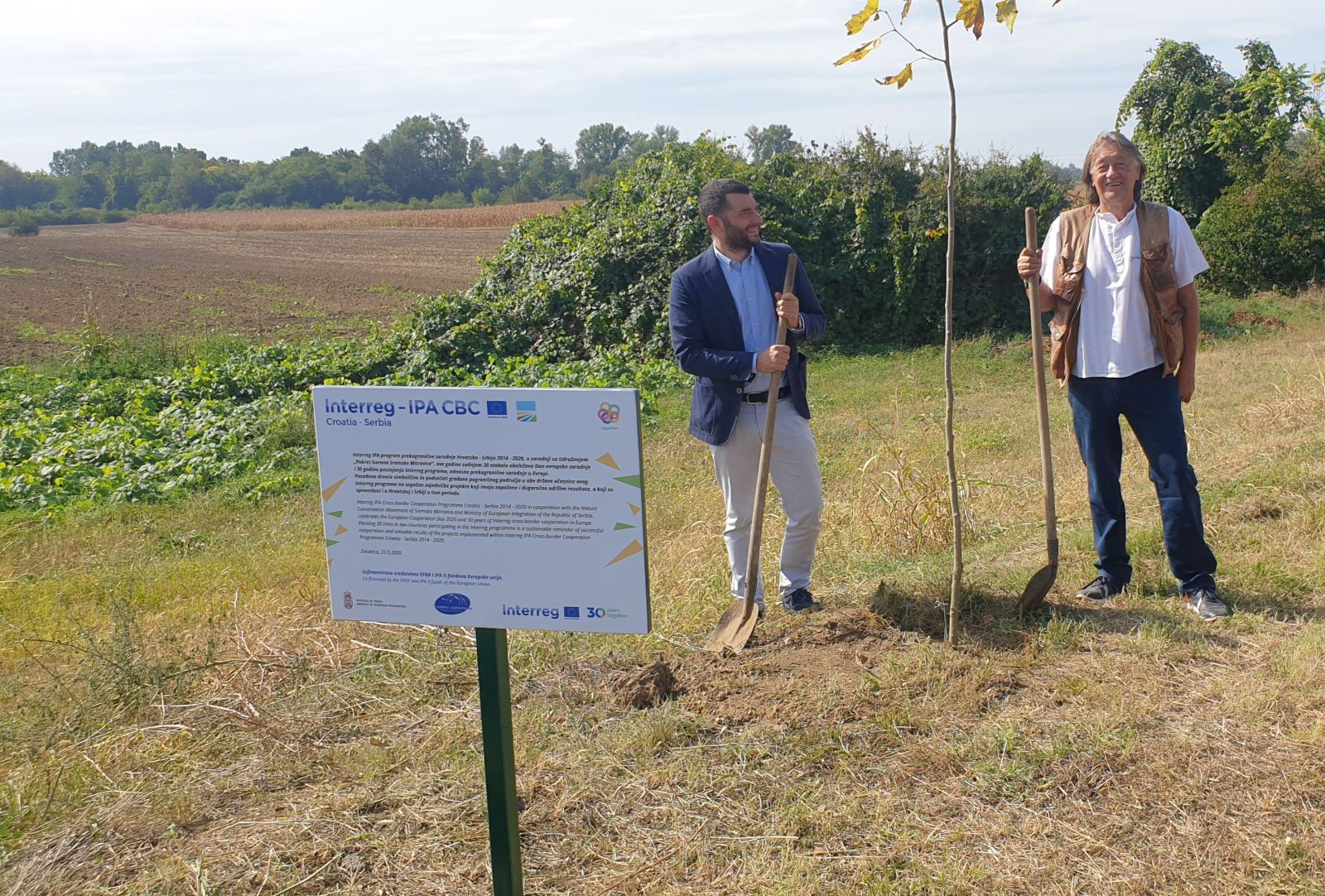 The Ministry of European Integration of the Republic of Serbia (MEI) as the National Authority in the cooperation programme and the Environmental Movement of Sremska Mitrovica, which manages the Zasavica Special Nature Reserve, have marked the European Cooperation Day.
The celebration was organised at the Zasavica Special Nature Reserve and was dedicated to the thirtieth anniversary of territorial cooperation across Europe.
To mark this jubilee, the INTERREG IPA Cross-border Cooperation Programme Croatia – Serbia planted 15 seedlings on each side of the border between Serbia and Croatia, symbolically marking the successful functioning of the programme. The seedlings were planted along the bike path in Zasavica village in Serbia, and along the Ivovac channel at the Zlatna Greda Eco Centre, in Kopački Rit, Croatia.
Mihajilo Dašić, Assistant Minister of European Integration in charge of cross-border and transnational cooperation held an opening speech, where he stressed that the results of cross-border cooperation in Europe, as well as in Serbia, were visible and significant, adding that that form of cooperation contributed to the development of local communities in crucial segments, such as infrastructure, healthcare, education, environmental protection etc. He further noted that the gesture served not only to draw attention to cross-border cooperation, but also to raise awareness of local communities on the importance of preserving the eco-system and the environment. On the occasion, he announced the continuation of successful joint activities of Serbia and Croatia through a new cooperation programme that was undergoing preparation and that would be implemented during the 2021–2027 financial perspective.
Slobodan Simić, the Manager of the Zasavica SNR, stressed that, in the previous 10 years, the Environmental Movement of Sremska Mitrovica, together with partners from Croatia, had implemented four projects within the Cross-border Cooperation Programme Croatia – Serbia.
As a result, capacities for nature protection and managing protected areas of the cross-border region were built. These projects also contributed to the improvement of strategic cooperation between institutions dealing with nature protection and natural resources management on both sides of the border.
The INTERREG IPA Cross-border Cooperation Programme Croatia – Serbia has been implemented since 2014 and has a total value of more than EUR 40 million, of which EUR 34 million have been allocated by the European Union. The Programme's priorities for the financial period 2014–2020 have been the following: improving the quality of social and healthcare services in the programming area, environment, risk prevention, energy production, tourism, cultural and natural heritage, competitiveness and development of small and medium-sized enterprises.