J. Joksimović: EU financing 112 projects worth a total of EUR 2.5 million
June 17 2020 | Belgrade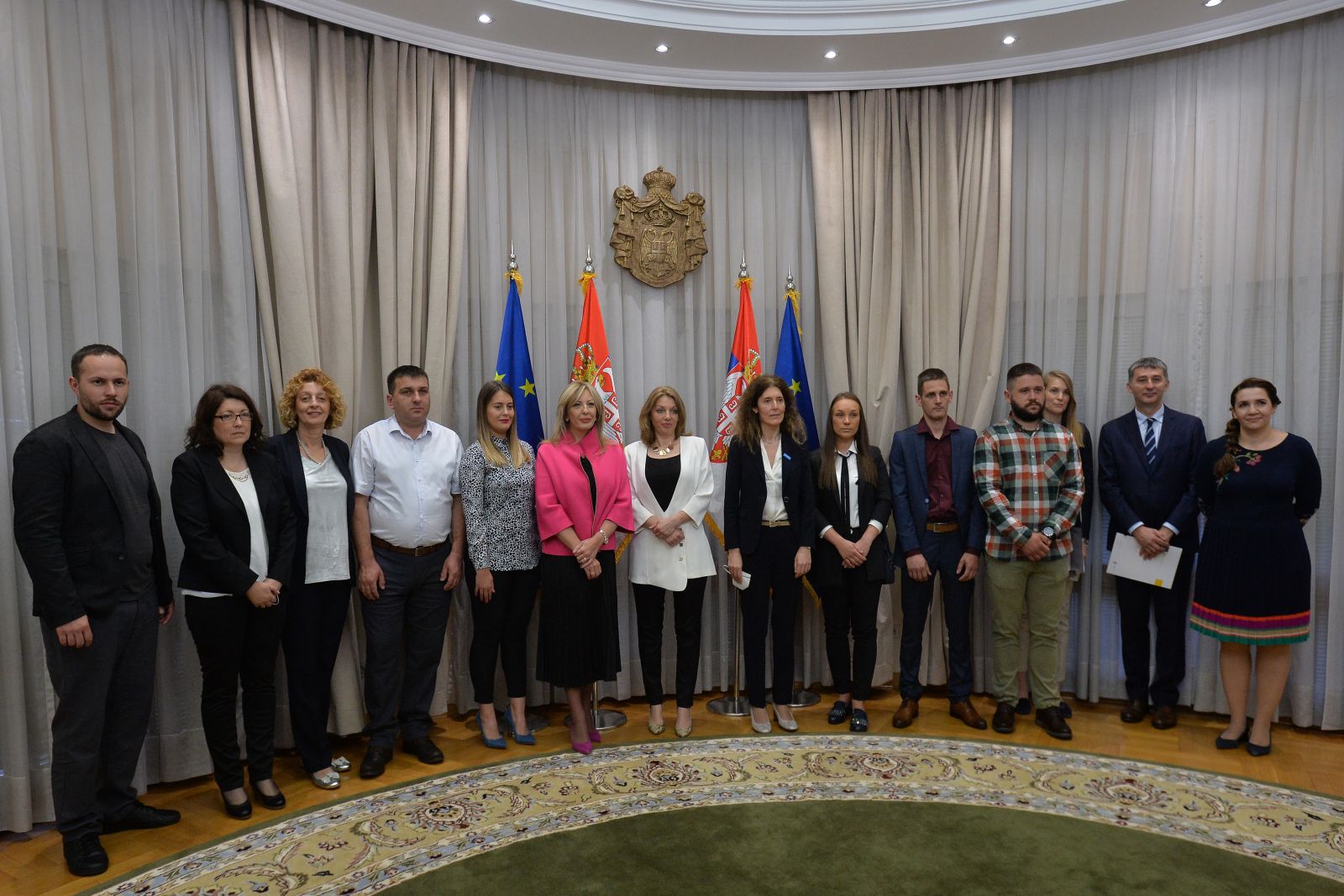 Through the EU PRO Programme, the European Union will finance 112 projects in the total amount of EUR 2.5 million, while Minister of European Integration Jadranka Joksimović has emphasised that this represents the EU's concrete assistance that will contribute to the economic development and reduction of regional inequalities across Serbia.
At the Government of Serbia, where some of the grant awardees were present as well, Joksimović has recalled that the first call for participation in the EU PRO Programme was announced in 2018, adding that this is the second call for which 555 enterprises applied.
She has further added that the EU PRO is a programme that supports the least developed or underdeveloped municipalities, primarily in South-eastern and South-western Serbia, covering 99 municipalities. The programme is implemented in cooperation with the United Nations Office for Project Services – UNOPS.
"These are concrete funds for concrete projects and the way to support equal territorial development of Serbia. That is why I am glad that development agencies are involved in these projects, because that is the essence of Serbia's reform path through the European integration process. There is no doubt that democracy and the rule of law, in the first place, as well as economic development and reduction of regional inequalities will result in people choosing to stay and live in their own cities," said Joksimović.Joksimović has also said that the Serbian Government recognised the importance of regional development, recalling that the 'Serbia 2025' programme includes projects that will ensure that every citizen feels the progress.
She has noted that 555 enterprises submitted their applications, of which 112 received funds for business development, primarily in the area of the production of clothes, food, and furniture, as well as wood processing, i.e. for sustainable business across the entire country, which, according to her, will be achieved owing to new equipment and export capacities.
"These are all enterprises from less developed municipalities operating in the districts of Bor, Jablanica, Mačva, Rasina, Nišava, Danube, Pčinja, Toplica and other," stated the MinisterThe Minister is glad that women are owners of almost 35% of awarded enterprises, which, according to her, will contribute to the economic empowerment of women, particularly in rural areas, and raise the level of their inclusion in economic flows, providing them additional financial security.
Joksimović has said that one of the requirements for grant award was corporate social responsibility.
Head of UNOPS Michela Telatin has assessed that grants awarded to the said enterprises should improve their competitiveness and sustainability and lead to creating new jobs."This public call is part of the realisation of the EU PRO project financed by the EU, and it is realised through UNOPS. Enterprises expressed significant interest which demonstrates the Serbian business community's great readiness to expand, embrace innovation and support its community," said Telatin.
Ivana Maksimović, the owner of the food production company 'Domaćica 014', has said that the call for grants appeared at the right moment, because they had already had a prepared business plan, they knew which machines they needed, and they ensured 20% participation in the total amount of around EUR 29,000 of assistance.
Maksimović has said that 'Domaćica 014' is a family company that first produced ready meals and later moved on to confectionery.
"We are planning to hire one new employee, and later, another three. We are also planning to help the most vulnerable citizens by donating meals and school supplies," said Maksimović.
Davor Mićić, an entrepreneur from Ivanjica, has said that his company 'Drvotim 80' has been producing furniture since 2018 and that he will use the grant to replace the run-down equipment.
He has also said that he does charity work and that he will continue to donate furniture, as he did in 2018, when he donated it to the preschool institution 'Bajka'.
Source: Tanjug