J. Joksimović: Pandemic has shown that we must turn to sustainable development
May 22 2020 | Belgrade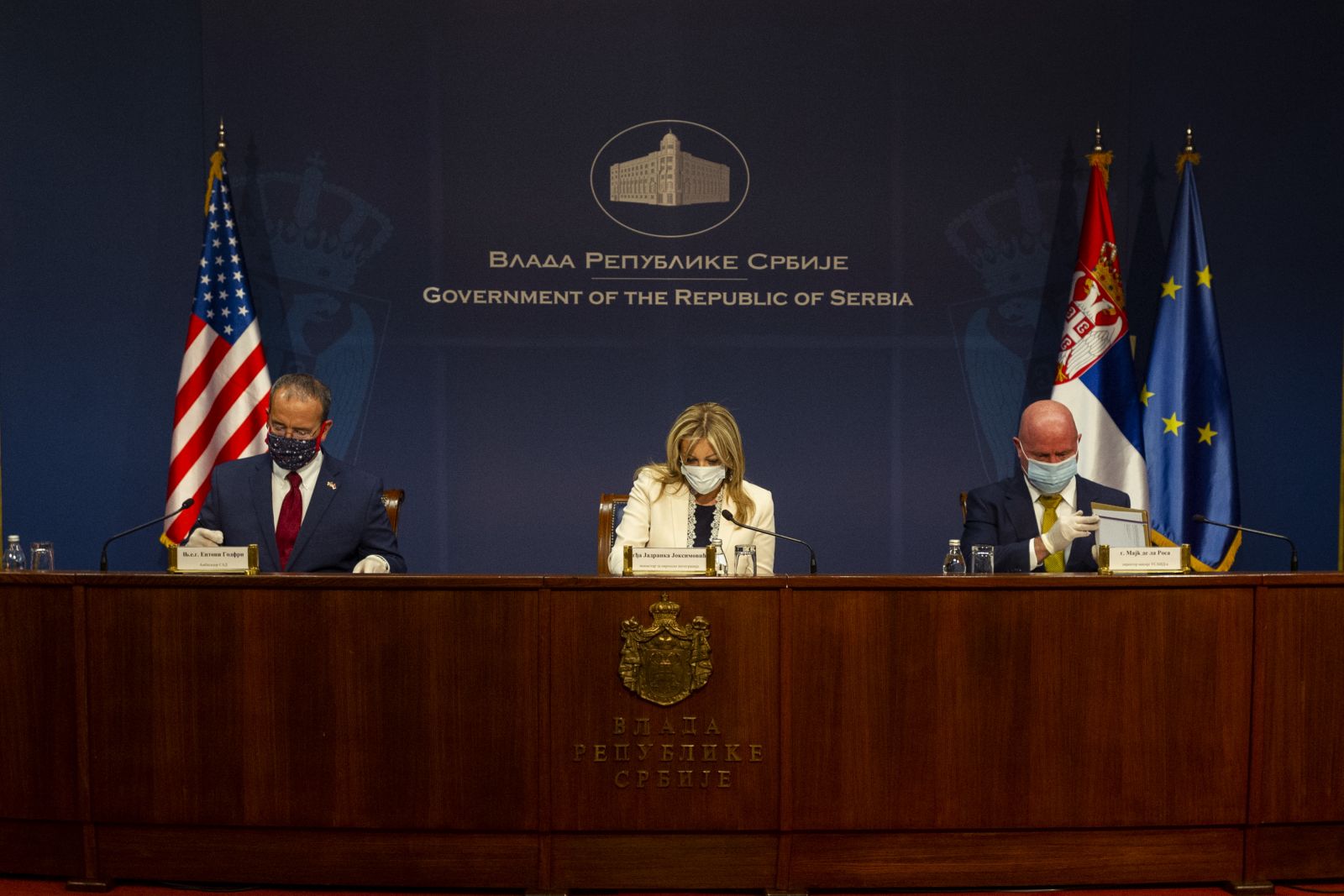 Minister of European Integration Jadranka Joksimović has stated today that the coronavirus pandemic has shown that Serbia must turn to sustainable development and green economy, and that the country is actively working on it, although it is not a simple matter.
At the press conference Minister Joksimović and USA Ambassador Anthony Godfrey held, Joksimović has said that the current Government has focused on both sustainable development and regional development, and that she expects that this trend will continue in the future.
Asked how much the Serbian Government is focused on following Europe's green agreement regarding the green economy, Joksimović has recalled that, last year, Serbia was one of the few countries in the region and beyond to have presented a voluntary national report on sustainable development goals at the UN General Assembly.
"Sustainable development goals and the UN Agenda are largely related to the green agenda and transition from linear to circular economy, but this is not easy to achieve even in Germany or France, which have a strong industry, because resources and energy use are based on certain models, and it will take years and many additional activities to mitigate the effects of that transition," said Joksimović.
She has added that certain sectors will feel the effects at first, but that, in the long run, goals will be met in terms of full decarbonisation and zero pollution production.
"This goal is demanding, and entire Europe will be involved. That is why the Green Agenda is one of the priorities in financing and forming the EU multi-annual budget for the period 2021–2027," said the Minister.
She has emphasised that the EU announced that the Western Balkans would have the possibility to be part of a special green agenda financed through pre-accession negotiations, adding that this is important because there is no sustainable green economy of Europe without the inclusion of all European countries, be they member states or not.
"Chapter 27 is extremely important, because it concerns environment and climate change, but the good news is that we have prepared the negotiating position for this chapter and sent it to Brussels, and this is one of the five negotiation chapters that are currently ready for opening. This is a demanding chapter, and it is often said to be expensive as well," said Joksimović.
She has stressed that she does not see investing into long-term sustainable development and people's health as an expense, but as an investment.
"In that sense, I expect the EU and other partners, including the USA, to help us go through that transformation more easily, which will also result in sustainable production, waste separation and establishment of wastewater treatment systems across Serbia, as well as household waste separation," said Minister Joksimović.
Source: Tanjug