Joksimović and Hougård: Joint European response important for recovery after the crisis
May 05 2020 | Belgrade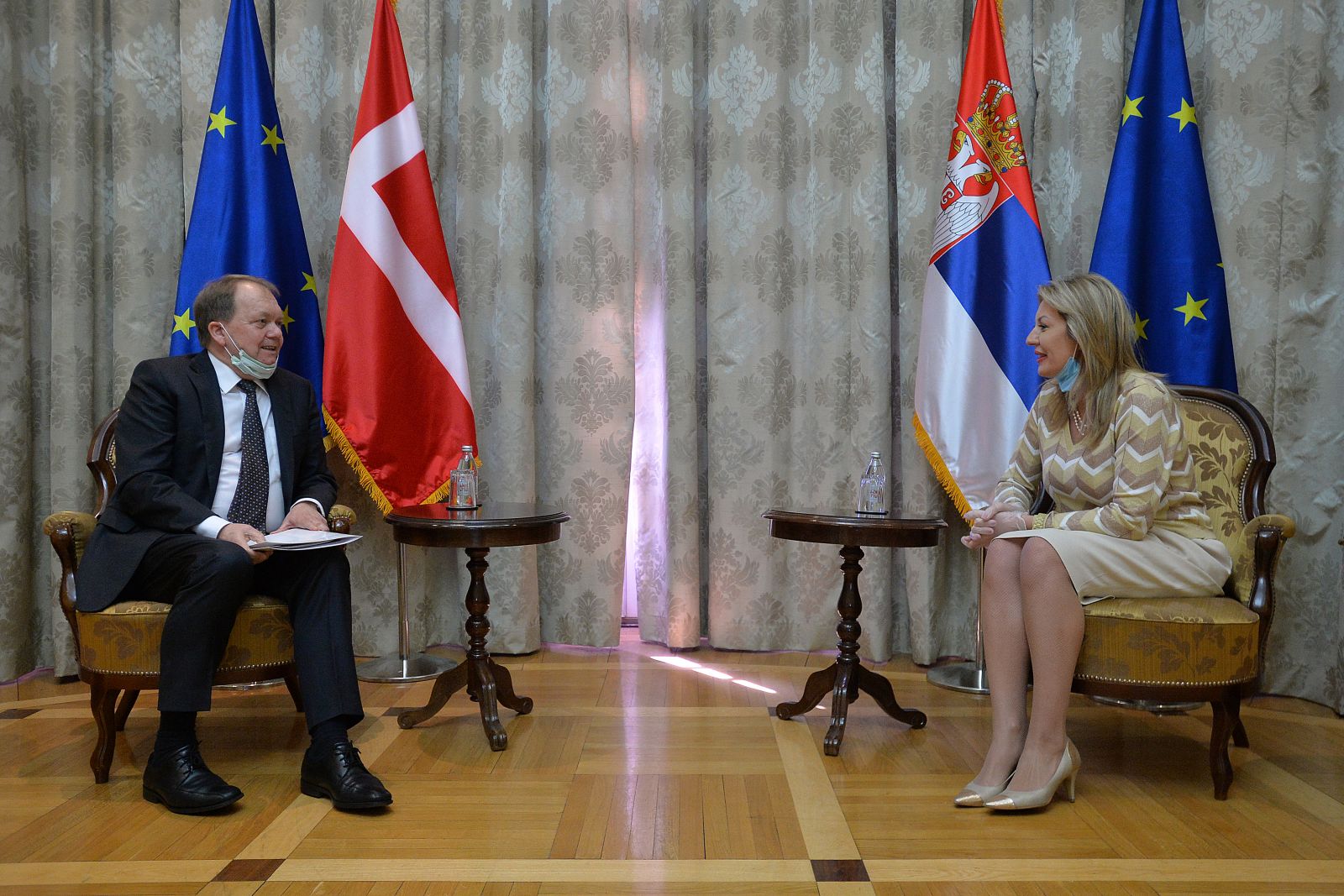 Minister of European Integration Jadranka Joksimović has spoken today with Danish Ambassador to Serbia Anders Christian Hougård about the tomorrow's holding of the EU–WB Summit and its key topics, the Zagreb Declaration whose adoption is expected, cooperation between Denmark and Serbia in the area of European integration, and about activities of the two countries in the fight against the COVID-19 pandemic.
Joksimović has emphasised the importance of the moment in which the EU–WB Summit at the highest level is held, stressing that she sees the participation of representatives of all EU member states as a message of support to the European perspective of Serbia and the region, but also as a message of solidarity with the WB in the fight against the COVID-19 pandemic.
"Even though the Summit will be held in the form of a video-conference, it will be held in its full format," stated Joksimović, adding that she expects that the Summit will primarily focus on cooperation in the fight against COVID-19 and socio-economic recovery of the region, as well as on confirming the European perspective of the WB and announcing the EC Economic and Investment Plan expected in autumn.
According to the Ministry of European Integration, Hougård has agreed that the Summit should stress the necessity of the EU's and the WB's joint action in the fight against the crisis caused by COVID-19, and should confirm the continuity of the WB's European perspective.
According to him, he expects the Summit to demonstrate that the European perspective of the region is important for the EU, and that the future of the region is in the EU, adding that partners from the WB will also have the opportunity to confirm their commitment to European values and the reform process.
Hougård has emphasised that Denmark continues to support Serbia and the region on the path to the EU, and that it will continue its activities regarding the development and recovery of economy and entrepreneurship in Serbia, given that Denmark is very active in this area.
He has commended the efforts Serbia has undertaken in the fight against the COVID-19 pandemic and in tackling its consequences, expressing hope that both Serbia and Denmark will soon continue with their regular activities in full capacity.
Joksimović and Hougård have expressed expectations that a joint European response to the current crisis will yield results, and that the upcoming Summit will mark the beginning of holding regular meetings between European and Western Balkan partners.
Source: Tanjug