J. Joksimović: Lajčák has not been given an easy task
April 21 2020 | Belgrade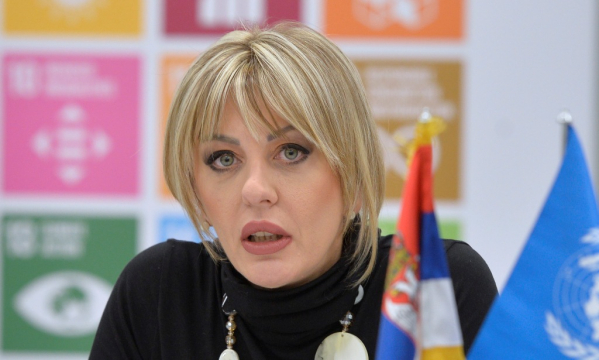 Minister of European Integration Jadranka Joksimović has assessed that the EU Special Representative for the Belgrade-Pristina Dialogue, Miroslav Lajčák, who has announced his commitment to the continuation of the dialogue, has not been given an easy task, adding that, under current circumstances, it is still impossible to resume the dialogue in full capacity because the government led by Albin Kurti has fallen in the meantime in Pristina.
However, in a written statement to Tanjug, Joksimović has stated that it is important to hear a clear position of the EU and Lajčák on the principles of the future dialogue and a thorough exchange of views on what has been achieved under the dialogue so far, before the necessary and sufficient conditions for discussion on reaching a comprehensive agreement on the normalisation of relations are created at all.
The Minister has stressed that Belgrade is acting responsibly and is following the situation, adding that President Aleksandar Vučić has also talked with Lajčák over the phone.
"I believe that the President has clearly outlined our position on Pristina's unfulfilled obligations to Lajčák, which Lajčák will certainly take into consideration as a representative of the EU as mediator," Joksimović has said.
Three days ago, exactly seven years passed since the signing of the Brussels Agreement, on which occasion Joksimović was asked to comment on what the EU had achieved in that period and what can it now offer in terms of the continuation of the dialogue and the search for a final solution. She said that the result was such that, in some ways, it reflected the failure of the common foreign and security policy of the EU, as the guarantor and mediator, to ensure the implementation of the agreed.
 
Joksimović has recalled that the previous EU High Representative, Catherine Ashton, also signed the Brussels Agreement, adding that the said Agreement thus became a part of the EU common foreign and security policy.

"In addition to numerous other non-constructive moves, Pristina has introduced 100% customs tariffs on goods imported from Central Serbia and BiH, and has thus violated the CEFTA Regional Agreement," Joksimović has said. 
She has added that this is why it is important to hear a clear position of the EU and Lajčák on the principles of the future dialogue and a thorough exchange of views on what has been achieved under the dialogue so far, before the necessary and sufficient conditions for discussion on reaching a comprehensive agreement on the normalisation of relations are created at all. 

Source: Tanjug