J. Joksimović: New methodology must not diminish Serbia's progress in European integration process
March 02 2020 | Belgrade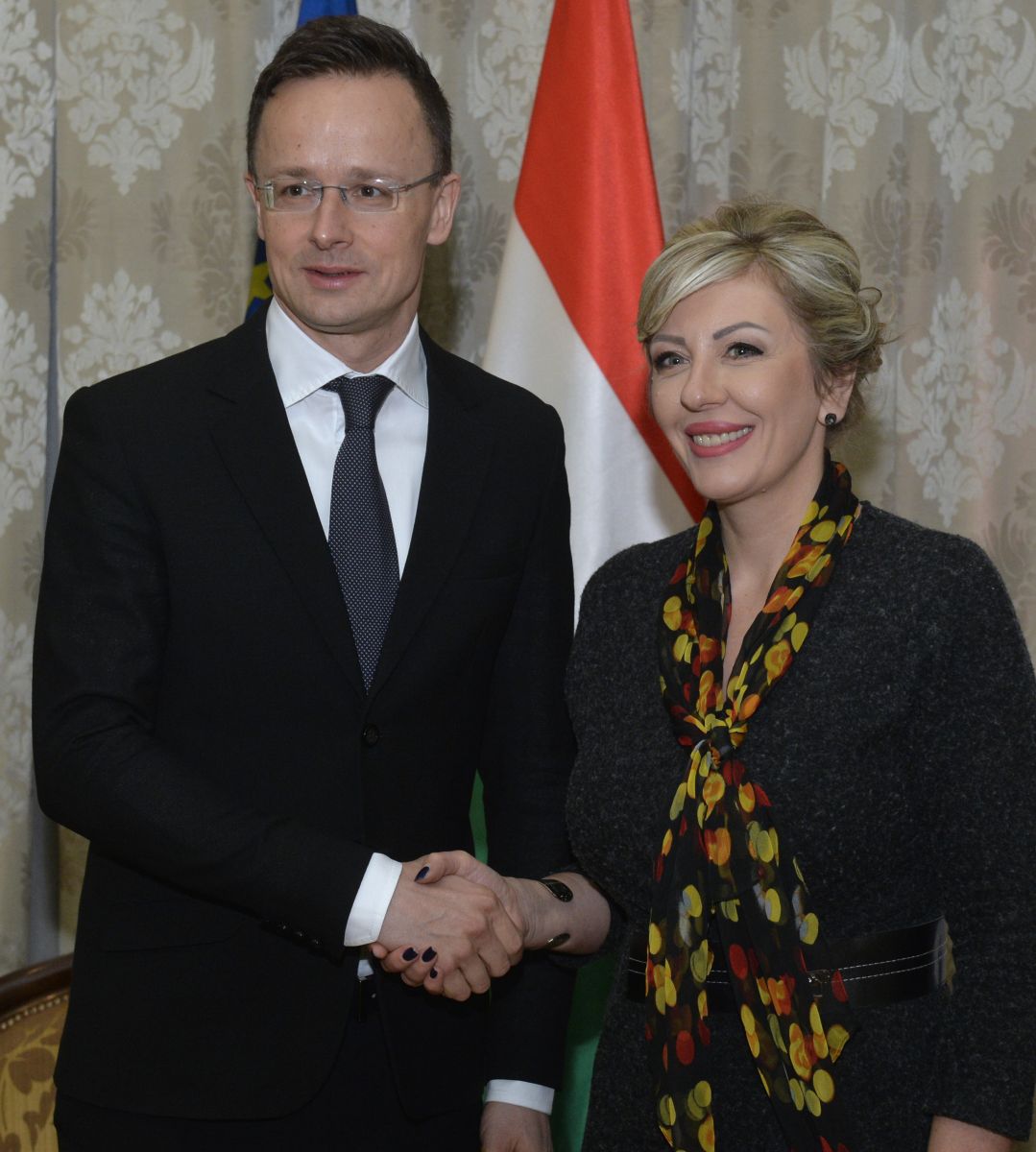 Minister of European Integration Jadranka Joksimović has spoken today with Hungarian Minister of Foreign Affairs and Trade Péter Szijjártó about the new EU enlargement methodology and has stressed that it must not diminish Serbia's progress achieved so far with regard to the opened chapters.
"I have explained to Szijjártó that we have observed some outstanding issues regarding the new methodology, that we expect to see what the Economic Plan for the Western Balkans entails, which will be presented at the Western Balkans-EU Summit in Zagreb in May, that we will make the best decision taking into account the fact that, if we adopt the new methodology, it must not diminish Serbia's progress achieved so far with regard to the opened chapters," Joksimović has told reporters.
The Minister has stated that these are issues that she has discussing with European partners, in order to see how the new methodology would be applied if Serbia decides to adopt it.
She has stated that she has also discussed this matter in Berlin, with the Spanish State Secretary who was in Belgrade recently, and in Prague, adding that she is also travelling to Paris today for that purpose.
Joksimović has stated that her discussion with Szijjártó was also valuable to her for this reason.
"We want to hear out all the views, but also to ask the question ourselves, so that we can make the best decision," the Minister has said after her meeting with Szijjártó, who has assessed that Serbia is ready to open five chapters, and on that occasion urged Croatia to do everything in its power to open these chapters during its EU Presidency.
The Minister has added that, as far as the European integration process is concerned, she is sincerely grateful to Hungary and Szijjártó for speaking out loud and clear about Serbia's European future.
"I would like to thank Szijjártó for coming to Serbia once again and for continously defending the enlargement policy and Serbia's path towards the EU in a sincere and courageous manner," said Joksimović.
The Minister has said that Szijjártó and the Serbian Minister of Police have discussed the migrant crisis and new potential problems on the Western Balkans Route in greater detail.
"Serbia is doing its job, we are not a country of first entry or of final destination, but a transit one, and so far we have shown that we have responsibly defended the interests of the country and promoted a humanitarian approach to migrants," said the Minister.
Joksimović has stressed that Serbia is working intensively on being prepared, adding that it is therefore important that Szijjártó and Stefanović have discussed all the aspects of the issue in a timely manner.
The Minister has recalled that Serbia and Hungary have the best bilateral relations and that this cooperation, which is also regional, can be an example to everyone in Southeast Europe, since all the outstanding issues are resolved in a timely manner.
"Serbia and Hungary have managed to organise their relations in a way that can be an example to everyone else in the region and Southeast Europe, since we have discussed all the outstanding issues at the highest level and in a timely manner. Hungary has never misused Serbia's European integration process to put any of its outstanding issues or expectations and demands before Serbia," she has said and added that not everyone behaved in such a way, which proves that Hungary is a sincere friend of the enlargement policy and of the European future of Serbia.
She has also recalled that Hungary and Serbia have excellent results in economic cooperation, that both countries record the highest results in the field of economic growth in Southeast Europe, demonstrate competitiveness of the economy, openness to new foreign direct investments, and increasing export orientation.
"I think this is what Prime Minister Orbán and President Vučić have recognised as a source of potential new growth for Europe and the European Union itself in this part of Southeast Europe," Joksimović has said.
Szijjártó has stated that we can count on a large influx of migrants during the next week, numbering several hundred thousands of migrants.
"Hungary will defend its borders and we will not allow any illegal migrants to enter into our country, and I hope that we will cooperate in defending both of our countries," Szijjártó has said.
He has thanked Serbia for having done its part regarding the TurkStream, and that, in 2021, a large amount of gas will go to Hungary via Serbia, which, as he has said, is Hungary's most important partner in Europe.
Source: Tanjug