J. Joksimović: Most importantly, there is a clear EU future for the Western Balkans
February 28 2020 | Prague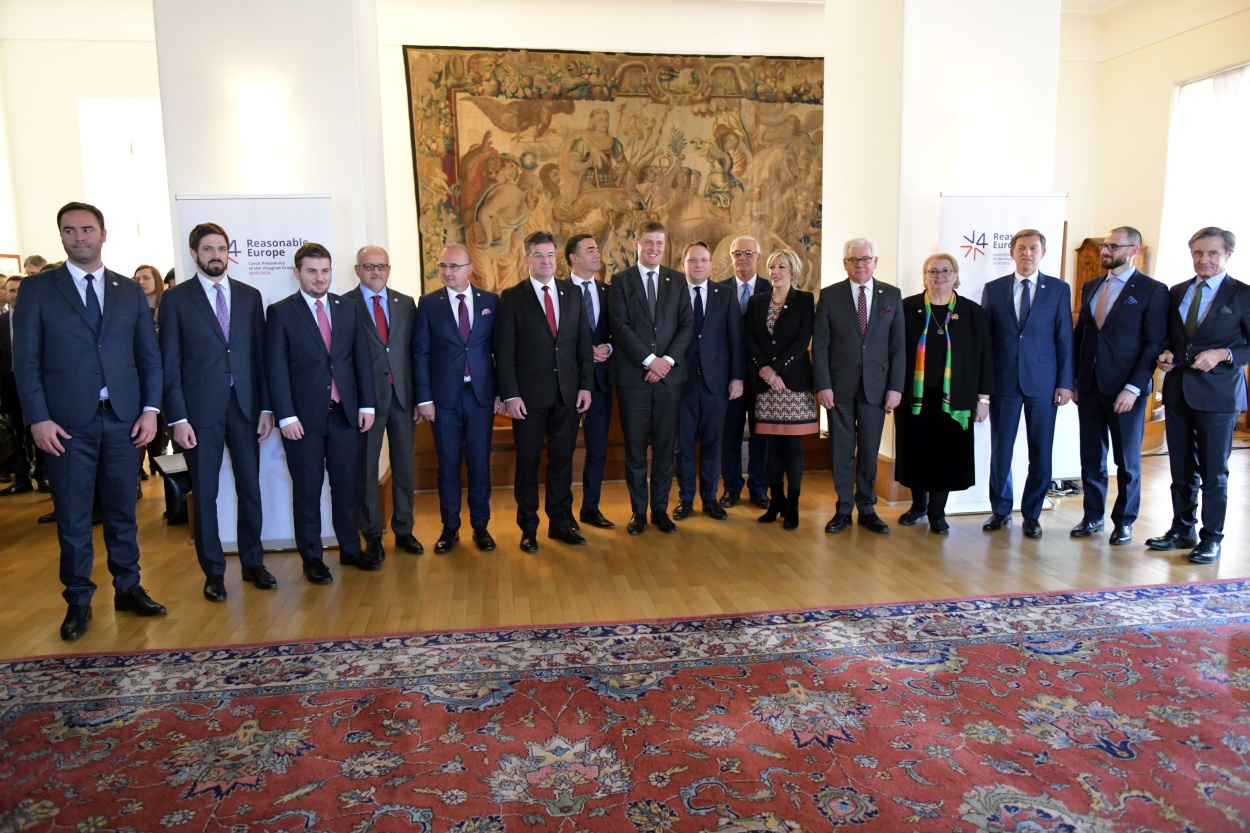 Minister of European Integration Jadranka Joksimović has led today the Serbian delegation at a meeting of foreign ministers of the Visegrad Group and Western Balkan countries, emphasising on that occasion that the participation of the Serbian delegation is important because the V4 countries have shown that they are friends of EU enlargement policy, as well as to the region and Serbia.
The meeting in Prague was also attended by new European Neighbourhood and Enlargement Commissioner Olivér Várhelyi, representatives of Western Balkan countries, as well as representatives of Austria, Slovenia and Croatia, which is currently holding the presidency of the EU Council. The meeting included discussions on the enlargement methodology proposed by the European Commission.
Joksimović has stated that Serbia also has good bilateral cooperation established with countries that are part of the V4 group - the Czech Republic, which is currently chairing over the Visegrad Group, Poland, Hungary and Slovakia, and that they also openly advocate the enlargement policy.
"In this respect, also extremely important was the presence of Commissioner Várhelyi, who arrived as the new EU Commissioner to discuss how they perceived the new methodology and how we from the region did – although we are at different stages of the accession process – and examine the new methodology, clarify certain doubts, hear the plans of the EU, as well as the Visegrad Group, and how they will continue to support the enlargement policy in the future and what is expected from us as a region in terms of regional relations and negotiations", said Joksimović.
In terms of the new methodology, Joksimović has said that the secondary issue is whether Serbia will accept it or not, stressing that the key question is whether there is a credible enlargement policy and a clear European perspective for the Western Balkans.
Joksimović has said that, for Serbia, it is crucial how exactly that new model will be applied to what has been achieved so far through opening negotiation chapters.
According to her, at the meeting she clearly stated that as far as the new methodology was concerned, Serbia would decide based on how it would affect the progress made so far in the accession process, adding that Serbia did not have a negative attitude as regards the new methodology and that it also saw certain benefits.
"The most important thing is that a credible enlargement policy exists, that there is a clear perspective for the Western Balkans, including for Serbia, which has undoubtedly shown that it has first-class capacities for both integration and reform, and that we will not experience any new methodology or certain announcements about who can do it faster or slower as some sort of artificial competition within the region", indicated Joksimović.
She has added that Serbia is not at all interested in artificial competitions, noting that there are still many outstanding issues in the region.
"We also do not want to further burden relations with matters of competition relating to European integration, because after all, and I said it clearly, you can politically speed up a certain process and slow it down for others, but facts are facts, and they prove that Serbia has achieved the best performance in the field of economy, both in the region and beyond", said the Minister.
Joksimović has recalled that Serbia's public debt has been significantly reduced, that the unemployment rate has dropped significantly, that serious reforms have been implemented with regard to new trends existing in European and global economies – innovation, digitisation and creating entirely new types of jobs, as well as in the field of democracy and the rule of law.
Noting that these are segments and facts that showed that Serbia has made serious progress, as well as that it could be heard today that the new methodology also entailed the strengthening of political steering of the process, Joksimović has assessed that there is always a possibility of applying conditionality.
"Such is the process, there is nothing unknown to us so far, we are still negotiating according to a politically very demanding methodology", said Joksimović, adding that Serbia will make a decision after a new stimulating and advanced economic plan for the Western Balkans has been presented at the Summit in Zagreb, and after it sees which funds will be opened.
"What is realistic is that there will certainly be slightly more money for pre-accession IPA funds, which we already use, and that there will be a greater presence of international financial institutions", said the Minister.
She has explained that a large debate on cohesion is currently under way within the EU, noting that it is the Visegrad Group countries that are friends of the so-called cohesion, namely that they are committed to maintaining the same level of structural funds for member states.
According to her, the UK's withdrawal from the EU has in some ways also opened up a problem regarding the level of contributions to the common European budget. 
"Friends of cohesion are committed to maintaining the same level for Member States as it has been for agriculture, while other members that pay more and use less from the budget are seeking to reduce it, so it is a very sensitive issue and an agreement has not yet been reached on a budget for structural funds belonging to Member States, which will influence the type and amount of financial instruments for us participating in the process of negotiations", added Joksimović.
"Given that there are still many unknowns, Serbia will in any case wait for the Western Balkans – EU Summit in Zagreb and consider all the elements", stated the Minister, adding that Serbia does not want to be negative in any way.
Joksimović has stressed that Serbia also supported the opening of EU accession negotiations with North Macedonia and Albania, stating that the methodology was designed primarily to reach some sort of consensus between the member states on opening negotiations for those two countries.
"We think that success is best when it is shared, we are not competing artificially, we want the whole region to prosper, it is better for us as well, because we want to maintain such a good economy and make it even better, as our citizens expect more; we need to have peace, stability, good relations or at least improved relations in the region, and there are many issues that still divide us", said Joksimović.
She has also pointed out that it is not a question of who will enter the EU first, adding that by all parameters Serbia is the country with the highest capacity in the region and undoubtedly the frontrunner in the region.
"But of course everyone else should be in the process and they should make progress", indicated the Minister.
According to Joksimović, today's meeting in Prague was primarily aimed at supporting North Macedonia and Albania, which is why Macedonian Foreign Minister Nikola Dmitrov addressed a joint media conference on behalf of the region.
"That was also a form of symbolic support that we all agreed upon. We never have a problem supporting others, and this the foundation for the significance and respect that Serbia has in European circles, as well as beyond", added Joksimović.
She has said that it is crucial for citizens to feel even greater benefits from European integration, pointing out that this is why the National Investment Plan for 2025 was presented and why Serbia remains on the European path in order to delve deeper into reforms and achieve even greater benefits for its citizens.
"We remain on the European path, expecting a clearer position of the EU on how the new methodology would be applied to our current negotiations, if we were to adopt it. I would not like the scope of the negotiations and the chapters we have opened so far to be diminished", said Joksimović. 
Minister Joksimović has also met with Croatian Foreign Minister Gordan Grlić-Radman in Prague today, and according to her, in a fair conversation, the Croatian minister conveyed positive messages, claiming that Croatia genuinely supported enlargement.
Joksimović has also stated that Grlić-Radman said that Croatia, currently presiding over the EU Council, had set its focus on the Zagreb Summit in early May, and that by then they would also seek to get more information from other Member States concerning the economic plan and how the methodology would be applied.
She has noted that they agreed that there were outstanding issues between Serbia and Croatia, but that in the future, as first neighbours, they would have to open communication channels. 
"It is not always simple and easy, but it is important to talk, and in that sense I think that it was a very good meeting", concluded Joksimović.
Source: Tanjug