Reception on the Occasion of Serbian Statehood Day
February 12 2020 | Berlin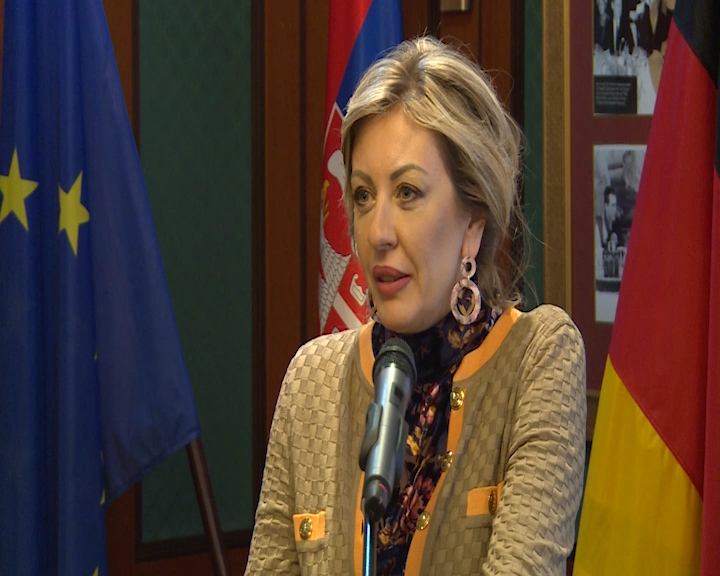 On the occasion of Serbian Statehood Day and Serbian Armed Forces Day, which are celebrated on 15 February, the Embassy of the Republic of Serbia in Berlin has organised a formal reception today attended by representatives of the diplomatic corps and political, cultural and business community of Berlin, where the guest of honour was Serbian Minister of European Integration Jadranka Joksimović.
More than 300 guests gathered at the reception at the Bristol Hotel, hosted by Ambassador of the Republic of Serbia Snežana Janković, where the ceremony began with the intonation of the anthems of Serbia and Germany.
Congratulating the upcoming holiday to Serbian citizens in Germany, Joksimović emphasised that it was her honour and privilege to attend a reception that after many years was once again celebrating Serbian Statehood Day and Serbian Armed Forces Day in Berlin.
The Minister said that during her working visit to Berlin, she had met with colleagues from the German Foreign Ministry and numerous Bundestag MPs on the bases on which Serbia had been building its partnerships and European future for many years.
According to her, in the past several years, Serbia had shown that it was a country that nurtured the best European heritage and the best European values and that, in a short time, it had proven that it had the capacity to rebuild and prosper, in a way in which many countries in Europe had failed to achieve.
"I believe that this is a value that we as a future EU member can offer to the whole of Europe and the EU, but above all to our citizens. We can also provide hope, belief and a safe framework to those who have left Serbia in search of a better life to perhaps think about returning, while a message is being conveyed to new generations to stay in Serbia and make full contribution to the development of their country", indicated the Minister.
She said that after years of turbulent and not always completely good political relations, Serbia and Germany had succeeded in establishing trust, a mature partnership and a mutual interest, which, Joksimović considers, could contribute to Serbia's more certain future.
She said full membership in the EU was a foreign and strategic interest of Serbia and its government, stressing that Serbia would continue its responsible policy and implementation of economic reforms.
"This will yield a result that has already been achieved in Serbia - reduction of public debt, higher average salaries, better investment environment, and lower unemployment rate. I believe that this will give additional impetus to our diaspora throughout the world, as well as to the citizens of Serbia, to move towards partnerships, a European path and a better future", stated Joksimović.
Ambassador of the Republic of Serbia in Berlin Snežana Janković thanked everyone who had contributed to strengthening cooperation between Serbia and Germany and expressed hope that the two countries would further enrich their mature friendship and partnership.
Janković went on by saying that after seven years, the Embassy of the Republic of Serbia in Berlin was once again celebrating two significant national holidays during one reception.
"This is a big day for us. We have gathered a large number of guests, among them Bundestag MPs, representatives of the German Foreign Ministry and other German institutions, as well as a number of businessmen, cultural and academic representatives, Slavists…", stated Janković.
She added that the reception had brought together representatives of Serbian diaspora, not only from Berlin, but also from Frankfurt, Hanover, Hamburg and other cities, which, according to her, showed how glad fellow Serbian citizens were that the Embassy decided to host the reception.
The Ambassador expressed her appreciation to Minister Jadranka Joksimović saying that it was an honour to have her attend the reception at the end of her two-day working visit to Berlin.
"It was an opportunity for our citizens, but also for foreign officials, to hear messages from her meetings and be informed how Serbia perceives the role of the diaspora in the development of Serbian-German relations", observed Janković.
The Ambassador said that according to official data, there were 230,000 Serbs living in Germany, but it was estimated that there were twice as many due to the fact that citizens with dual citizenship had not been included in the statistics.
She added that, according to unofficial data, between 500,000 and 700,000 people of Serbian descent lived in Germany.
Source: Tanjug