J. Joksimović: The EU counts on Serbia the most and expects the most from us
February 11 2020 | Berlin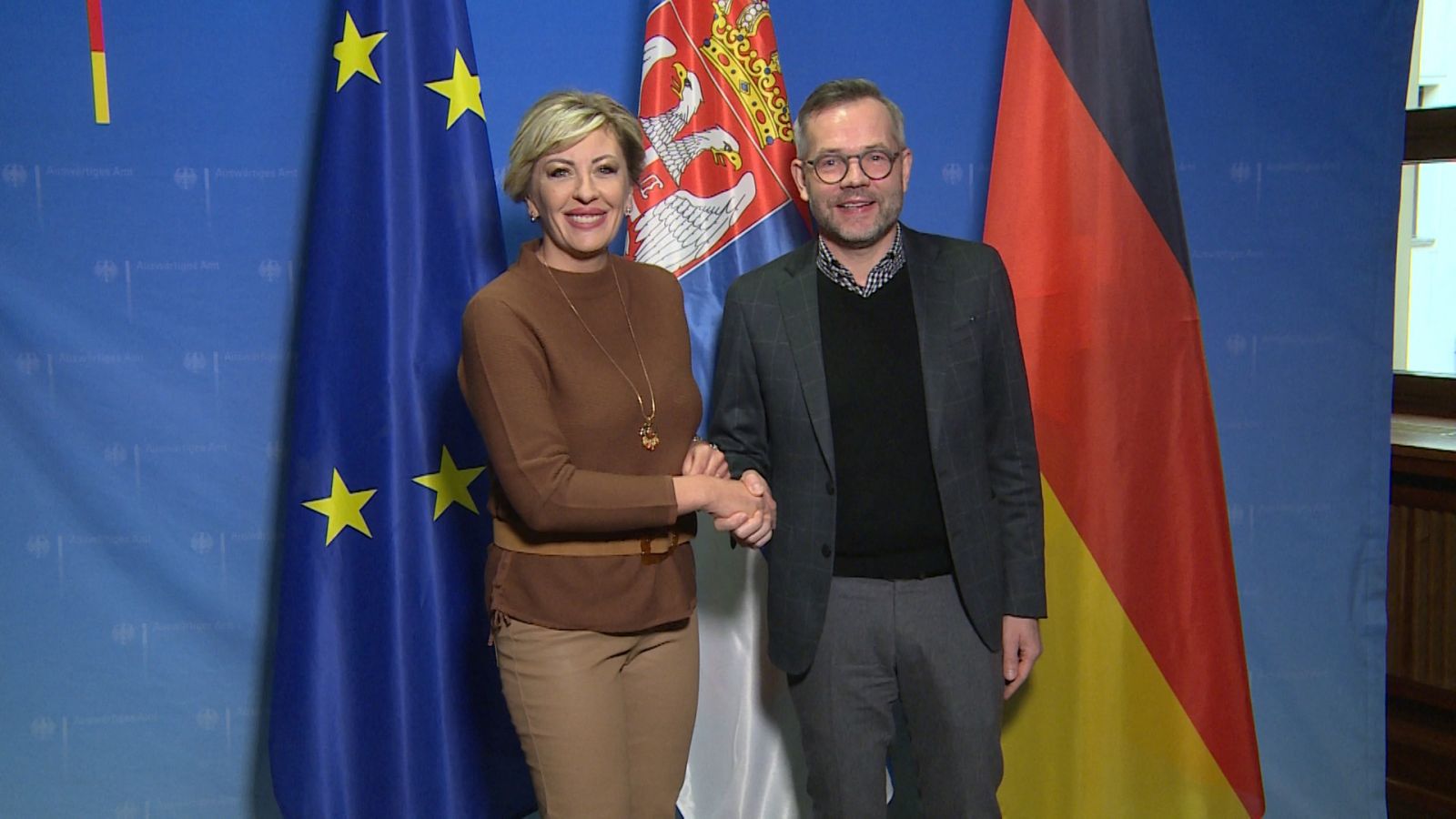 Serbia remains recognized as the country with first-rate capacities that the European Union counts most on in the Western Balkans, said Minister of European Integration Jadranka Joksimović today, pointing out that Germany is committed to the enlargement policy and the European future of Serbia and the region.
Joksimović said in Berlin, after meeting with the Minister of State for Europe at the German Federal Foreign Office, Michael Roth, that she had conveyed to her German counterpart a message that Serbia wanted to become an EU member and that it had capacities that could be beneficial to the Union itself, as well as that membership could provide a lot to Serbian citizens.
"Undoubtedly, Serbia remains recognised as a country with first-rate capacities in the region. We are counted on the most, but that is also why the most is expected and demanded from us. However, this confirms that Serbia has a real chance of becoming an EU member in not such a far future", Joksimović told Tanjug.
According to her, this "difficult and demanding mission" requires partners in Serbia, as well as for the EU to speak with one voice concerning the enlargement policy.
"There is no doubt that a perspective exists, but we need to see if the EU understands that the enlargement policy is the best instrument to strengthen itself and its strategic sovereignty", indicated Joksimović.
She stressed that Germany was a consistent partner to Serbia on its European path and that the country had invested more than EUR 1.7 billion into Serbia in the previous 15 years through grants and support to the reform process.
She highlighted that Germany was also one of the most significant EU Member States which, in addition to France, was the engine of the Union's development, in particular after Brexit and in light of the great challenges ahead of the EU.
"The visit to Berlin is happening at a crucial moment, in particular after the announcement of a new EU enlargement methodology, which leaves us an open opportunity to see whether it suits us to apply it or to retain the old one", stated the Minister.
Joksimović perceives the visit to the German capital as an opportunity to outline the advantages and limitations Serbia observes in the new framework for EU accession, as well as to point out the most vital issues for Serbia's European integration process through an exchange of ideas with German officials in charge of the EU.
"They have the opportunity to hear our expectations, dilemmas and concerns and what we can do together if we want the European path to be open to the whole region", stated the Minister.
Over the course of her meeting with Roth she presented her opinion that the new methodology was not fundamentally different from the framework according to which Serbia was already negotiating, emphasising that our country was negotiating according to the strictest and most difficult criteria.
"We are not complaining about that. I conveyed the view which I think is most correct, although not everyone may agree, that the speed at which membership is acquired is not the only issue that matters. We want Serbia not to be treated as second-rate, but as a country of first-rate capacities for carrying out reforms and integration and as a country that can contribute to the EU", stated Joksimović.
She stressed that it would take more time for the aforementioned and that reforms would have to continue, but that Serbia had already gone a long way.
"I think we are on a good and stable path, with responsible relationships, regular consultations and an open mind for all that is good and new in the EU, while simultaneously promoting and protecting what our national interests are", said Joksimović.
She also believes that Germany agrees with Serbia's position that there are no major changes in the new methodology in relation to the framework according to which Serbia is negotiating, adding that, despite possible restrictions and incentives, the new framework cannot dramatically change Serbia's position in the accession process.
"The European Commission emphasised that the methodology was primarily aimed at North Macedonia and Albania, but that through analyses and mutual agreement we can consider it and see what the economic plan offers, and then decide on it", stated Joksimović.
According to her, in recent years, owing to a responsible policy of respect and honesty built between President Aleksandar Vučić and Chancellor Angela Merkel, Serbia and Germany have been conducting an open dialogue, even when they disagree on certain issues, such as Kosovo and Metohija.
"We do not have to agree on everything, but we want to come to certain solutions through common agreement and a sound policy. The issue of Kosovo-Metohija is also tied to Serbia's European path and nobody denies that. I think it is clear from our side that there is goodwill and that we want to find a sustainable solution. But the other side needs to be much more cooperative and understand that compromise is the only way to come to a solution", stressed Joksimović.
She recalled that President Vučić had announced that he would meet with Chancellor Merkel soon and that the issue of Kosovo and Metohija would be one of the topics of discussion.
She added that she also discussed with Roth the reform processes in Serbia and everything that had been done in the area of the rule of law and improvement of electoral conditions, as well as reducing the electoral threshold to three percent, which she recalled had been done upon the initiative of the ruling SNS party.
"When you provide a country with macroeconomic stability, like Serbia has today, with many positive economic parameters going forward, then it is the responsibility of a democratic and responsible government to expand the opportunity for everyone to participate in the process, so that, through lowering the census, everyone gets the opportunity to enter the parliament if they win three percent of the votes. What is more democratic than that?", asked Joksimović.
She said that she had presented to Roth a number of other measures that Serbia had taken with regard to changing key laws in the area of media freedom, the rule of law, the fight against corruption and organised crime, economy etc.
In Berlin, Joksimović will also meet with Bundestag MPs responsible for European Affairs, Gunther Krichbaum, Peter Bayer and Johann Wadephul of the ruling CDU, as well as with SDP's Josip Juratovic and the Greens Party's MP Manuel Sarrazin.
She assessed as significant discussions with members of different parties and groups in the Bundestag, which, according to her, bore special weight in the process of adopting political decisions in Germany.
"It is vital for us to open this line of communication with everyone and to receive first-hand information about European integration, not only to read reports, but to see in an open exchange of views where we are and what we need to do, but also how they can accelerate this process in a credible way", stated Joksimović.
She recalled that Hungarian Prime Minister Viktor Orban, in conversation with Angela Merkel, had also advocated Serbia's accelerated EU path.
"It is a great and friendly gesture on his part, but we are also doing our part of the job", indicated the Minister.
Joksimović announced that she was meeting with French Minister of European Affairs in Paris in early March because it was important to hear what France thought about EU enlargement.
"In this way, we will round off the analysis of what lies ahead and how we can best position ourselves so that our citizens can feel the greatest benefits of the European integration process", concluded Joksimović.
Source: Tanjug