J. Joksimović and Diakofotakis: Greek support on our European path is important to us
November 12 2019 | Belgrade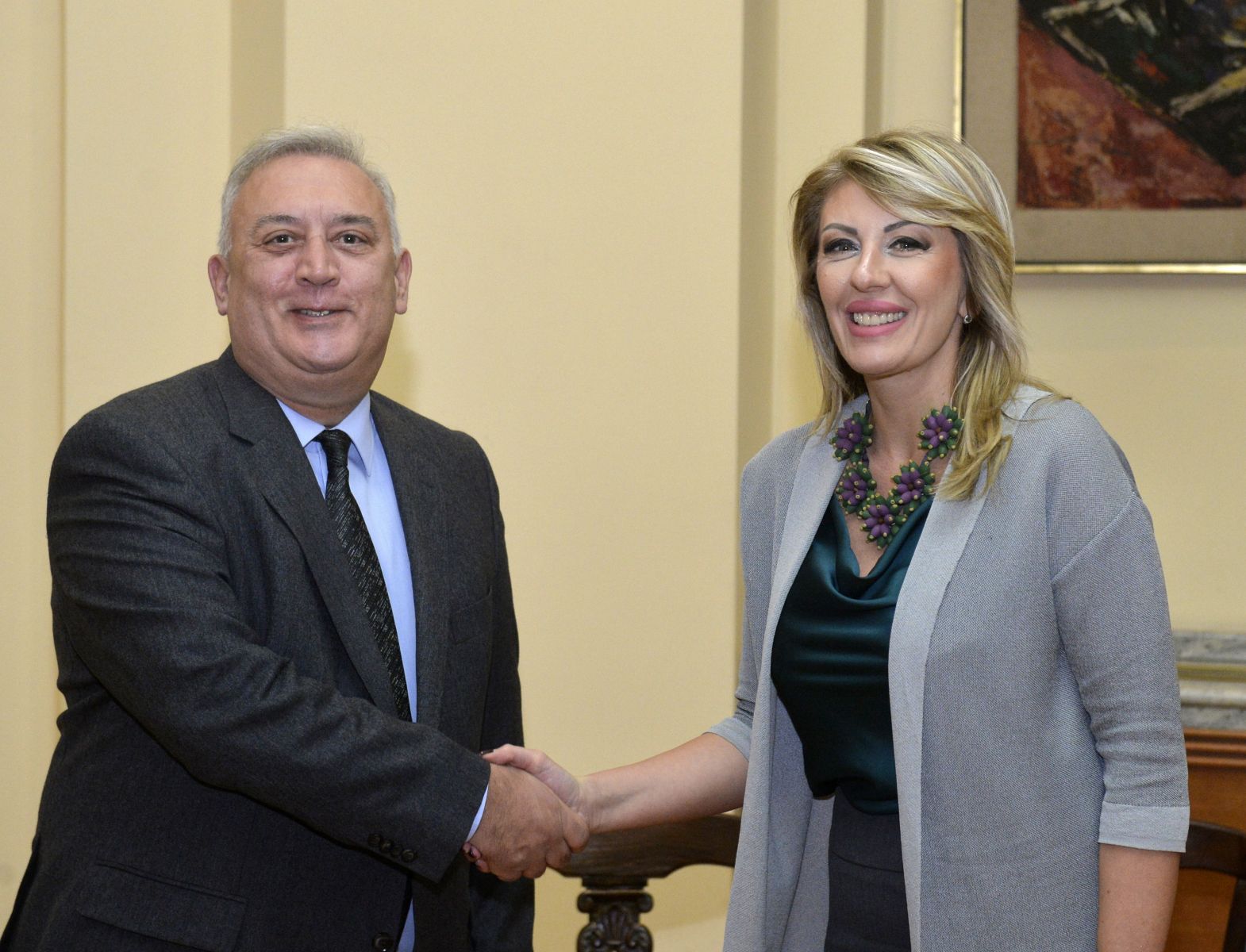 Minister of European Integration Jadranka Joksimović has spoken with the newly appointed Ambassador of Greece Giorgos Diakofotakis about Serbia's European integration process, the results of the reforms, the situation in the region and the EU, bilateral relations and other topics.
Jadranka Joksimović has thanked Greece for the support and assistance it has been providing to Serbia in the process of European integration, which, as she has stressed, also confirms the decades of exceptionally strong and sincere friendship between the two countries. She has informed the Ambassador about the activities in the continuation of Serbia's European path - about its dedication to implementing the reforms and the fact that special emphasis is placed on reforms in the areas of the rule of law and economy.
Minister has also stated that Serbia expects to open one or two new chapters, out of four which are currently ready for opening, by the end of the year, at an Intergovernmental conference to be organized by Finland, as the country presiding over the EU Council. Such low expectations are the result of the realisation that a rather unfavourable atmosphere regarding the enlargement policy still prevails. Nevertheless, Serbia is working on the reform process and is preparing new negotiating positions. The Minister has also recalled that Serbia has opened seventeen chapters so far, two of which have been provisionally closed.
Jadranka Joksimović has also stressed the importance of Greece's decision not to recognize Kosovo's independence by insisting on respecting the international law. She has said Belgrade is ready to continue with the dialogue as soon as Pristina abolishes the illegitimate decision to impose tariffs on goods from Central Serbia, and that we are in favour of a sustainable and compromise solution for Kosovo and Metohija. Minister has reaffirmed Belgrade's commitment to the implementation of the Brussels Agreement.
Ambassador Giorgos Diakofotakis has said that Greece will continue to support Serbia's accession process, and has noted that the EU could not be complete or fully functional without the Western Balkans as its part. He has assessed that the effects of the implementation of the reforms are visible, and that they should be continued to the benefit of Serbia's overall development. The Ambassador has particularly emphasized Serbia's role in promoting the stability of the region and the development of the Southeastern Europe.
Joksimović and Diakofotakis have assessed that the relations between the two countries are friendly and at an exceptionally high level, that there are no open issues and that there is a mutual desire - but also the potential, for their strengthening and improvement. They have also discussed the forthcoming, third, Serbia-Greece High Cooperation Council and the joint session of the Serbian-Greek governments, scheduled to take place in December in Athens. Moreover, they have agreed that the Agreement on Cooperation between Greece and Serbia in the process of European integration should be updated and improved by then.
The Minister wished the Ambassador much success during his tenure in Serbia.
Source: Tanjug