J. Joksimović awarded certificates to students for their papers in the field of European integration process
October 24 2019 | Belgrade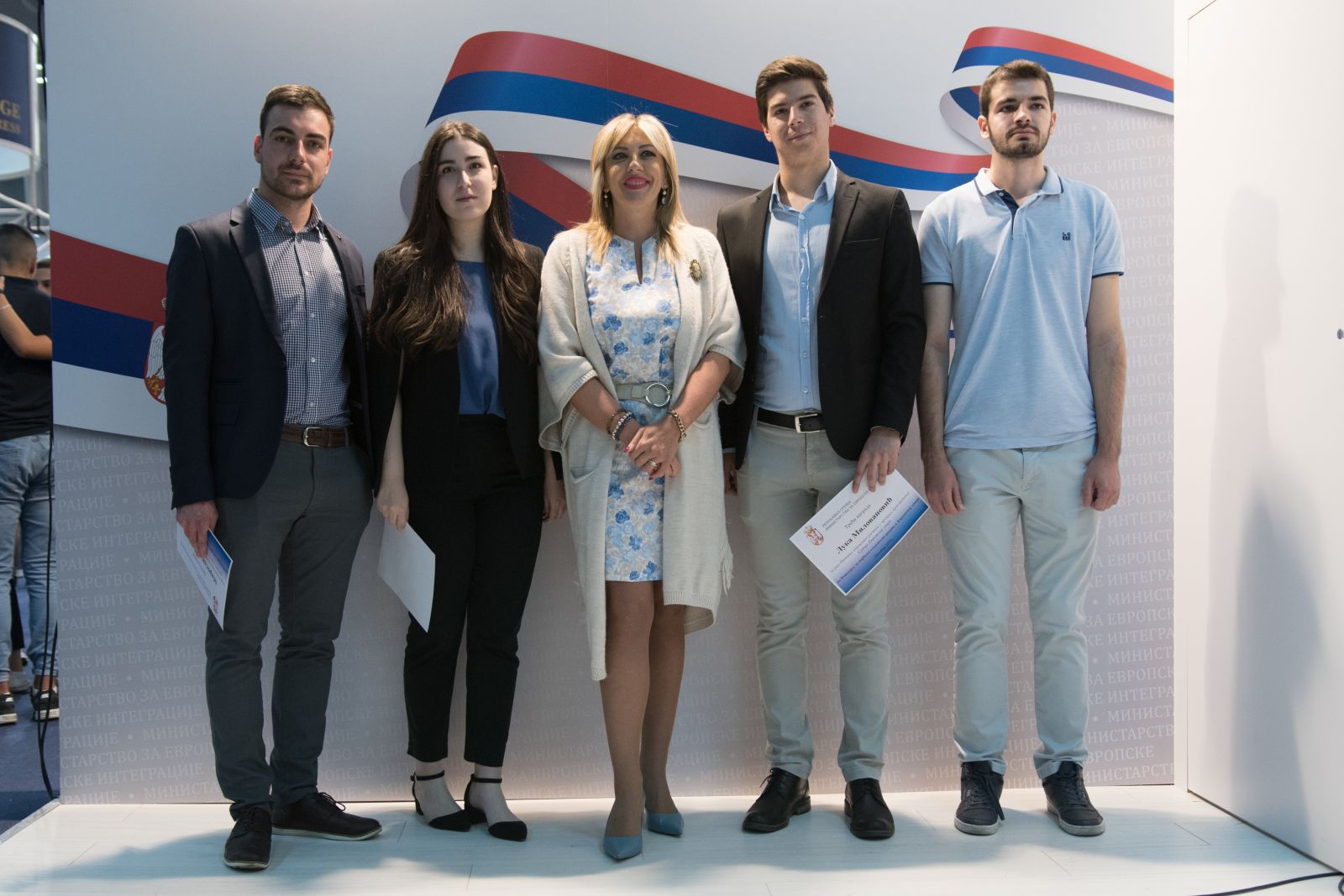 Today, Minister of European Integration Jadranka Joksimović has awarded certificates to students for the best papers on European integration and the EU accession process, which, as she has added, opens the doors of the line ministry to these eloquent and discerning young people.
At the booth of the Ministry of European Integration within the 64th International Belgrade Book Fair, Joksimović has awarded the certificates to the students of the Faculty of Law and Faculty of Political Sciences, Marija Ralević, Miroslav Golubović and Luka Milovanović, whose papers have been declared the best at the third competition organized by MEI.
"It is a great pleasure for me to be able to award these certificates to the best ones at the Belgrade Book Fair School Day," she has said, adding that the award also included monetary amount and that it fully demonstrates that the Government seriously appreciates reasoning that can even be critical.
MEI organises such an important and nice competition with a topic broadly dealt with by the entire society, the Minister has said, adding that students were invited to choose one of the topics offered and give their insight into the process that has its ups and downs and challenges.
Students are not a uniform category, as everyone has their own vision of policies, international relations in the world and society; their generation can see the future of the EU and the policies we create.
They were offered a number of topics - what are the factors affecting the accession process, how the EU-supported reforms affect the system, what makes the idea of EU integration attractive and why, if not – why not, what prejudices about the EU exist and how might we overcome them.
The Minister added that students were offered yet another contemporary topic - how the EU should be reformed and how the reformed Serbia would fit into thus reformed EU.
The Minister added that all the papers published in the electronic journal have been made available to the general public and that they are worth reading.
The doors of MEI are open to such interested, eloquent, literate and discerning young people, both for getting to know the institutions and for future engagement, because only the best and most persistent ones deserve it. Everyone else should do their best, she has said, adding that she is honestly speaking about opened doors to the best, the most diligent, the most creative and the most hardworking.
These are affirmative papers that give wind at our backs to continue on the Government's path towards the EU in these difficult circumstances, Joksimović has said.
This year the papers were assessed by a competition committee consisting of three professors from the University of Belgrade: Professor Jelica Stefanović-Štambuk, PhD (Faculty of Political Sciences of the University of Belgrade), Professor Vladimir Vuletić, PhD (Faculty of Philosophy of the University of Belgrade) and Professor Maja Lukić Radović, PhD (Faculty of Law of the University of Belgrade).
Source: Tanjug