J. Joksimović: EU Membership does not grant amnesty to Croatia from unresolved bilateral issues
January 28 2019 | Belgrade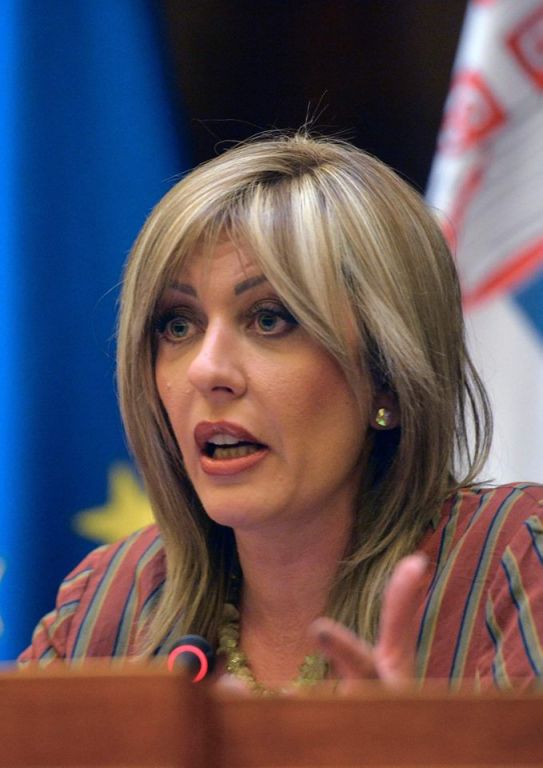 I am intrigued by the interpretation we have heard from Croatia, and from none other than the highest official of that country (President Kolinda Grabar-Kitarović) and a former Croatian Minister of European Integration, regarding the obligation to resolve bilateral issues before Serbia's accession to the EU and the implications for chapters 23 and 24, Minister of European Integration Jadranka Joksimović has said today for Tanjug.

Namely, according to the Minister, the word "bilateral" implies that there are two sides in a relationship, process, or relation, so it is unclear and worrisome that one of the parties, just because it is an EU Member State, implies that bilateral is, in fact, only a form and a common and frequent element of the EU diplo-speech, and that it seems that obligations are binding for one side only, i.e. the one aspiring to membership.
Therefore, it seems that some Member States see the EU membership as escapism and amnesty from their own unresolved obligations regarding the issues of minorities, property restitution, the rule of law, and the process of reconciliation, assessed Jadranka Joksimović.

The negotiation process and chapters do not serve, nor are they tailored in such a way, to allow everyone to incorporate their bilateral demands towards the candidate into them; bilateral platforms thus exist to avoid such extremely conditioned future of the negotiation process.
She has recalled that Serbia barely managed to open chapters 23 and 24 in July 2016, following one instance of Croatia's inconsiderate behaviour.
Namely, during the Dutch EU Presidency, in the first six months of 2016, there was good will of the Member States and the Netherlands to open chapters 23 and 24 by the end of June, i.e. by the end of their EU presidency. The Delegation, headed by me, went to Brussels, where, upon arrival, we learned that Croatia had withdrawn its consent, which is an extraordinarily inexpedient diplomatic move.
The chapters were opened three weeks later, in July 2016, at the beginning of the Slovak EU Presidency. The opening ceremony was attended by the then Prime Minister (of Serbia, Aleksandar Vučić), precisely because of the importance that Serbia attached to these chapters.

Therefore, I am not surprised by such announcements by Croatia, yet Europeanism needs to be trained; it seems that some countries need more time to become a Member State in the full sense of practising European values, even when they are formally members, while others do not need membership to behave in accordance with the principles of respecting agreements, resolving open issues in good faith and through dialogue, with freedom in society for all, Jadranka Joksimović has concluded.

To recall, Croatian President Kolinda Grabar-Kitarović spoke yesterday in an interview for regional TV N1 about whether "Croatia should condition Serbia's further opening of negotiations with the European Union with resolving open issues, laws on universal (legal) jurisdiction and the issue of missing persons".
"These questions will definitely be raised within certain chapters, especially chapters 23 and 24. As you know, I am one of those who insist on their resolution notwithstanding this process, given that these are the issues that no one else will resolve but us, Croatia and Serbia. We need dialogue here, but it takes two to have dialogue. I am extremely disappointed that there is no progress regarding the issue of missing persons," said Grabar-Kitarović.

The journalist insisted on getting an answer to the question "should the opening or closing of this chapter be conditioned with this issue", to which the Croatian president said that "it will emerge one way or another, because the enlargement strategy, as a condition for the accession of our neighbouring states from the territory of Southeast Europe, also implies the resolution of bilateral issues."

"Bilateral issues between Croatia and Serbia, apart from the border issue, include the issues of missing persons and the issues of archives, succession, universal jurisdiction and so on. I think that the sooner we start resolving them the better, because no one should be fooling themselves into thinking that they will avoid the resolution of these issues; besides, Croatia also had to resolve them, and we will persevere in this regard. We all will persevere, and I will persevere as well, together in our relation towards Serbia, but also towards other colleagues from the European Union and the European Commission," she has said.
Source: Tanjug