J. Joksimović: We are somewhat satisfied; it could have been more...
December 10 2018 | Brussels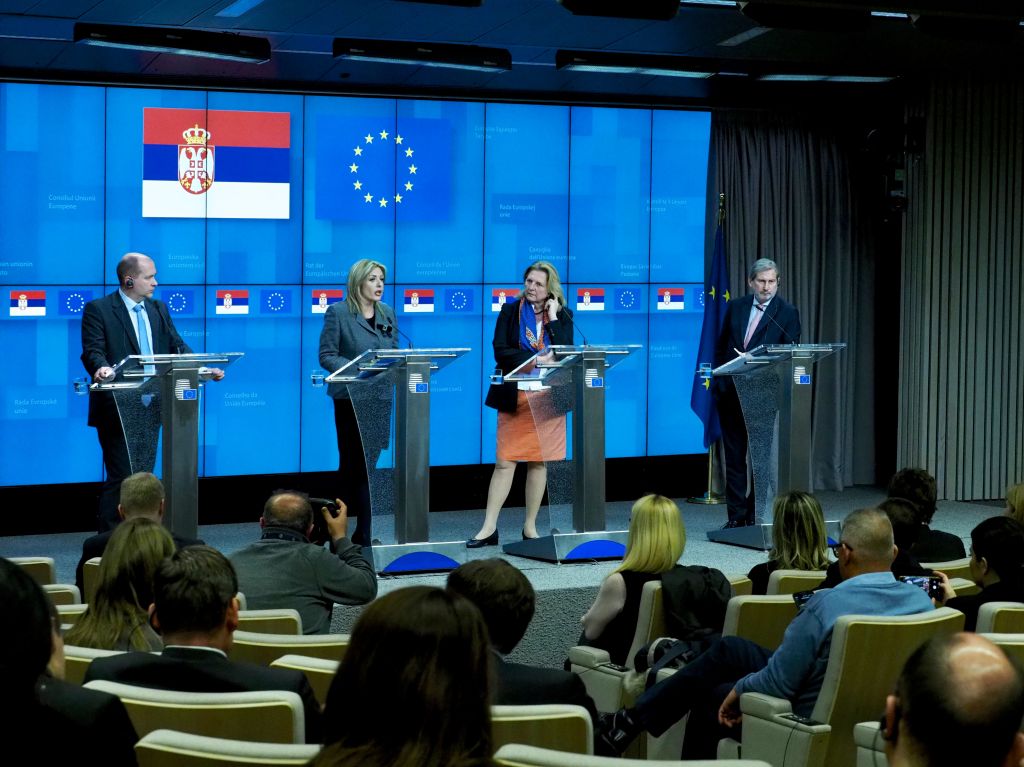 We are somewhat satisfied that we have managed to open two more chapters today - Chapter 17 on economic and monetary policy, and Chapter 18 on statistics - in the negotiation process, and these are the chapters that are truly important in a sense where Serbia is indeed the frontrunner in economic reforms and transformation, Minister of European Integration Jadranka Joksimović has said at the Intergovernmental Conference in Brussels.
The Minister has stressed that Serbia is the frontrunner in successful economic transformation in the region, and that these chapters confirm that Serbia has, so far, been successful regarding economic performance and that "through further alignment with the provisions, through fiscal responsibility and fiscal supervision and, in general, through macroeconomic and economically stable policies, we will continue to deliver good results, which are primarily of the utmost importance for a better life for our citizens and their expectations from the European path itself."
"As for Chapter 18, concerning statistics, we also want to introduce new surveys into our statistical system. We want to measure and compare where we are at regarding the quality of our people's lives, regarding the goals of sustainable development, regarding many other things that we want to compare and to have a realistic picture of where we are in terms of actual standards in the European Union," Minister Joksimović has said.
According to her, two chapters are important, but she believes that Serbia could have opened more chapters.
"I think that we have achieved significant, crucial results regarding the progress in the rule of law. We are not dissatisfied because we are determined to be persistent, to be patient, and to be very resolved in our intention to become a member of the EU, because, regardless of the fact that the reforms are the most important for our citizens, these reforms could be implemented without the European integration. However, membership is our goal, and membership comes through the process of European integration, and this is where we are putting in our resolve, determination and patience, and in which direction we will continue to act," the Minister has said.
Regarding the 100 percent increase in taxes that Pristina authorities have imposed on goods imported from Serbia and Bosnia and Herzegovina, the Minister has stressed that she is extremely concerned.
"I have reported that we are extremely, extremely concerned about these continuous actions by Pristina, which are contrary to all European fundamental values, and about announcements of new measures. We really do not know how and what is being additionally prepared, and what the measures Pristina is announcing will be," Joksimović has said.
She has stressed that Serbia does not want any concessions, but it wants principles to be respected, and that the European values adopted by Serbia are embraced by others as well, primarily by Pristina and Tirana.
"I would say, particularly by Pristina and Albania, since they have supported these non-European measures introduced by Pristina," the Minister has said, adding that European partners have a serious interlocutor in Serbian side.
Serbia is, according to her, committed to one endeavour - to ensure that regional peace and stability are actually sustainable, that they are real and based on respecting the principles.
"Serbia is a small country, but it is treading in high and stable heels of principles. This is the only way in which we can protect the European peace and security," the Minister has stressed.
Source: Tanjug