Ј. Јоksimović: There is no sustainable development without a strong sector of small and medium-sized enterprises
22. November 2018. | Belgrade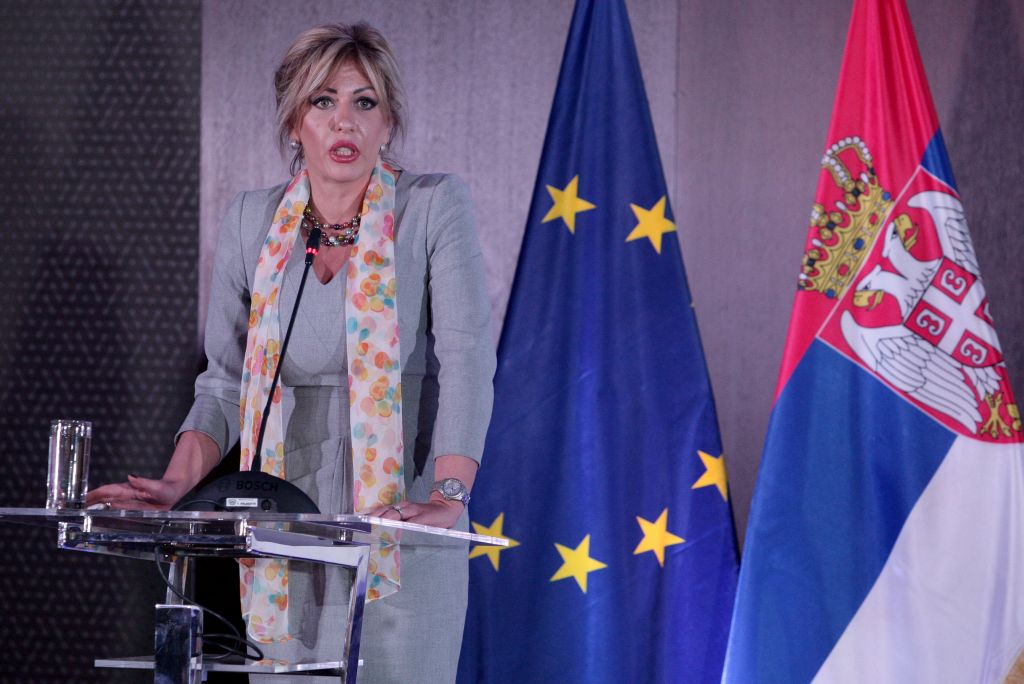 "There is no sustainable development, which is the key goal of European integration, without a stable and strong sector of small and medium-sized enterprises", Minister of European Integration Jadranka Joksimović has said today.
"Small and medium-sized enterprises are the backbone and leverage of the most developed European regions", Joksimović has stated during the celebration of the tenth anniversary of Enterprise Europe Network project, underlining that Serbia is currently in the phase of preparation for the use of structural funds.
Joksimović has said that Serbia is now using the pre-accession IPA funds and programmes at its disposal, adding that once it becomes an EU member state it will also avail of structural funds which account for billions of euro.
"Structural funds were the main impulse for significant economic development of all countries", Joksimović has said.
She has also mentioned the COSME programme whereby the European Union allocated EUR 2.3 billion for small and medium-sized enterprises throughout Europe.
"At this stage, Serbia is using the pre-accession funds and the Ministry of European Integration coordinates the programming of such funds in agreement with line ministries. When a country is preparing for the use of structural funds, the key message is good communication and good idea that needs to be turned into a sustainable project", Joksimović has said.
"This is a way to seek money, not only from the budget, but also to use funds from grants", she has added.
"This is why it is important for us to participate in such programmes in order to be better prepared when Serbia becomes an EU member state. Companies and small and medium-sized enterprises have an exceptionally important role in preparing the society for all opportunities that will be at our disposal when we become an EU member state", Joksimović has said.
She has added that chapter 22 relating to regional policy and structural funds of the European Union is currently in preparation. In this sense, the Serbian Chamber of Commerce, the Development Agency of Serbia and all others that will contribute to the development of a network of local economic development will be of immense importance, notably by stimulating small and medium-sized enterprises and sustainable regional development.
"The Ministry will coordinate the process, identify the assets available through funds and programmes such as COSME, Horizon 2020 etc, considering that even today the share of SME sector is around 58 percent of the total GDP annually and it employs two-thirds of employees in the non-financial sector", the Minister has said.
The Minister has underlined that she expects Serbia to open new chapters by the end of the year, very concrete chapters that also relate to the economic segment. With regard to chapter 20 on industrial policy and entrepreneurship, she has stated that the industrial development strategy is being actively worked on and that it will be a benchmark for closing this chapter.
(Source: Tanjug)