J. Joksimović and Lo Cascio: Italy recognizes Serbia's progress in reforms
16. November 2018. | Belgrade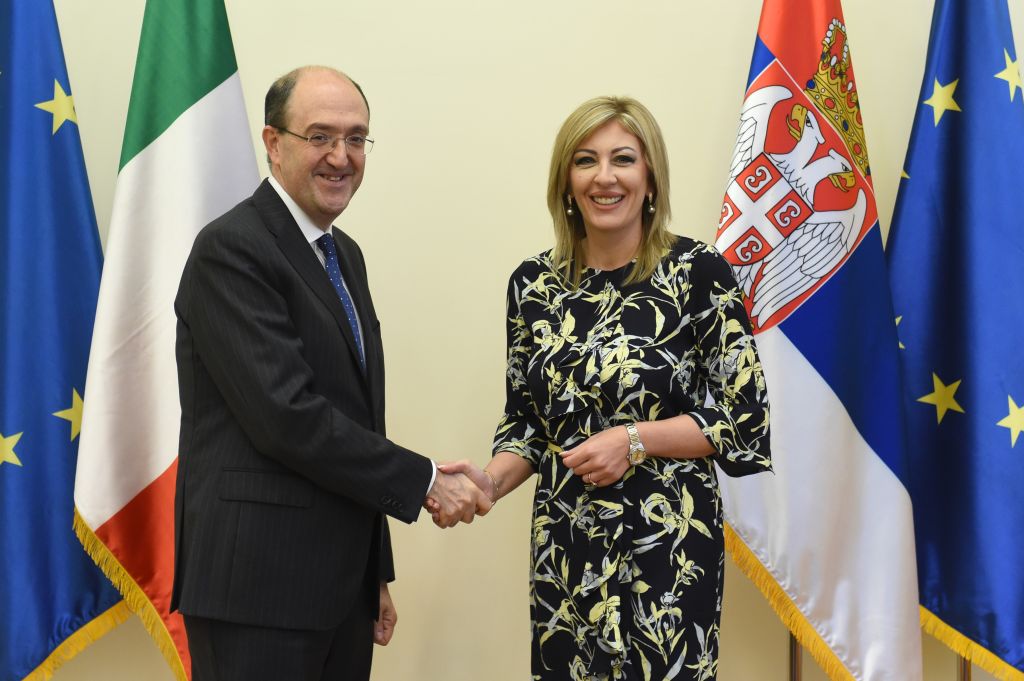 Minister of European Integration Jadranka Joksimović has held a meeting with Italian Ambassador Carlo Lo Cascio during which they discussed bilateral relations between the two countries, European integration of Serbia, reforms implemented in the accession process, as well as the situation in the region and other topics.
Jadranka Joksimović has expressed her appreciation for the support and assistance that Italy has been providing to Serbia in its accession to the EU. She has informed the Ambassador on Serbia's plans and activities in further European integration process. She has pointed out that Serbia is clearly committed to implementing reforms that, through the application of democratic norms, European values and strengthening of institutions, aim at creating a modern state in which the citizens' interests are a priority.
The Minister of European Integration has particularly stressed the significance of reforms under chapters 23 and 24 concerning judiciary, fight against crime and corruption, minority rights and media freedom. She has expressed her expectations that Member States will recognise progress in these areas and that they will provide support for the opening of new chapters by the end of December, i.e. by the end of the Austrian EU Council presidency.
Jadranka Joksimović has emphasised that Serbia is committed to establishing a sustainable solution for Kosovo and Metohija. She has warned, however, that by introducing numerous unilateral moves, Pristina had been undermining the dialogue, which is, in her words, contrary to the efforts to preserve and promote stability and inconsistent with regional economic arrangements. Peace, stability and development of the region are indisputable interests of Serbia, the Minister has stressed, noting that Serbia remains committed to them. She has also underlined that Serbia expects others in the region to accept these values as a leading political motive.
Italy will continue to support Serbia's European integration and a credible EU enlargement policy, Ambassador Lo Cascio has stated. He has said that the success and results of the reforms - which he believes will be even more intensive - confirm the European perspective of Serbia that has proven to be an important factor for the stability of the region and Europe, but also a crucial and reliable EU partner.
The interlocutors have agreed that the two countries have good bilateral relations and that Italy is a significant economic and political partner to Serbia.
Source: Tanjug