J. Joksimović: Serbia is committed to peace, but cannot achieve it alone
09. November 2018. | Vienna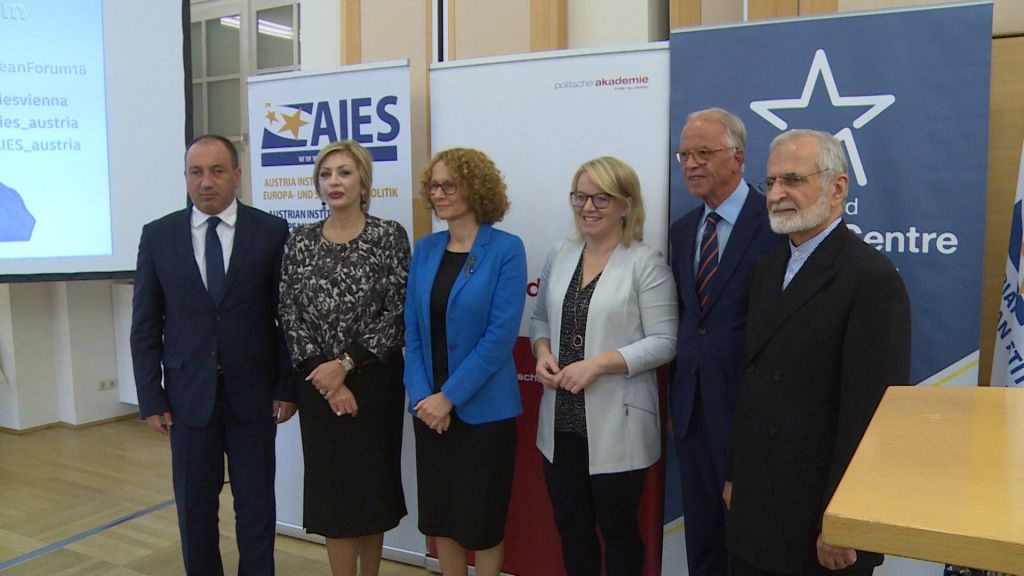 Minister of European Integration Jadranka Joksimović has participated today in the forum 'The EU as a leading actor for stability, security and defence in Europe' in Vienna, where she has informed the participants about the current state of the dialogue between Belgrade and Pristina, pointing out that Belgrade is in favour of continuing the talks, but that all illegal moves by Pristina undermine the concept of regional cooperation.
"I have informed them about the current state of the dialogue between Belgrade and Pristina. After the EPP summit in Helsinki, President Aleksandar Vučić went to Brussels, and we all saw what he pointed out. I have reiterated these views - that Belgrade wants to continue the political dialogue, but that all illegal moves undermine the whole concept of regional cooperation," Joksimović has said while speaking at the panel 'Southeastern Europe and its role for the EU stability'.
She has stressed that Pristina's illegal moves also refer to the formation of the Kosovo Army, which is in contravention of all documents related to security in Kosovo and Metohija, adding that this move worries not only Serbs living in Kosovo and Metohija, but also in the entire Serbia.
According to her, Pristina has also imposed completely illegitimate and illegal taxes on products from Central Serbia.
"All this undermines the whole concept of regional cooperation, which primarily refers to the part in which we all should be interested, and that is the regional economic cooperation initiated by President Vučić," Joksimović has told Tanjug.
She has stressed that she conveyed Belgrade's clear positions and commitment to a sustainable solution, and that Austria stated that their position had not changed, i.e. that the solution reached by both sides should be supported.
"This is a reasonable message. However, it is not so easily achievable, nor are we anywhere close to reaching it, but we have shown maturity and responsibility," underlined the Minister.
She has said that she also informed her interlocutors on how much economic progress Serbia had made in the past five or six years, because, as she has stressed, when you have good economy, you are interested in peace and stability, so that you may continue to make further progress.
"Serbia is committed to peace, and the position of President Vučić, who has shown that he is a true promoter of peace in the region, has also been emphasized here. However, this also requires responsible behaviour of all other actors in the region," stressed Joksimović.
According to her, Serbia has gained much-deserved attention at the forum in Vienna, while any discussion about regional stability where Serbia does not participate loses on its quality, and it is always important to be present, because otherwise, others would be saying something to which no one would be there to respond.
"From the beginning, Serbia, as an EU candidate country, has shown full commitment to the stability of the region and, therefore, to the stability of the Union, and it is important that we have informed everyone present in Vienna about it," Joksimović has stated.
She has reiterated that Serbia expects to open several more negotiation chapters until the end of the Austrian EU Presidency, since there are good reasons for that.
Joksimović has emphasised that Serbia has shown that it does not view European integration as a matter of daily trade - whether we will receive negative messages from the EU and immediately give up or whether we will get unrealistic promises that we are aware may not be fulfilled, and do everything in our power to speed up the process.
She has added that Serbia is a serious country, with mature citizens who have shown that the reform process is the most important, while membership in the Union is seen as the biggest and the strongest impulse for achieving sustainable stability.
She has pointed out that the EU has its own problems today, but that it has brought to the citizens of the Union almost 70 years of continuous peace, which the Western Balkan region, unfortunately, has not had. That is why the highest EU value is peace that has provided prosperity.
"Serbia does not have to prove that it is a European country, while Natalie's Ramonda that I have worn today speaks of Serbia's role in European processes, of how many people we have lost in wars ... and that this is the reason why we are permanently committed to peace", Joksimović has underlined.
She has pointed out that nobody wants or has the right to usher the citizens into adventurism, which can have unimaginable consequences, yet even if we are committed to peace, this does not mean that we can produce the result ourselves.
"Sustainable peace must be the result of the contribution and commitment of all, both in the region and in the EU. So that we do not stay at the rear, but be a part of that peace, which will bring more jobs and economic progress. This is one of the most important messages that we have communicated," Joksimović has said.
She has added that Austria has shown that it is consistent in its policy towards the Western Balkans, which is actually a central part of Southeastern Europe.
Source: Tanjug