J. Joksimović and CDU members: Germany and Serbia – political and economic partners
October 01 2018 | Belgrade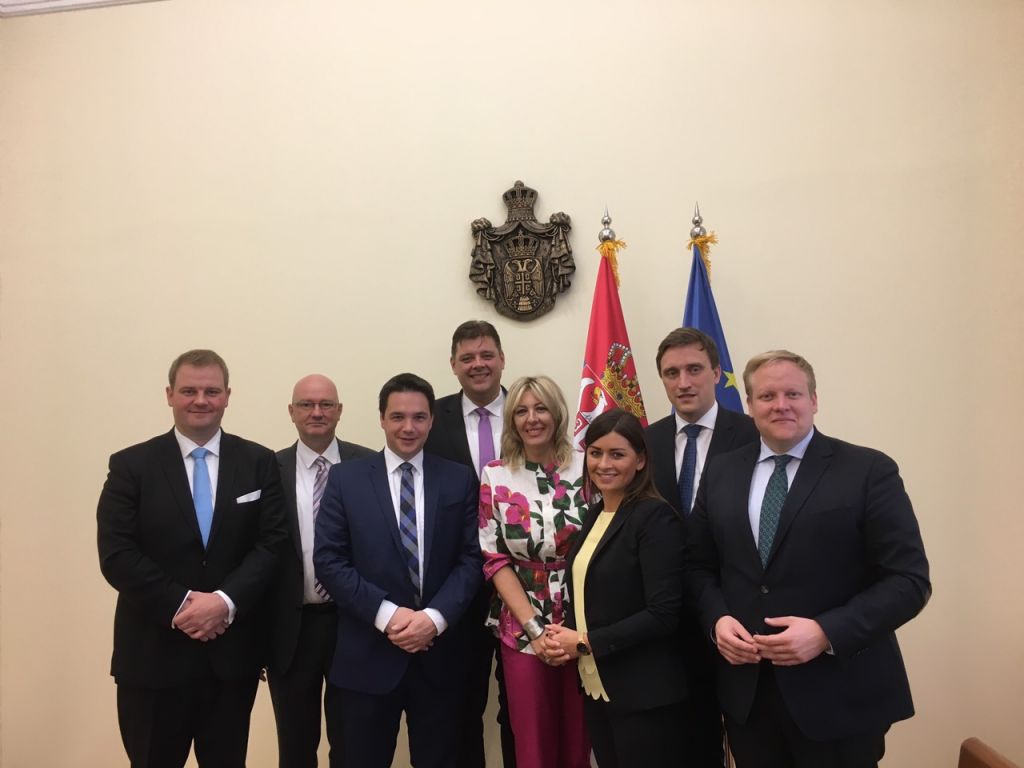 Minister of European Integration and International Secretary of the Serbian Progressive Party Jadranka Joksimović has met with the delegation of the Christian Democratic Union (CDU) parliamentary club in the Parliament of Lower Saxony. They have discussed the process of Serbia's accession to the EU and the cooperation of the two countries on Serbia's European path, the reforms that are being implemented, the situation in the EU and other important topics.
Jadranka Joksimović has assessed that Germany is an important strategic and, above all, economic and political partner of Serbia, and has thanked for the clear assistance and support this country provides to Serbia in the EU accession process. She has stressed that this is confirmed by the fact that, in the past 15 years, Germany has allocated EUR 1.6 billion in grants for numerous projects that serve the development and progress of Serbia. At the meeting, it has been noted that bilateral relations are at a high level, and that there is mutual commitment to strengthening the overall cooperation.
The Minister of European Integration expects that, during the Austrian EU Council Presidency, Serbia will open several chapters that are prepared at the technical level. According to her, this will reaffirm and valorise commitment to the reforms that are being implemented. In that sense, she has pointed out that the Government has accepted and acknowledged all recommendations of the Venice Commission on Constitutional amendments in the field of judiciary, and has conducted a transparent and inclusive process of public debate.
Jadranka Joksimović has informed her interlocutors about the situation in the region, the problems in the Belgrade-Pristina dialogue, and about Serbia's strong commitment to promoting peaceful and sustainable solutions.
Members of the Christian Democratic Union in the Parliament of Lower Saxony have expressed their belief that Serbia, through its past activities, primarily in the process of accession and especially through the results of the reforms, has proven that it is a reliable and serious partner that the EU can and will count on in the future.
They believe that Serbia - through its active participation in such challenges as the migrant crisis and its approach to combating terrorism - has reaffirmed itself as a reliable and constructive partner of the EU, i.e. as a country that has a very important role in preserving stability in the region, upon which the stability of EU depends as well. Therefore, as they have stressed, Germany's support to Serbia on its European path will not lack.
Source: Tanjug