J. Joksimović: I expect the opening of at least three chapters by the end of the year
September 28 2018 | Niš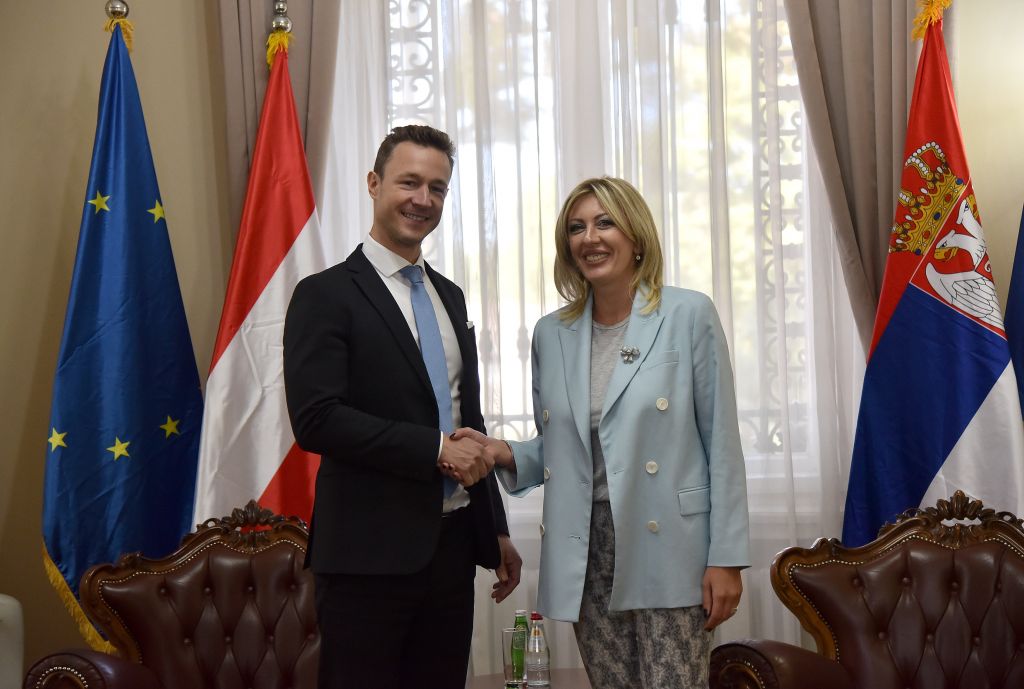 Minister of European Integration Jadranka Joksimović has spoken today with the Austrian Minister for the EU, Art, Culture and Media, Gernot Blümel, in Niš and has expressed her expectation that Serbia will open at least three chapters in the EU accession process by the end of the year, during the Austrian presidency of the EU.

The two ministers have discussed the European path of Serbia, as well as further improvement of economic relations, given that the Zumtobel factory, which is opening today in Niš, is another Austrian investment into that district of Serbia.

Blümel has stressed that good relations with Serbia are important for Austria, and that Zumtobel is an important signal of how the cooperation between the two countries is being improved.

He has added that Austria has put three main issues into the focus of its EU presidency, in the second half of this year - the fight against illegal migration, long-term stabilisation of the EU and the accession process, as well as the accession of Serbia to the EU.

He has thanked Serbia for its cooperation in combating illegal migration in the previous period.
"The opening of Zumtobel represents a clear signal that Serbia is one of our main partners in the long run," Blümel has said.

Minister Joksimović has stressed that Austria is a country with which Serbia has very good, stable and comprehensive bilateral, economic, political and cultural relations, with good cooperation between the ministries of interior and defence.
"Austria has also included the topic of enlargement to the Western Balkans among the priorities of its EU Presidency, and has put Serbia forward as one of the frontrunners in the process of EU accession," she has underlined.

She has recalled that Serbia has so far opened 14 out of 35 chapters, two of which have been provisionally closed, as well as that five more negotiating positions for chapters that are ready for opening have been prepared.
"We talked about supporting the opening of as many chapters as possible by the end of the year, which will mean faster and more stable dynamics of our accession process.

I think that we have Austria's support in this regard, and that they will strive to support the opening of as many prepared chapters as possible by the end of the year," the minister has added.
She has expressed her expectation that at least three new chapters will be opened by the end of the year, which will mean Serbia's success in the process of European integration, as well as the success of Austrian Presidency.
"The European path of Serbia continues, as there are many countries that support us within the EU. Austria is one of those countries that has been endorsing the enlargement policy in the most consistent and principled way. In Austria, we have an ally in economic issues and its sincere support on our EU path, and we will strive to make the best of it in the interest of our citizens," Joksimović has said.

She has also stressed that Austria has been the largest investor in Serbia for years, that their companies have shown interest in Serbian market, and that they mostly respond positively when asked whether they would invest in Serbia again.
"That is why this factory means a lot not only for this region and Niš, but also for entire Serbia, in terms of improving our economic relations. And when the economic relations are good, the political relations strengthen as well," Joksimović has concluded.

Source: Tanjug