J. Joksimović and Gasparič: Slovenia continues to support Serbia's European path
September 20 2018 | Belgrade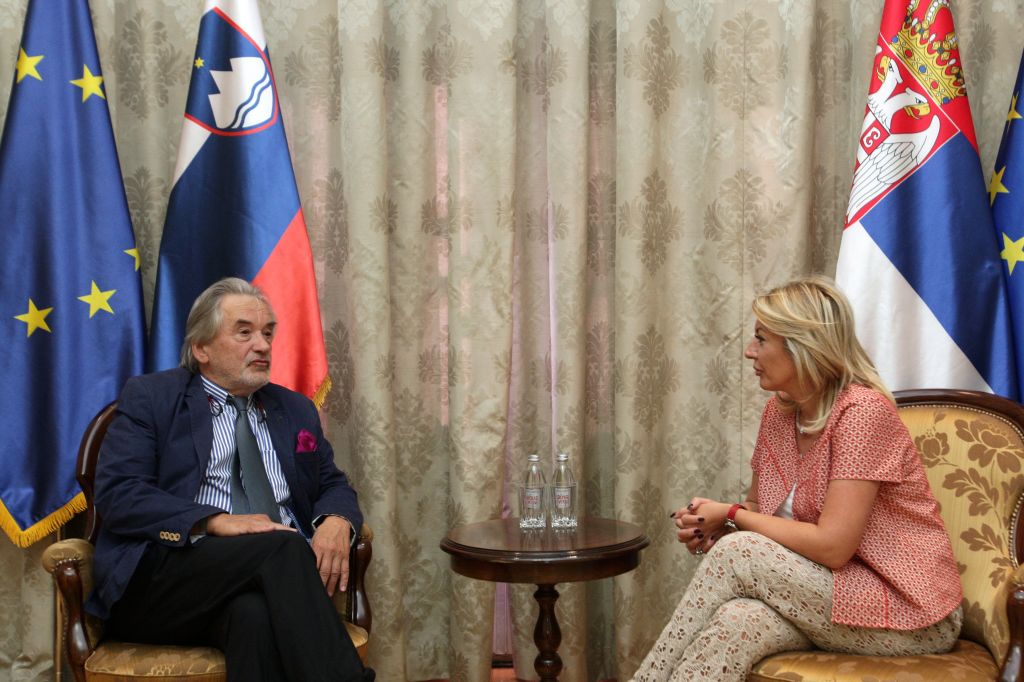 Minister of European Integration Jadranka Joksimović has received today in a farewell visit the outgoing Ambassador of Slovenia Vladimir Gasparič. They have discussed the bilateral relations between the two countries, Serbia's European integration process, circumstances in the European Union, relations in the region and other topics.
Jadranka Joksimović has expressed her gratitude to Slovenia's support and expert and technical assistance it has been providing to Serbia in the European integration process. The Minister believes that the new Government of Slovenia will continue to advocate the enlargement policy and thus affirm the European path of Serbia.
The Minister has informed Gasparič on plans and activities related to the accession process. She has expressed her expectations that Serbia will open some of the chapters for which it is prepared at the technical level, by the end of the year, i.e. during the Austrian EU Council presidency. This would put value on Serbia's activities on its European path. In that sense, she has informed Gasparič that, in addition to other activities, the Government has accepted and acknowledged all recommendations made by the Venice Commission on the constitutional amendments in the field of judiciary.
According to the Minister, what is very important to Serbia is the continuation and intensification of communication with Slovenia in the area of European macro-regional strategies, particularly the Danube strategy.
Joksimović and Ambassador Gasparič are both of the opinion that cooperation in the region is a precondition for development and progress, and that the stability of the region is important for the stability of the EU.
Ambassador Vladimir Gasparič has said that Slovenia will continue to support Serbia's European integration process and advocate EU enlargement, by which, as he has pointed out, it is confirmed that the region is one of the foreign policy priorities of Ljubljana. He has emphasised that the reforms Serbia is implementing give results and that Serbia is recognised as a reliable and active partner of the EU.
Minister Joksimović has thanked Gasparič for successful cooperation and wished him much success in his future work.
Source: Tanjug