Gabriel: The EU will take over funding of the Science Technology Park in Belgrade
September 17 2018 | Belgrade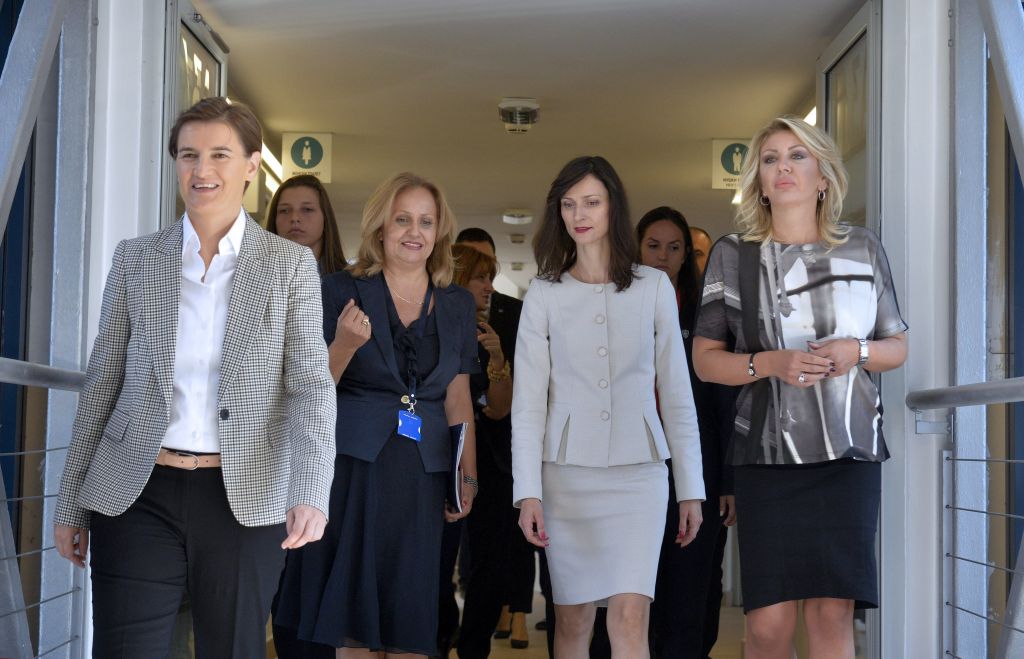 EU Commissioner for Digital Economy and Society Mariya Gabriel has announced that starting from next year the European Union will take over the responsibility of funding the Science Technology Park in Belgrade in the amount of EUR 1.5 million, which has been financed by the Government of Switzerland so far.
After visiting the Science Technology Park with Prime Minister Ana Brnabić, Minister of European Integration Jadranka Joksimović and Head of Delegation of the European Union to the Republic of Serbia Sem Fabrizi, Gabriel stressed that she was impressed with the work of the Park, the young people and their ideas.
"I am very impressed with what I have seen today at the Science Technology Park; even many EU Member States do not have what you have here," Gabriel said.
She has stressed that Serbia used the funds from EU grants in the right way and that this is demonstrated by the fact that she was welcomed by young, talented people who turned their ideas into products and services they sell.
"This is a great indicator of the success that Serbia has achieved by actively investing in the field of science and technology, and an accomplishment of both Serbia and the EU. I hope that we will continue to cooperate and grow together in the spirit of partnership," Gabriel has highlighted.
She has listed some of the concrete results achieved in the Park - seventeen companies that made profit by selling products and services, nine companies that established international cooperation, two companies that acquired distributors for the US market, pointing out that 1000 people are currently working in the Science Technology Park.
"I am glad to have seen splendid examples; you are working not only on ideas, but also on making these ideas a reality. We have seen that all of the services you are offering can help citizens, farmers, businesses, while digitisation can assist both traditional and modern sectors," Gabriel has underlined.
Serbian Prime Minister Ana Brnabić has stated that a public debate on the Science Fund Law is currently under way and that she expects that it will be adopted by the Assembly by the end of the year and that Serbia will introduce a special Science Fund as of 1 January.
"So, in addition to the Innovation Fund, we will have another fund established for financing science and technology," said Brnabić.
She has pointed out that the goal of the state is to have technology centres and start-up companies in every major city in Serbia and announced that a European Investment Bank (EIB) loan amounting to additional EUR 60 million will be used to expand the Science Technology Park, construct a new structure within the Institute of Physics, a new Faculty of Organisational Sciences building, a laboratory for the Faculty of Electrical Engineering etc.
"In Novi Sad, we are currently building a Science Technology Park covering 29,000 square metres. I hope that in the next few weeks we will lay the foundation stone for the construction of the Science Technology Park in Niš. What we have observed today in Belgrade will be present everywhere in Serbia in the upcoming years," announced Brnabić.
She has expressed her gratitude to the EU and all the Member States for support and financial assistance, because, according to her, Serbia could not have achieved any of the aforementioned by itself.
Minister of European Integration Jadranka Joksimović has underlined that Serbia receives approximately EUR 200 million annually from IPA funds for projects covering various activities, adding that since 2013, EUR 24 million has been allocated for the development of innovative entrepreneurship from these funds.
She has recalled that in 2016 she and her colleagues from the European Commission managed to negotiate another EUR 20 million for start-ups involving small and medium-sized enterprises through a guarantee scheme for commercial loans with conditions more favourable than those existing in the market.
"While it is vital that the development of innovative entrepreneurship relies on grants and budget funds, this does not mean that in the future we should not ask for more favourable ways of providing loans, for example through favourable commercial loans with the support of European funds as a guarantee scheme for this type of loan. I hope that this segment will be further developed and that more people will be provided with the means to start their own businesses," stated Joksimović.
She has added that Serbia is currently negotiating the 2018 Package, which will, as she has explained, become available in about a year or a year and a half.
"I expect a significant package of funds for innovation and I believe it is realistic to expect approximately EUR 7.5 million from the EU and about EUR 2.5 million from the budget for the development of this field," Joksimović has noted.
She has assessed that European integration has provided a framework for the sustainable development of Serbia, which will enable the development of not only this, but also future generations.
"We are building the basis for sustainable development and we need to work on improving local infrastructure, through the construction of roads, sewerage networks and other elementary needs that should not be the topic of the 21st century and affect the dignity of life", the Minister has stated.
"And therefore, we must use funds in parallel - on two tracks, for local infrastructure and to invest money in what is the basis of the development of today's European research area, and that is innovation, stressed Joksimović.
"Our goal is to ensure conditions for a dignified life in Serbia, especially to support young, talented, creative people, those who are the bearers of future development," concluded Joksimović.
Director of the Innovation Fund Ivan Rakonjac has said that since 2012 the Fund has been a beneficiary of IPA funds and that their first programmes were developed owing to these funds.
He has underlined that the EU has invested around EUR 14.5 million in the Fund so far and that the Government has provided as much as EUR 12.2 million in the past two years alone.
Source: Tanjug