J. Joksimović: European integration has set sustainable development strategy of Serbia
28. August 2018. | Belgrade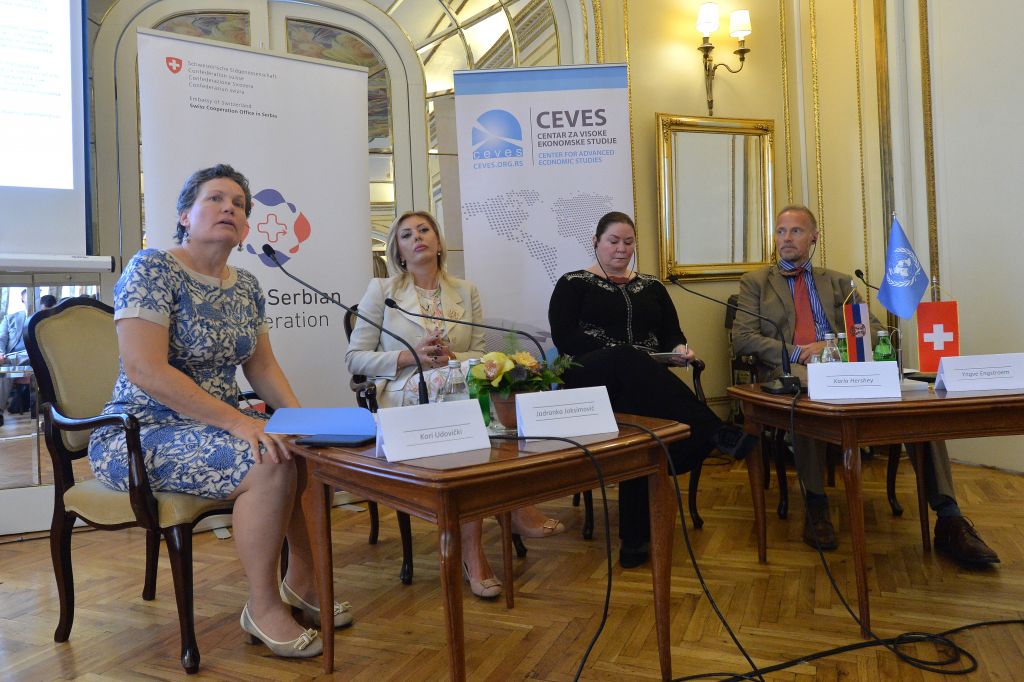 Serbia has its own development strategy for sustainable development and it has been standing firmly in its reform process since 2012, Minister of European Integration Jadranka Joksimović has said today, adding that Serbia's European integration process has clearly set Serbia's development vision.
At the panel 'Visualising Serbia in the future: How do the European road and Agenda 2030 intertwine', within the framework of the conference 'Serbia 2030: Facts and Options', Joksimović has stated that the European Integration Framework includes all 17 sustainable development goals.
"Negotiations through all 35 chapters include all 17 sustainable development goals. We may think about the ways to set up the framework, but I believe that every address made by Aleksandar Vučić is a strategic framework that provides guidelines for the development of Serbia and I believe that we have a good strategic document," said Joksimović.
She has added that the Government of Serbia should work with all interested communities, businesses, academics, as well as with international partners, institutions, and, in this manner, evaluate the impact of the UN Agenda 2030.
According to her, a voluntary national report is being prepared for the following year - to be presented by President Aleksandar Vučić in the UN, which shows Serbia's readiness to pursue goals and establish cooperation on these issues.
"European integration is a process that provides us with the framework for achieving sustainable development goals and I believe that through the negotiations so far, the opening of chapters, and preparing new negotiating positions, we have entered deep into the process of achieving a better life for the citizens of Serbia," she has stated.
As she has explained, this implies everything that citizens stated as their expectations regarding EU integration, namely, a higher standard of living, fight against corruption, healthcare system reform, agricultural development, environmental protection and availability of everything that makes life dignified.
"We cannot separate citizens' expectations of the European integration process from the universally and generally accepted goals set by the UN Agenda 2030," Joksimović has said.
The Minister stated that Serbia had prepared comprehensive reform programmes in 2012, 2014, and especially in 2016, which were presented by the then Prime Minister of Serbia, Aleksandar Vučić.
"In the address of then Serbian Prime Minister Aleksandar Vučić, a comprehensive reform programme with an inventive bold development vision for the future was prepared through a series of reform policies and through a horizontal negotiation process with the EU, supported by EU pre-accession funds and through preparations for cohesion funds under Chapter 22," Joksimović has said.
She has added that under this planning framework aimed at achieving a developmentally bold Serbia at the political level, the country's development policy, which is still being implemented by the Government, is harmonised with the process of European integration, as well as with the UN Agenda 2030 in the broadest sense.
She has highlighted that it must not be forgotten that the EU is not only a political framework that has brought lasting peace among democracies on the European continent, but that it has also spread in the direction of economic communities after its creation in order to obtain both a political and a value-related dimension.
"The EU cannot be perceived without considering the specific interests of the EU as a community, which is not only political and value-related, but also an economic community. This is the largest market in the world today and, owing to these values, the largest market with the highest standard of living and qualitatively the best life compared to all other actors in the world," the Minister has stated.
In her words, these are the reasons why Serbia sees both the opportunity and the chance to naturally belong to such a system of not only values, but also interests.
"There is no dilemma regarding Serbia's priority. The development priority and development vision of Serbia's sustainable development is being achieved through European integration and that is Serbia's strategic priority," Joksimović has pointed out.
According to her, the task of the state is to provide its citizens with the right to a dignified life that is not measured only by GDP, which is also significant, but also by the availability of infrastructure, drinking water, healthcare...
Noting that there is an opportunity to achieve other goals through negotiations, Joksimović has said that they are not expenses, but investments and explained that the realisation of one goal opens the possibility of achieving the next one.
"For example, through goal number eight and its targets - direct foreign investments, the introduction of environmental protection standards will be cheaper for the state, as those who already have established it make the introduction of this standard cheaper through their investments and their technological manner of doing business. This money is not just an expense; it is an investment into goal number two - ending hunger, achieving food safety, improving nutrition and promoting a healthy environment, also goal number three - providing a healthy life and promoting well-being for all generations, as well as goal 13 - take urgent action in fighting climate change and its consequences...", Joksimović has explained.
Speaking on the nationalization of goals, which is viewed as a national prioritization of targets, Joksimović has said that this is not only a matter of national prioritization of goals, but also the manner in which to establish a set of instruments, mechanisms and lead a policy aimed at achieving all the goals at some point.
"Every goal enables another one to be realised and the question is where to start from in order to achieve them one after another," Joksimović has said, adding that nationalization of goals includes instruments that are available to nationalize targets by making them localised, budgeted, thus making it possible to plan their execution, network all interested parties and use available EU funds.
(Source: Tanjug)