Patience and reform course will lead us to EU
July 11 2018 | Belgrade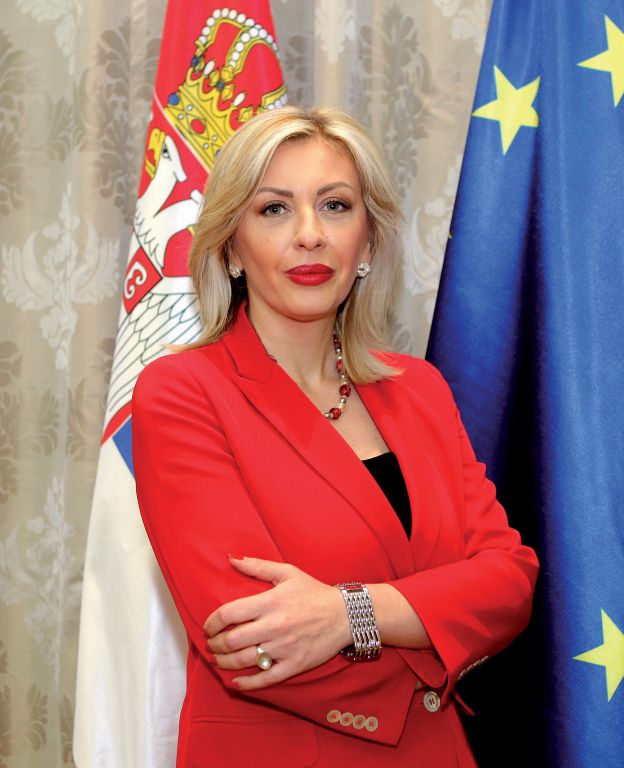 Serbia is far on its European path, and when it will achieve the goal, namely, membership in the European Union, depends on both Brussels and Belgrade. European officials informally refer to 2025 as the framework year of accession, which, according to our interlocutor, is an indication that Serbia is seriously counted on. Although it seems to some that the aforementioned year is far away and that the process of association is slow and conditioned, reforms that ensure membership, and perhaps the most important - better society as a whole, continue to be implemented.
Is 2025 realistic regarding accession or do you think that Serbia should become part of the European family sooner? What is our responsibility and what is the responsibility of Brussels?
The year that you have mentioned, which was in a way first promoted by European Commission President Jean-Claude Juncker - when he spoke about Serbia and Montenegro as leaders of the European integration process in the region, has never been interpreted by us as a certain and definite date of EU accession. That year may be understood as a framework, a great encouragement and a clear incentive to continue with the reforms, which constitute an integral and inseparable segment of the accession process. I would say that 2025 is a very powerful indicator through which the EU is showing that it has grounds to count on our country as a very serious, and dare I say - the most serious candidate for membership. I am convinced that there are many reasons for this position on part of the Union - we have proven and demonstrated to be a constructive and reliable partner - we have actively participated in solving the migrant crisis, we share the same attitude and resistance to terrorism with the EU, insist on the stability of the region - as the dominant condition for cooperation, peace, progress and development. As a Government and as citizens, we have shown our readiness to undertake unfavourable and not so easy economic reforms that have brought us macroeconomic stability and a sound basis for increased growth, so as to avoid becoming economic parasites within the EU, but instead a healthy developing country. And all this cannot go unnoticed, even by the ill-intended. Furthermore, I also believe that 2025, as a year of accession, is not so unattainable if we accelerate the reforms, which has recently been confirmed by members of the European Union- Serbia Stabilisation and Association Parliamentary Committee in the Declaration on Serbia. Although, if I may note, there are different views on many issues among EU countries, therefore on enlargement too, Serbia nevertheless continues with the accession process, which is, by the way, a vital instrument of the internal development agenda of our country.
Moreover, the Union itself is not immune to its own problems, which also affect the enlargement process. I think that it is in the phase of re-examining and attempting to resolve internal dilemmas, and that the reasons why accession is not high on the list of Brussels priorities should be sought in that area. In addition to the need to reiterate that Serbia was pointed out as the leader of European integration in the region within the Enlargement Strategy for the Western Balkans, I would like to recall that - based on the same document - the European Union committed itself to showing more solidarity by 2025 and, as such, to being more prepared and stronger to receive new members. Therefore, I am convinced that it is very important that Serbia is recognised and mentioned as part of the renewed EU leadership capacities.
What has Serbia achieved so far and what lies ahead of us? How many chapters will be opened by the end of the year?
Since the beginning of the accession process, Serbia has opened 14 chapters, of which two have been provisionally closed. At the last - Eighth Intergovernmental Conference, held on 25 June in Luxembourg, we opened two: Chapter 33 - Financial and budgetary provisions and Chapter 13 - Fisheries. We were completely and technically prepared to open another 3 chapters, but - for various reasons not depending on us - we did not. Namely, the decision to open chapters is made by the consensus of Member States, so the process of EU negotiations and accession is rather complicated and complex. It is therefore ungrateful to forecast how many chapters we will open by the end of the year, but I believe that during Austria's six-month Presidency over the EU Council (the second half of 2018) - which has set enlargement as a priority, we will at least at least open the three chapters left unopened in June: 9 - financial services, 17 - economic and monetary policy, and 18 - statistics. I believe that we will have several more negotiating positions prepared as a result of the great efforts exerted by our working groups and negotiating team. Otherwise, the very fact that we are opening chapters is evidence that there is continuous progress in our reforms and an introduction of new standards. It could always be faster and better, but for the current pace of the opening of chapters, I would say that it is solid, given the atmosphere regarding the enlargement policy in the European Union itself, as well as other challenges on the international scene. We also have to work harder and faster in some areas.
The Government of Serbia, President of the Republic Aleksandar Vučić and SNS, as the largest party of the ruling majority, are implementing the reforms for the progress of our society, which will be achieved through the application of European values, norms and standards. In this manner, with the belief that the EU - although not ideal - is the best place to live and work, we are providing citizens with conditions for a better life and creating a socially secure, economically stable, modern and developed country, just as we have promised them. I will mention who knows how many times, but because I think it is vital, that reform of the state and society is our key goal, and that EU membership comes as a logical step following the reforms we are implementing.
Our country will still have a lot of work in the continuation of the European integration process; reform requirements that are set before us are not always easy and simple, but - as I said, we are focused on European integration with full capacity because we believe that we are doing the proper and right thing for the society.
You are in charge of a serious domain, being responsible for the accession process is not at all easy, especially for a woman. How are you coping?
I openly accept challenges and hard tasks and have always been demanding both of myself and of others equally. I have been dealing with European integration within the Government of Serbia since 2014, but also as an international secretary of SNS, and before that as a Member of the European Integration Committee. The job is not easy at all, it is very responsible and full of challenges, a person who performs it must invest utmost dedication, patience, focus, self-control, perseverance, and also make many sacrifices. My activity is closely linked to daily political developments in the international context and the context of internal reforms. Everything is reflected onto the European integration process - this requires a quick, clear and effective reaction. Much of this is not visible to the general public, but the results, whatever they may be, are quickly felt. Nevertheless, I have consciously accepted both the good and bad sides of the job that I perform responsibly and with full capacity and, I deeply believe, in a manner that will benefit the state and citizens.
Is it more difficult for women in politics, especially in Serbia?
I do not ask for privileges, nor do I expect them, but I do not allow any kind of gender discrimination. I'm very persistent and I will not be strayed off the course so easily. In Europe and Serbia, there are still differentiations and injustices with regard to gender, but we are systematically working on it.
How much time do you have for yourself and your personal life? Is the job of a politician in Serbia an occupation with a working time of twenty-four hours a day?
I do not have time as much as I would like to, but it is the price of the work I do. However, one must always find time for family, friends, and a good book - I have adopted the habit as a child. I also have responsibilities as regards my doctoral studies at the Faculty of Political Science, which is also not easy for me to follow the way I wish to, but I am persistent. Generally, my present personal life does not drastically differ from the earlier period, except that I am frequently travelling abroad, which can be extremely tiring and often full of difficulties that are not so obvious.
Source: The Globe Magazine