J. Joksimović and M. Sarrazin: The importance of continuing with the reforms in the rule of law
22. May 2018. | Belgrade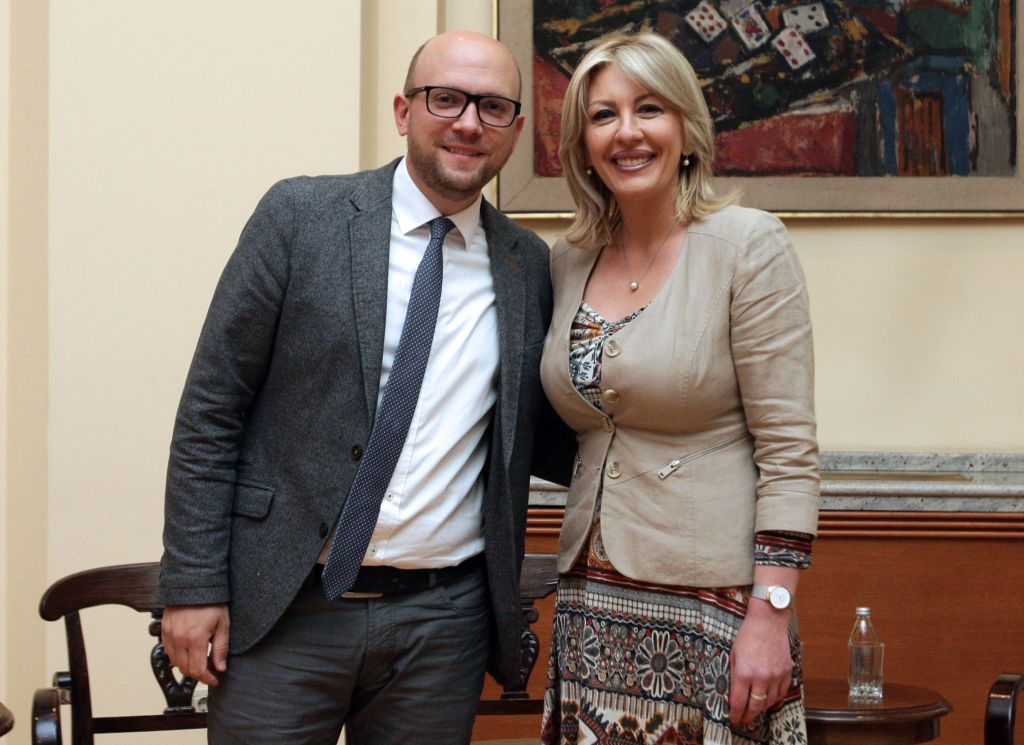 Minister of European Integration Jadranka Joksimović has talked with the member of the German Bundestag's Committee on the Affairs of the European Union Manuel Sarrazin on the messages from the Summit in Sofia, the European integration of Serbia and cooperation with Germany in the continuation of the accession process, the reforms which are being implemented, the situation in the region, bilateral relations and on other topics.
Joksimović and Sarrazin have assessed that last week's Summit in Sofia, despite the numerous challenges and new topics that appear in the EU as well, had nevertheless sent a message on the European perspective of the region. They have agreed that connectivity and cooperation in the region are values that Serbia is also insisting on - without them there is no peace, prosperity and stability of the region.
Jadranka Joksimović thanked Germany - which is an important strategic partner of Serbia, for its assistance and support in the accession process. In the last decade and a half, this country had allocated EUR 1.6 billion in grants for numerous development and reform projects.
Serbia has prepared five negotiating positions: 33 - Financial and budgetary provisions, 9 - Financial services, 13 - Fisheries, 18 - Statistics, and 17 - Economic and monetary policy. Minister Joksimović has expressed her expectations that we shall open some of these chapters by the end of the Bulgarian Presidency of the EU Council.
Joksimović and Sarrazin have agreed that the reforms in Chapters 23 and 24, which include the areas of judicial reform, the fight against crime and corruption, minority rights, and media freedoms are of great importance for the European integration process and, above all, for the modernization and overall progress of the state.
Sarrazin has stressed that enlargement policy is not a popular topic in some EU Member States, but that the states' individual progress in the process of European integration will certainly be valued.
Joksimović and Sarrazin have noted that relations between the two countries are exceptionally good and are developing to the mutual satisfaction.
Source: Tanjug