J. Joksimović and French senators on the European integration of Serbia
21. May 2018. | Belgrade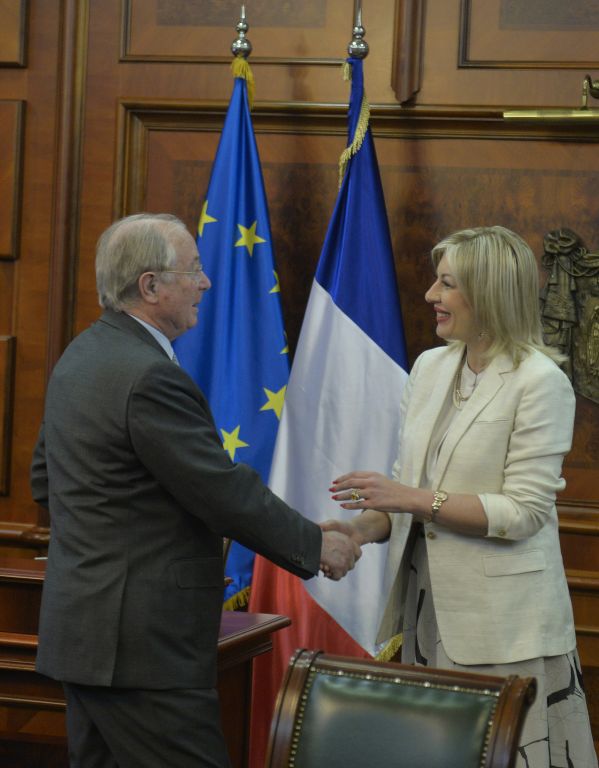 Minister of European Integration Jadranka Joksimović has met with the delegation of the Committee for European Affairs of the French Senate and discussed the messages from the last week's Summit held in Sofia, the process of European integration of Serbia, the reforms being implemented, the bilateral relations of the two countries, the situation in the region and other important topics.
The Minister has thanked France for its renewed interest in Serbia and the assistance and support it provides to us in the process of European integration. She has pointed out that the EU membership is our strategic foreign policy commitment, that the EU integration is the best mechanism for the overall development of the state and that the reforms are implemented for the purpose of higher standard and better lives of our citizens.
Jadranka Joksimović has informed the French senators about previous activities and Serbia's plans in the continuation of the accession process. She has recalled that we opened 12 chapters - two of which had been provisionally closed, and that we are ready to open another five chapters: 33 - Financial and budgetary provisions, 9 - Financial services, 13 - Fisheries, 18 - Statistics, and 17 - Economic and monetary policy. She has expressed her expectations that we shall open at least two or three chapters during the Bulgarian Presidency of the EU Council.
The members of the Committee for European Affairs of the French Senate have emphasised that France will continue supporting the European path of Serbia, which, as they stated, proved to be a constructive partner of the EU and a factor of stability - both regionally and in a broader sense. They have noted that the reforms introduced in the area of the rule of law are the most important, so these reforms should be expanded.
Moreover, they have underlined that following their visit to Serbia they shall prepare a report which will be presented to the members of the French Senate, with a belief that the prevalent tone of the report shall be positive. They have stressed that it is important for us to work together to explain and demonstrate the importance of the enlargement, both to the citizens of the EU and to the citizens of Serbia.
Both parties have also assessed that the relations between the two countries are good and that there is room for their further development and strengthening.
Source: Tanjug