J. Joksimović and Ossowski: Germany encourages the continuation of reforms in Serbia
April 25 2018 | Belgrade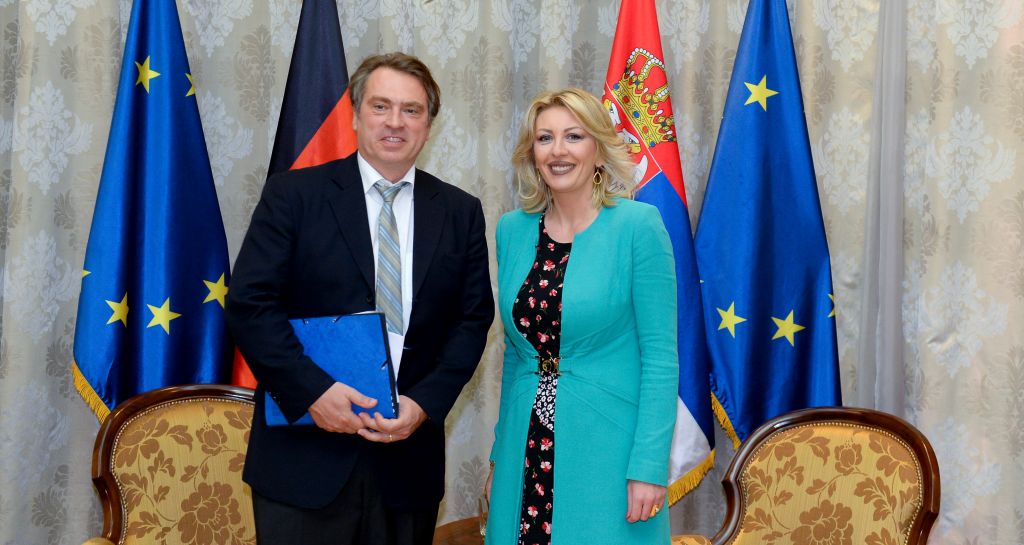 Minister of European Integration Jadranka Joksimović has talked with the Director for Relations with the EU Member States and Envoy for EU Affairs in the Federal Foreign Office of Germany, Thomas Ossowski, about the relations of the two countries, the EC Report on Serbia's progress, European integration process, reforms being implemented, the situation in the region and other important topics.
The Minister of European Integration has expressed her gratitude for the assistance and support Germany has been providing to Serbia in the EU accession process. Namely, Germany is the largest bilateral donor of Serbia - in the previous 15 years, it has allocated EUR 1.7 billion in grants for the implementation of numerous projects.
In that sense, Joksimović and Ossowski have noted that there is continuity in improving the overall cooperation, primarily political and economic cooperation, that the relations of the two countries are outstanding and that intensive regular communication, present at all levels, yields positive results.
The Minister has assessed that the EC Report is balanced and mostly favourable, that Serbia's progress has been noted in almost all areas, especially in the area of economy, rule of law, fight against organised crime and corruption. She has pointed out the statements on the importance of Serbia as a factor of regional cooperation and stability. She has said that all remarks made in the Report are taken seriously and that Serbia will work on their improvement.
In addition, according to the Minister, the Report - as a relevant parameter - will affect the decision of the EU members regarding the opening of new chapters. Serbia is ready to open five of them: 33 - Financial and budgetary provisions, 9 - Financial services, 13 - Fisheries, 18 - Statistics and 17 - Economic and monetary policy, specified Joksimović, who expects that Serbia will open a more significant package of chapters during the Bulgarian presidency over the EU Council.
Joksimović and Ossowski have agreed that the stability of the region is extremely important and that it also reflects on the EU.
In this regard, Ossowski has explained that Serbia is viewed in Germany as a country important for the stability and prosperity of the entire region, as well as for achieving common European interests. He has said that Germany encourages and supports both the reforms and the European integration of Serbia, because they contribute to the development of Serbia and the region, which is also in the EU's interest.
(source: Tanjug)