J. Joksimović and Lončar: We also use EU funds to combat the rise in malignant diseases in Serbia
04. April 2018. | Požarevac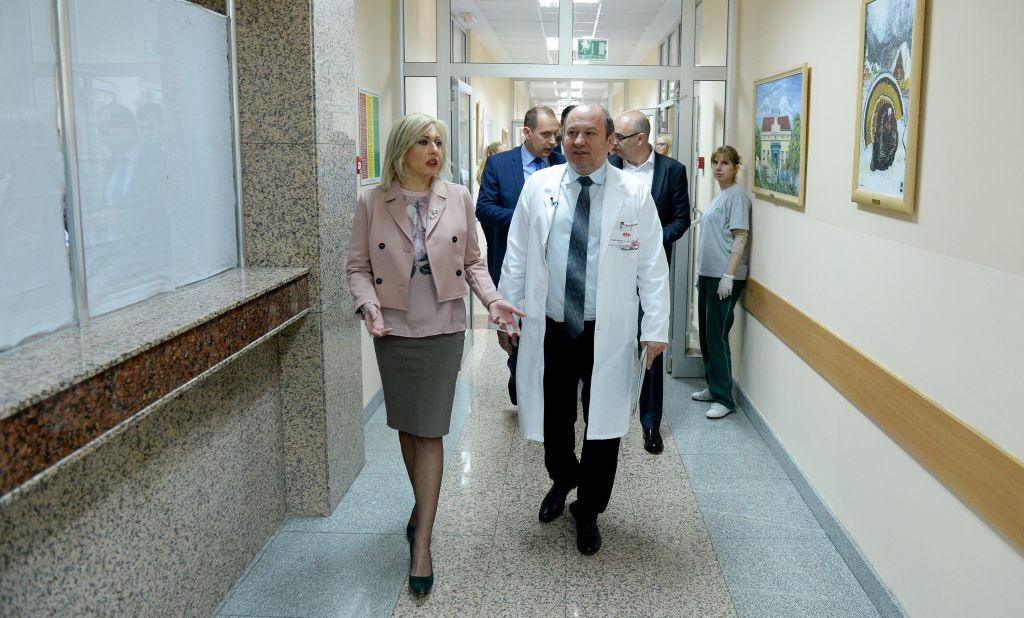 The implementation of the Project "Romania-Serbia joint initiative against cancer in cross-border region" within the Cross-Border Cooperation Programme Romania - Serbia has been launched today at the General Hospital in Požarevac. The project's main goal is to address one of the main challenges in healthcare - the fight against cancer.
The presentation of the Project was attended by Minister of European Integration Jadranka Joksimović, Minister of Health Zlatibor Lončar, representatives of the Romanian partner on the project from OncoGen Timișoara, Carmen Panaitescu, and Director of the General Hospital in Požarevac Danko Nikolić.

Joksimović has expressed great satisfaction that a very important project for public health of Serbian citizens has been launched today, within an important area of medicine which is gaining momentum in Serbia, where it can be heard that more and more people are getting sick with malignant diseases with each passing day.
"My belief is that, if there is one thing we should finance from the funds that are at our disposal, the available EU funds, it is definitely that which is related to improving the health of our people, because without a healthy nation, without healthy citizens, we can neither create a better policy nor a better future for us all," Joksimović has said.

She has said that there were several projects, and that there was one infrastructure project which was better ranked compared to this project, but that she, as a coordinator and in cooperation with the Romanian partners, "has pushed this project forward, because she considered it to be something that would show our people, in the best way possible, how important it was to be a stable country on the path to European integration, to use all the available funds in order to reach the standard of European countries, primarily in the health sector."
"When you ask Serbian citizens what they expect from the process of European integration, what they want as a standard, they will primarily say better healthcare and more accessible healthcare to everyone, and if that is a goal and expectation of our citizens, then it is also our priority to use the available funds, in the form of grants, whenever possible to that end," she has added.
She has said that this Project is extremely important for Serbia, border municipalities and Braničevo District, partly for Podunavlje District, partly for Vojvodina and for border municipalities in Romania.
"If there is one thing we can do, it is to, first of all, improve the availability of healthcare services in an area which is becoming very problematic in our country," Joksimović has stressed.
She has said that Serbia has been using the funds from the IPA Programme for quite some time now, and that it has been most successful in the area of cross-border cooperation projects, adding that Serbia is cooperating with Hungary, Bulgaria, Romania, Montenegro, Bosnia and Herzegovina, Croatia and, since this year, with Macedonia.
"By 2020, we will have at our disposal EUR 88 million in grants," she has said, adding that the EU, "with all its doubts and certain political difficulties", represents the largest donor to Serbia, and that in the past 12 years over EUR 2 billion in grants has been granted by the EU.
Minister Lončar has thanked Minister Joksimović for the implementation of this project, whose significance, he believes, we cannot yet grasp.
"We will feel the effects of this project in three years when everything is completed, when this opens, when there is equipment and when we have new young medical practitioners who have already commenced with their medical specialisation. We also have an agreement to initiate the training of additional doctors and medical staff, who will be employed due to the increased capacities," Lončar has said.
He has added that, in addition to 88 doctors who have already been employed, there will be room for hiring additional doctors, who will undergo medical specialisation, as well as everything else that is necessary, because it is necessary to "be ready for the opening of the hospital".
"We are getting older - people are getting sicker not just in Serbia, but everywhere in Europe, but there is one result that can be achieved if the disease is detected in time, which is the goal of everything we do - to provide higher chances for them to be cured, to live better lives, to be useful to their family, society and the state," Lončar has said.
He has said that there will be a control mechanism at the hospital in Požarevac which will link the systems in Serbia and Romania into a network, and that it will be possible to check on the results, which will be an incentive to work better and achieve better results.
Danko Nikolić, the director of the hospital, has said that this project is a continuation of the project under which the emergency reception centre of the specialist clinic was built.
"Through this project, three floors of the hospital will be completed, which will provide us with a central surgical block with intensive care and the stationary part of the Department of Obstetrics and Gynecology, Urology and Surgery. Thanks to the EU donation, we will have a completely finished new hospital in 2021," Nikolić has said.
Carmen Panaitescu from OncoGen has said that OncoGen has been researching the early detection of cancer for 20 years, which is the goal of this project.
"The goal of this project is to detect the presence of cancer early by using genetic tests, which will help our medicine reach the international level. We will improve our diagnostics by 80 percent. We have a hospital that will be equipped in your country, with diagnostics conducted in our country, and the strategy for healthcare development in this area will be raised to a higher level," Panaitescu has said.
The project is financed from the EU IPA fund through the Cross-Border Cooperation Programme Romania-Serbia, and the total value of this project is over EUR 11.6 million.
In addition to the General Hospital in Požarevac, the Ministry of Health of the Republic of Serbia and OncoGen, the partners of the project are the Emergency Clinical County Hospital "Pius Brânzeu" from Timișoara and the County Emergency Hospital Reșița from Romania.
The goal of the programme and cooperation between the two countries is to strengthen the potential of the programming area for inclusive growth and improving the quality of life for the entire population on both sides of the border.
Specific activities will relate to the promotion of cooperation in the field of oncology in order to provide access to modern and efficient specific health services for all oncological patients living in the region, with the aim of extending their lifespan and improving their quality of life.
Source: Tanjug