J. Joksimović: Chapter 35 is not a replacement for the dialogue between Belgrade and Pristina
31. March 2018. | Belgrade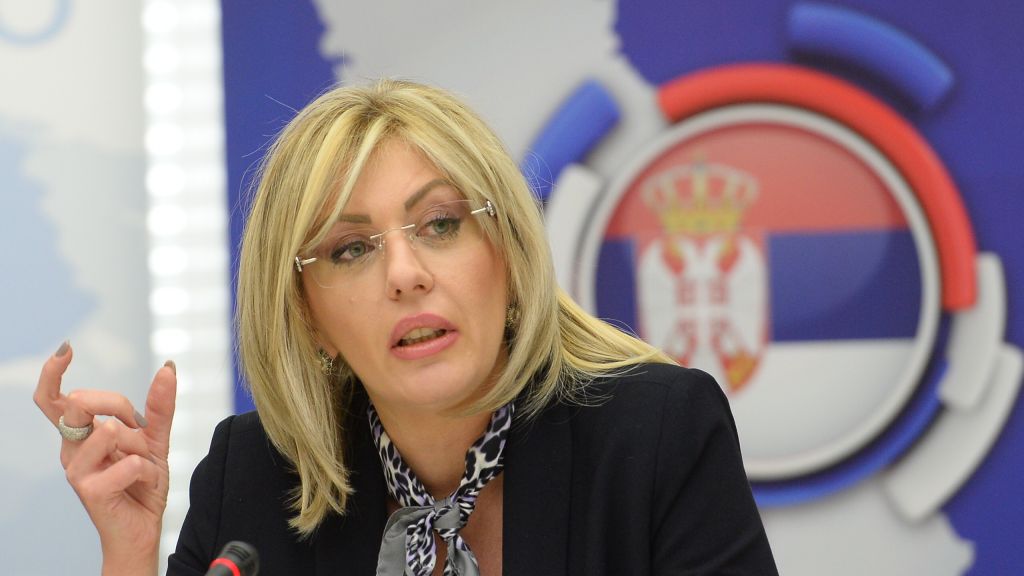 Minister of European Integration Jadranka Joksimović has said today that the processes of Serbia's European integration and the dialogue between Belgrade and Pristina are separate processes, adding that the dialogue is a parallel process that should be stimulating.
"It has not been connected from the beginning, we can politically contemplate whether it is the most important, but if we are to remain on a clear definition, this is a separate process, a parallel one, and it should be stimulating, which is not always the case, and that actually represents a trap and a test that we all must face," Joksimović has stated.
At the panel "Kosovo and Metohija Issue in the Context of the European Integration of Serbia - Chapter 35" organised within the internal dialogue on Kosovo and Metohija, Joksimović added that the Government of the Republic of Serbia and President Aleksandar Vučić had endured the aforementioned tests and trials and that they were now unambiguously oriented towards peace and dialogue.
Stating that it is assumed that both sides in the dialogue should fulfil their obligations, Joksimović has said that she does not understand why "both sides are being called on", and why this is being emphasised, since it is obvious that one side - Pristina, is not able to fulfil the obligations it accepted by signing the Brussels Agreement.
"In that context, I naturally expected the urgent inclusion of Federica Mogherini as the EU High Representative, not as an expression of good will and support, but as an obligation that the EU has, given that former High Representative for Foreign Affairs Catherine Ashton was, inter alia, a signatory of the Brussels Agreement", she has said.
She has added that Belgrade is now very constructive, as it has been so far, but that it is obvious that the other side has a greater capacity for "violence and misunderstanding than for dialogue and understanding."
As she has noted, calling for the conclusion of a future legally binding agreement resulting in a comprehensive normalisation of relations cannot arise before the fulfilment of the previous legally binding agreement that was signed with guarantees from the EU − the Brussels Agreement.
She has pointed out that today's society has misconstrued the narrative that this comprehensive future agreement on the normalisation of relations is something closest to the recognition of an independent Kosovo.
"Things are not over until they are over, because final solutions for states exist when there is no state, and even then, you cannot define the final solution because there is no state, but the solution is defined by others. I especially do not understand this narrative, because the content of a legally binding agreement should arise from the dialogue between Belgrade and Pristina - and what the outcome will be, we will see," she has stated.
She has added that if everything was over and if the countries of the West definitely accepted an independent Kosovo, then the real question would be why the EU does not have a permanent mission in Pristina, why EULEX is still operating, why there is still no liberalisation with Kosovo, why the Brussels dialogue is being held at all.
"I think it is crucial for us, as a responsible European country, which has a heritage of European culture and tradition and which is important in the region, to adhere to international agreements, documents and everything that is a legitimate choice for us and our interests," she has stated.
Joksimović has said that Chapter 35 is not a substitute for the Belgrade-Pristina dialogue, but that it is a quite specific chapter that monitors and measures progress in the dialogue.
"Chapter 35 is not a substitute for the dialogue, and chapter 35 only monitors and measures progress. For the past year and a half there has been no progress in the dialogue between Belgrade and Pristina, because Pristina has not fulfilled a part of its obligations. Is this why we have not opened chapters? It is not possible to impose conditions in the process of European integration through the dialogue, in which two parties have obligations," said Joksimović.
Speaking of the formulation "good neighbourly relations" between Belgrade and Pristina, Joksimović stated that the three conditions were that there was no return to the situation before 1999, no division of territory, and that there would be no annexation to any other country, and that these conditions were not related to an independent Kosovo, but to factual autonomy.
"Discussions have been held on this issue in relation to the factual autonomy of Kosovo and Metohija within Serbia, not within an independent Kosovo. As for good neighbourly relations, the 2010 UN resolution states that the dialogue shall be a factor of peace, security and stability in the region, secondly to serve as a means of promoting cooperation and thirdly as a means of cooperation precisely and exclusively to create progress towards EU membership and improve the living conditions of people. There are no good-neighbourly relations," Joksimović emphasised.
(Source: Tanjug)