J. Joksimović and Vigenin: Bulgaria - an important partner of Serbia in the continuation of European integration process
30. March 2018. | Belgrade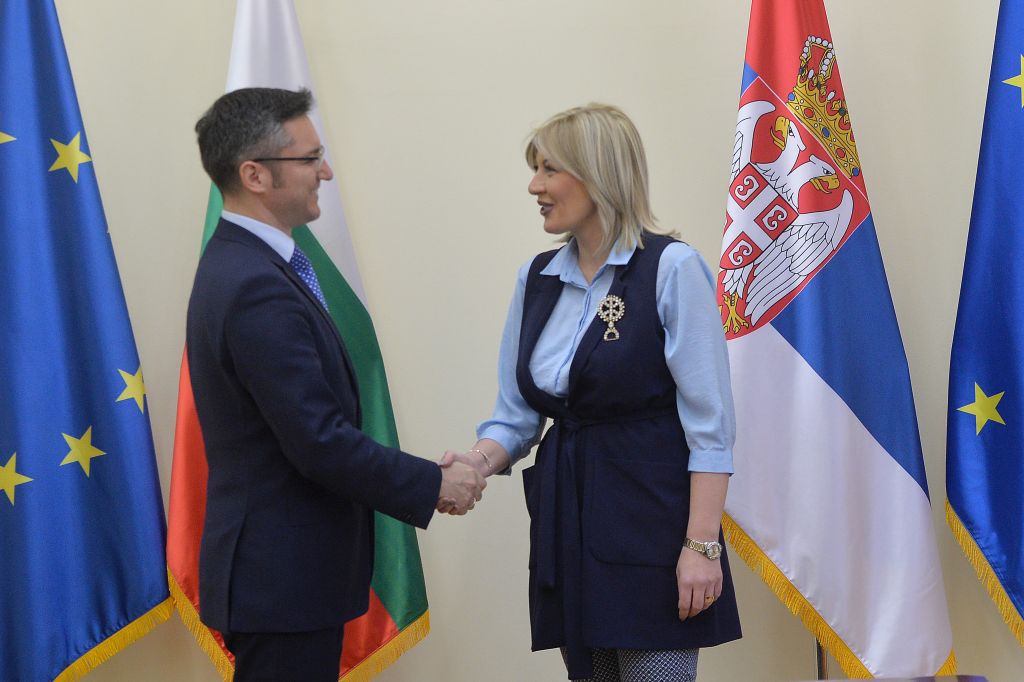 Minister of European Integration Jadranka Joksimović has met with the delegation of the Bulgarian Parliamentary Committee on European Affairs and Oversight of the European Funds. They have talked about Serbia's accession to the European Union and cooperation of the two countries in that process, as well as about the reforms being implemented, bilateral relations and other current topics.
Jadranka Joksimović has expressed her gratitude for the assistance and support that Bulgaria has provided in the EU accession process. According to her, this is particularly important considering the fact that enlargement is one of the priorities Bulgaria has set during its presidency of the EU Council in the first half of this year.
The Minister of European Integration has emphasised that Serbia is completely ready to open five chapters: 33 - Financial and Budgetary Provisions, 9 - Financial Services, 13 - Fisheries, 18 - Statistics and 17 - Economic and Monetary Union. She expects that Serbia will open a significant package of chapters during the Bulgarian presidency of the EU Council.
"The EU Enlargement Strategy is above all a huge encouragement, as well as a strong incentive that confirms that Serbia, as an EU candidate, is seriously counted on," Minister Joksimović has underlined. She has also assessed that the Strategy is a strong political signal and recognition for the country and its citizens due to the results of the reforms that are being implemented.
President of the Bulgarian Parliamentary Committee on European Affairs and Oversight of the European Funds Kristian Vigenin has confirmed that his country will help Serbia's European integration process, primarily through the exchange of experiences and various types of assistance. He has commended the results of the reforms being implemented, convinced that they are proof of Serbia's strong commitment to become a full member of the EU, which it certainly deserves. He has particularly stressed Serbia's role in preserving regional security and stability, as well as previous activities, primarily regarding the migrant crisis, where Serbia confirmed it is a reliable partner to the EU.
The Minister of European Integration has informed Bulgarian members of Parliament on recent events on Kosovo and Metohija. She has underlined that Serbia is committed to peace and dialogue, stressing the importance and need for a more active and responsible engagement of the EU - as a guarantor of the agreements reached in the Brussels Agreement. "We expect the EU to show that is able to see things as they really are and act accordingly", Joksimović has specified, assessing that, through targeted arrest of Marko Đurić, Pristina has shown greater capacity for violence than for dialogue and agreement - basic values on which the EU is founded.
Joksimović and Vigenin have stressed the importance of cross-border cooperation that serves to connect the two countries and especially their citizens living on both sides of the border. They have noted that the quality of bilateral relations is high, but that there is also space for their enhancement.
(source: Tanjug)