J. Joksimović and I. Hlavsová: The Czech Republic remains Serbia's partner in the continuation of European integration
21. March 2018. | Belgrade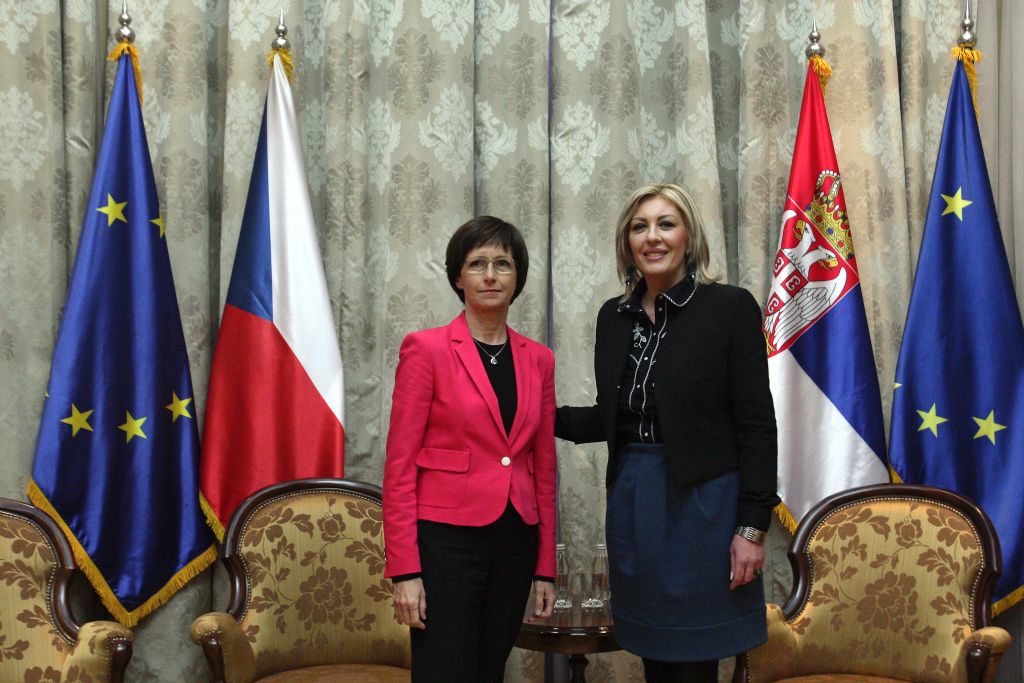 Minister of European Integration Jadranka Joksimović has received in a farewell visit the Ambassador of the Czech Republic to Serbia, H.E. Ivana Hlavsová. They have discussed bilateral relations between the two countries, the process of Serbia's accession to the EU, reforms, the Enlargement Strategy and other current topics.
Jadranka Joksimović has stressed that Serbia considers the Enlargement Strategy to be a concrete political signal, indicating that our country - as a credible candidate for EU membership - is seriously counted on. The Minister has explained that 2025 is not perceived as a defined and designated year of accession, but as an incentive, and, at the same time, an encouraging and framework date.
The Minister of European Integration has pointed out that Serbia has fully prepared its negotiating positions for five chapters: 33 - Financial and budgetary provisions, 9 - Financial services, 13 - Fisheries, 18 - Statistics, and 17 - Economic and monetary policy. "We believe that, after the Progress Report in April this year, the EU Member States will agree to open a more significant package of chapters by the end of the Bulgarian presidency".
Jadranka Joksimović has thanked the Czech Republic its assistance in the European integration process so far. The Czech Republic has provided expert assistance in establishing a system for Serbia's participation in EU civilian missions.
According to Minister Joksimović, Serbia has recognized the states of the Visegrád Group, the Czech Republic included, as a good platform for additional cooperation.
Ambassador Hlavsová has confirmed that Serbia will have the support of the Czech Republic in the continuation of the EU accession process. She has assessed that the results of the reforms implemented during the four years of her mandate are visible, and that this has also been noted in the EU. Serbia's commitment to regional cooperation and stability has also been recognized.
The interlocutors have assessed that the bilateral relations of the two countries are extremely good, but that there is also room for their further intensification.
Jadranka Joksimović has wished success to Ivana Hlavsová in her future work, and has thanked her for cooperation achieved during her service in Belgrade.
(Source: Tanjug)