J. Joksimović and G. Wolf: Strong support of Germany for reforms and Serbia's path to the EU
15. March 2018. | Belgrade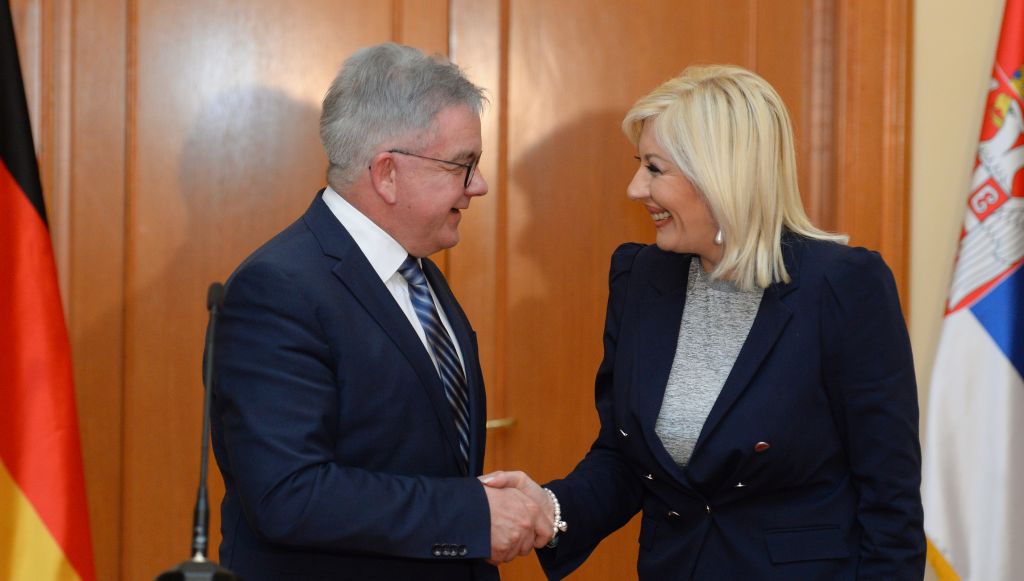 Minister of European Integration Jadranka Joksimović has stated today after the meeting with German Minister of Justice and European Affairs of the Federal State of Baden-Württemberg, Guido Wolf, that Germany is not only the most significant political and economic partner on Serbia's path towards Europe, but also the largest single donor.

As she has said, in the past 15 years, Germany has made available EUR 1.6 billion in grants to Serbia for various reforms. On the other hand, many German companies are operating in Serbia and there is great potential for increasing economic cooperation.

She has stated that Baden-Württemberg is one of the most important and most developed states in Germany and that Minister Wolf's visit is an indicator of good relations and friendship that has been intensively developing over the past five or six years.

"I spoke with the Minister about the reforms we are implementing in the field of economy, judiciary, fight against corruption, as well as minority rights. We have been particularly commended for our legislative framework regarding minority rights, as such framework is not common even among the EU member states," Joksimović has said.
She added that Serbia had five prepared chapters, and expressed her expectations that a more significant package of chapters would be opened in June.

Joksimović has stated that the state of Baden-Württemberg, as well as Serbia, Belgrade and Novi Sad, belonged to the Danube Region, and that a large fund is available for the realisation of goals set in the Danube Strategy, which will represent a basis of concrete cooperation.

The Minister expressed her gratitude to the German Minister for his constructive and friendly messages and told the press that she had accepted the invitation of the Mayor of Ulm, who was a member of the delegation, to visit the Danube Festival organised in that city. "In this manner, we are getting better acquainted and are maintaining the trend of the positive image that Germany has gained in Serbia in the recent years. I also believe that Serbia and its citizens have a better image in Germany now, which contributes to Germany's support for our path to the EU".

Minister Wolf has said that the representatives of Germany came to Serbia as friends, not as mentors, and that they do not wish to impose any advice, but rather to share the experiences that will assist Serbia on its road to the EU. "I am in charge of European affairs and judiciary and this combination of duties is not accidental because the rule of law is the foundation of Europe, and, in our opinion, Europe can only have a future if that foundation is preserved," Mr. Wolf has highlighted.

He has added that he got a "great insight" into the state of judicial reforms implementation during his discussions with Minister of European Integration Jadranka Joksimović, Prime Minister Ana Brnabić and Minister of Justice Nela Kuburović.
"We strongly support these reforms because an independent judiciary is a key foundation for the rule of law," stated Wolf.

He added that Serbia and the state he represented had traditionally good economic cooperation that should be nurtured, but that it was necessary for Serbia to strengthen the functioning of the rule of law to that end.

Wolf has told the press that, together with Minister Joksimović, he would visit the Danube Fest in Ulm in order to continue nurturing personal contacts and meetings, because "good friendship is not driven by the mind - but by the heart".
(Source: Tanjug)