J. Joksimović - Matthijs van der Plas: The Netherlands is for strict, but fair approach in the process of European integration
March 13 2018 | Belgrade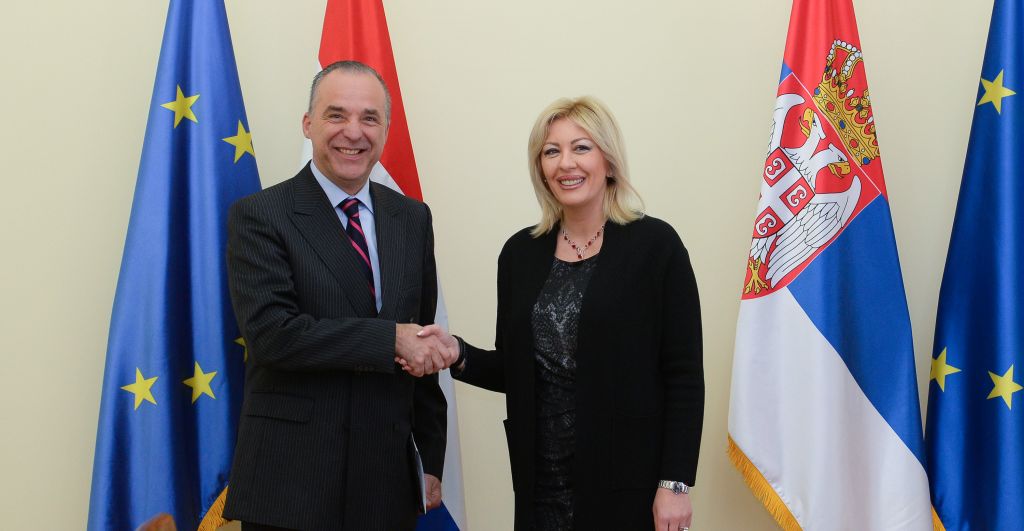 Minister of European Integration Jadranka Joksimović has met with the Director General for European Cooperation of the Dutch Ministry of Foreign Affairs Matthijs van der Plas. They have talked about Serbia's activities in the process of EU accession, the Enlargement Strategy, the situation in the region and other important issues.
Jadranka Joksimović has stressed that Serbia is clearly committed to continuing the process of European integration which should result in EU membership - which indeed represents a strategic interest of the state. She has pointed out that the accession process is the best mechanism for the reform of the state.
The Minister of European Integration has assessed that the Enlargement Strategy represents an important political encouragement and recognition for Serbia - primarily in the context of the results of the reforms. At the same time, it is in the best possible way a confirmation that the EU seriously counts on the capacities and potentials of our country, as a candidate for the admission to that organisation. The Government of Serbia, as a responsible executive, will not miss this opportunity, Minister Joksimović specifies, adding that the year 2025 was not set as the year of admission, but that it should rather be perceived as a framework and incentive date.
The Minister expects that, during the Bulgarian presidency of the Council of the EU, Serbia will open the chapters that it is prepared for, and that the trend of opening of chapters will continue during the Austrian and Romanian presidencies that will follow.
Matthijs van der Plas has stressed that the Netherlands supports the opening of chapters based on the fulfilment of criteria, since that is the best way to assure the public of the member states that the EU enlargement is a credible policy. He has stated that intensive reforms in the field of the rule of law should continue, as well as that the initial results of the reforms implemented by Serbia are noticeable, as is the European orientation expressed throughout the accession process.
The Director General for European Cooperation of the Dutch Ministry of Foreign Affairs has commended the efforts Serbia invests into the stability of the region, which is extremely important for the EU and the member states. He has pointed out that in this way, but also by earlier engagement during the migration crisis, our country confirms that it is a reliable partner that the EU can rely on.
The interlocutors, who have expressed their satisfaction with the level of bilateral relations, expressed belief that there is room for their overall intensification.
(Source: Tanjug)