J. Joksimović and McEntee: Ireland supports Serbia's European integration
31. January 2018. | Belgrade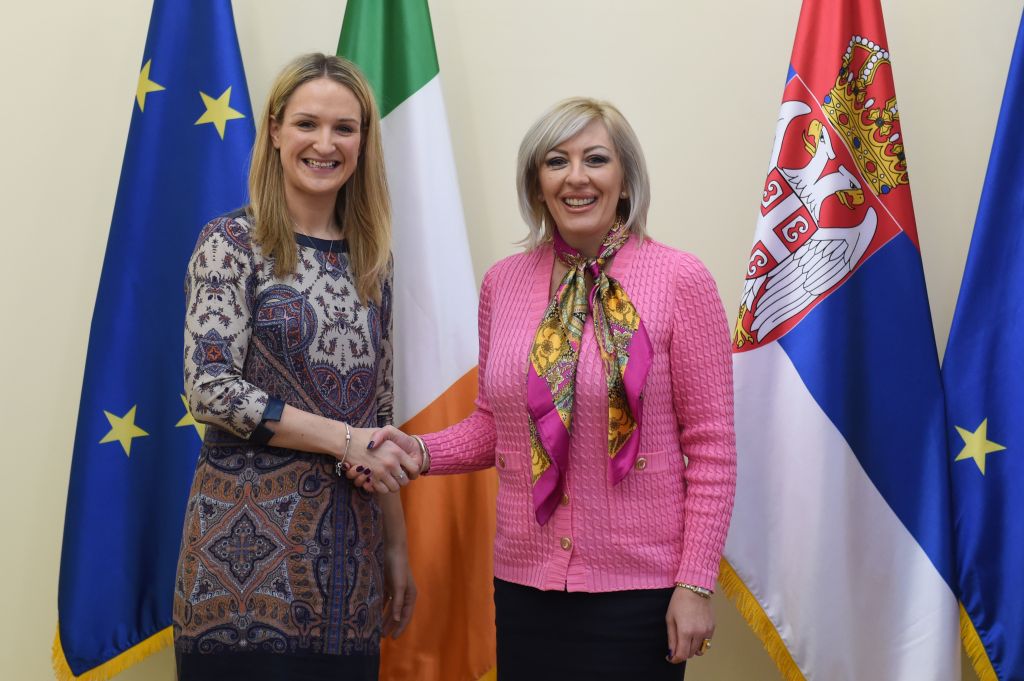 Minister of European Integration Jadranka Joksimović has talked today with the Minister of State for European Affairs of the Republic of Ireland, Helen McEntee. At the meeting, they discussed the continuation of cooperation between the two countries, especially in the field of European integration of Serbia, the reforms that are being implemented on the path to the EU, the situation in the region, as well as the current issues regarding Brexit.
Minister Joksimović stressed the importance of Ireland's contribution to the EU Enlargement Policy and thanked, in particular, for the support they have provided to Serbia on its road to EU accession. She emphasized that the membership in the European Union represents the foreign policy priority of our country, and that European integration is the best mechanism for internal development and reforms.
Minister Joksimović also stated that Serbia expects that, during the Bulgarian EU presidency in the first half of the year, all the chapters for which we are ready will be opened. She stressed that, in this way, the results achieved in the accession process will be validated and properly evaluated.
Minister Joksimović introduced Helen McEntee with the latest results of the recent public opinion poll conducted by the Ministry of European Integration, which shows a growing trend of support to European integration - 52% of citizens support the European path of Serbia, while 65% support the reforms, regardless of the process of European integration.
Minister Joksimović expects that the EU Enlargement Strategy, announced for 6 February, will confirm that the region's progress in the EU accession process depends primarily on individual results in meeting the EU criteria. The Minister expects that Serbia and Montenegro, following on from Juncker's message, will be recognized as frontrunners in the European integration process. Serbia is ready to share its experiences with others, and provide help on the path of European integration.
With the assessment that the reforms being implemented in Serbia within the accession process have a positive outcome, and with a recommendation that their implementation should continue, Helen McEntee confirmed that Ireland supports the European future of Serbia, as well as Ireland's willingness to help Serbia by providing expert assistance - primarily in the fields of information technology, agriculture and tourism. In addition, speaking from Ireland's perspective as an EU Member State that has proven to be one of the best in attracting investments, she praised Serbia's enviable progress in this regard, as well as in creating a good business environment.
The interlocutors stressed the importance of such bilateral visits that contribute to intensifying cooperation and relations between the two countries, and expressed the expectation that similar visits, both by the representatives of EU Member States and EU officials, will take place in the coming period.
Source: Tanjug