J. Joksimović and Crnadak: Cooperation is not only an EU integration commitment, it is our substantial interest
25. January 2018. | Belgrade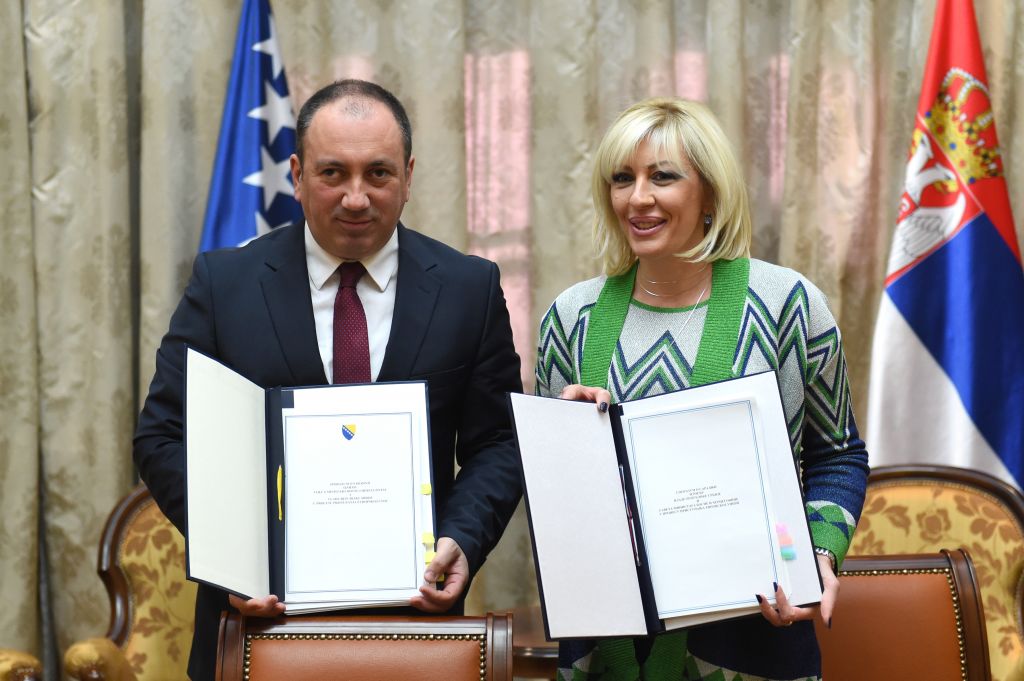 Minister of European Integration Jadranka Joksimović and Minister of Foreign Affairs of BiH Igor Crnadak signed today a Cooperation Agreement between Serbia and BiH in the area of European integration and the ministers agreed that the conclusion of this agreement leads to the stabilisation of relations in the region.

Joksimović said that Serbia is perceived as a regional leader in the field of European integration and that it is Serbia's obligation and responsibility to use its experience, knowledge and support to help the others which are not thus advanced on the European path. "It is important not to create a fake negative competition among all of us in the region. If we are perceived as a region, let's do whatever we can to draw the most benefit for our countries from the European integration process", Joksimović said after the signing of the agreement.

She added that Serbia deems that BiH, despite all of the existing issues, should have support on its European path, and that this kind of support is a good signal for additional stabilisation of relations between the two countries and the entire region. "This cooperation agreement is not to be only technically perceived as pertaining to European integration. It also implies intensified coordination and cooperation in the field of movement of persons, goods and capital. We do have significant foreign exchange, which is somewhat enhanced by this agreement", Joksimović said.

She underlined the importance of cross-border cooperation between Serbia and BiH, where border municipalities - Zlatibor, Kolubara, Srem and Mačva districts from Serbia and north-east BiH - prepare joint projects. For the period from 2014 to 2020, EUR 14 million in grants has been received, which contributed to better life of citizens in local communities.

"The projects concern sustainable development, biodiversity, environmental protection, cultural heritage management... This is what our citizens in local communities see and thereby they note concrete integration results", Joksimović said. These are the topics of interest for the citizens, the Minister said, since the states will strive to reach agreement on bilateral level regarding the high political issues, and at the regional level we will help BiH in the European integration process.

Joksimović noted that all agreements and regional cooperation frameworks, as commitments arising from the European integration process, will fail if there is no substantial political will. According to her, it is not the EU that ought to make us cooperate - we have to do it for ourselves, for the dialogue and for development. It is high time we showed that the region was not only a source of instability, as some in the EU deem. The region has important resources which can contribute both to the EU and to our citizens, the Minister said.

She said that Serbia signed similar agreements with Macedonia and with Montenegro and that the initiative for signing has also been extended to Albania, but that there has been no response.

Minister of Foreign Affairs of BiH Igor Crnadak said that the agreement is the peak of cooperation between Serbia and BiH with regard to major joint foreign policy interest - the EU membership.

"This is also a peak of unselfish support that we have been receiving from Serbia lately with regard to European integration. Eight years ago, BiH was a leader, then there was a standstill in 2014 when the situation changed. Today, everyone is aware that Serbia is the leader in the region and therefore this support is rather significant to us", Crnadak said.

He underlined that cooperation is not only an obligation, but something which is beneficial for both states. "I expect this agreement to be in effect as soon as possible, and with this support from Serbia, we expect to achieve the candidate status, to be designated the date for the outset of negotiations. The door is open, but we are aware that the largest workload is on us and on our institutions", Crnadak said.

He added that such agreements create a perception that the region is increasingly becoming a region of cooperation and healthy rivalry, instead of conflicts. "I believe that it is primarily important that all of our endeavours are directed to ordinary people. All high political issues are irrelevant if we fail to transfer their effects on the welfare of everyday people and I believe that we share this attitude with Serbia", Crnadak said.
Source: Tanjug