Bulgaria donated four million dinars to Serbia
22. January 2018. | Belgrade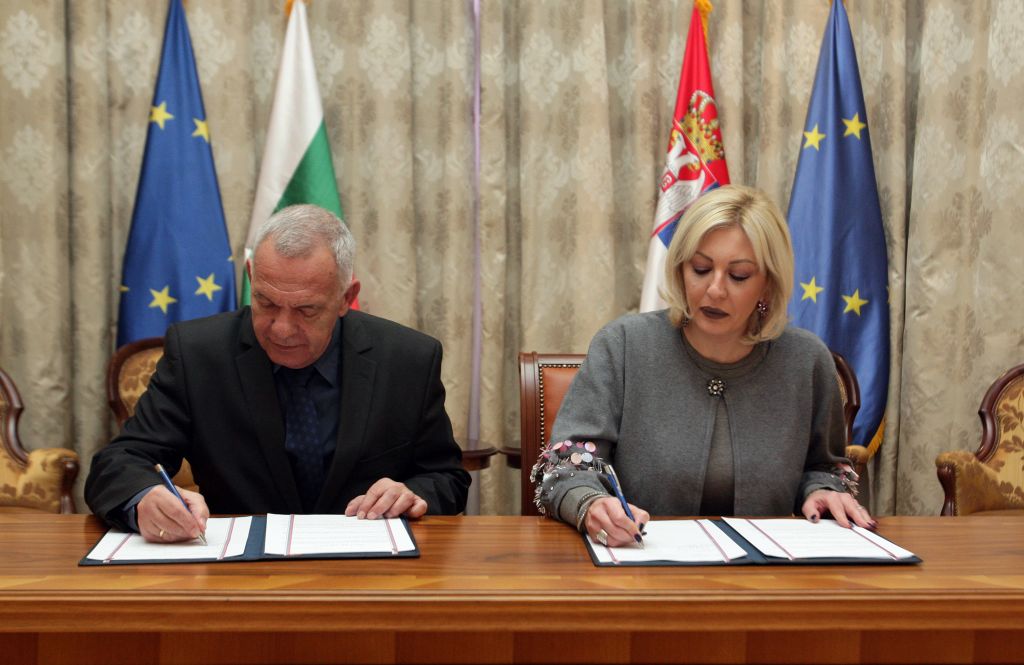 Minister of European Integration Jadranka Joksimović and Bulgarian Ambassador to Serbia, Radko Vlaykov signed today an agreement whereby Serbia is granted four million dinars intended for education of local self-governments on better use of European funds.

"Today's agreement demonstrates Bulgaria's desire to support our European path; we have signed somewhat more than four million dinars in grants as part of development cooperation. We shall strive, through promotion and trainings related to Chapter 22 on regional policy and coordination of structural funds, to bring closer the needs of local self-governments for better use of European funds", Joksimović said.

She stated that the ministry she heads shall work intensively on Serbia's preparation to be ready at all levels, including national, sub-national, regional and local, to make greater use of EU pre-accession funds, which are now at the level of EUR 200 million in grants annually.

"These are important projects because they are visible to people at the local level. The money in question can be used for local infrastructure, start-up companies, small and medium-sized enterprises, utility infrastructure, environmental protection... This is what citizens really see and feel as an opportunity to develop their community and what, of course, ultimately contributes to the development of the entire Serbia," Joksimović said.

The funds granted to Serbia today, the minister explained, shall be used in cooperation with regional development agencies to identify the needs for strengthening the capacities of local self-governments and to accordingly define medium and long-term strategic goals.

"When a country becomes a member of the EU, it has many cohesion and structural funds at its disposal. From 2014 to 2020, as an EU member, Bulgaria has had at its disposal EUR 7.6 billion in grants. In order to be prepared for the moment of membership and for withdrawing assets from the funds, we have to start this activity now," Joksimović stated.

She stressed that it is important that the agreement is signed now, when Bulgaria has the EU presidency, because the emphasis shall thus be put on the EU enlargement policy, as well as on the Western Balkans. "We expect a number of important steps on Serbia's path in the accession process during the Bulgarian presidency, because Bulgaria is an important neighbour, a bilateral partner and a country that supports the enlargement policy," said Joksimović.

She added that the presentation of the European Commission's Enlargement Strategy was announced for February and said that she expected for Serbia and Montenegro to continue being recognised as leaders of the EU integration process. "We expect that the year 2025 will remain in the strategy as the date and a clearer timeframe for membership, because that means a lot. We were promised a lot of dates that were long overdue, so people are a little tired and Eurosceptical, which is why it is very important to stick to one date and one framework year - 2025, as the year when we can really become a member," stressed Joksimović.

Bulgarian Ambassador to Serbia, Radko Vlaykov said that Bulgaria has been supporting Serbia for several years through development programmes and that EUR 600,000 was allocated for this purpose in 2017. "It's more than half of the money Bulgaria invests in projects worldwide. For 2018, EUR 720,000 shall be allocated, including this project, and this grant is a new step in Bulgaria's support to Serbia's European path, it is an expression of confidence and solidarity," stated Vlaykov.

He expressed his belief that this project shall contribute to increasing administrative capacities in order for Serbia to obtain the funds that shall bring a better life to its citizens. "As a neighbouring country that passed the road that you are passing, we understand very well what you are facing. Thanks to the resources from the funds Bulgaria received before and after the EU accession, it has been modernising and it has to the greatest extent reduced the difference in living standards compared to other EU members," said Vlaykov.

He pointed out that Serbia has shown commitment to the European path and that the assistance that Bulgaria has been providing was therefore given from the heart and with high confidence. "This is not a lot of money, however, this step is of great importance because we grant from the heart and we are showing our support to your country on the path of negotiations," stated Vlaykov.
(Source: Tanjug)