J. Joksimović – Crețu: Regional and cohesion policy for sustainable development of regions in Serbia
19. January 2018. | Belgrade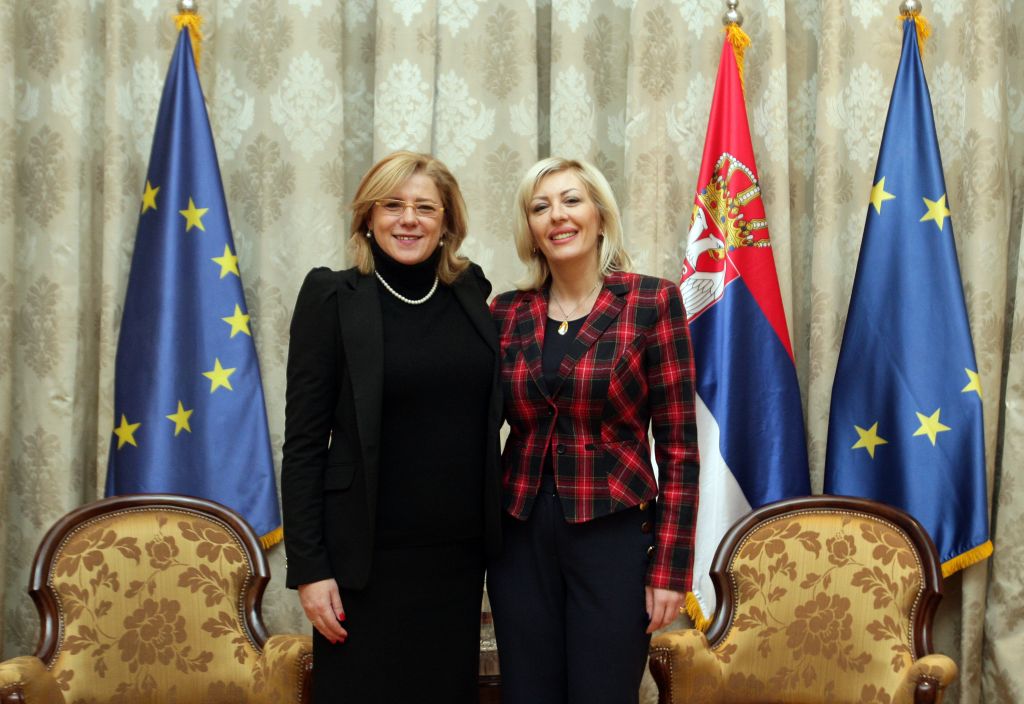 Minister of European Integration Jadranka Joksimović has met with European Commissioner for Regional Policy Corina Crețu. They talked about the relations between Serbia and the European Union, the accession process, the situation in the region and other important topics.
Jadranka Joksimović thanked Corina Crețu for her readiness to help Serbia in the process of establishing a system for the use of EU development funds. In that sense, the importance of cooperation was emphasised with regard to cross-border cooperation and macro-regional strategies - the Danube Strategy and the Adriatic-Ionian Strategy, as well as Chapter 22 - Regional policy and coordination of structural instruments. Although this chapter is not yet on the opening agenda, the Ministry, as the leading institution in negotiations on this chapter, is intensely working on its preparation.
The Minister of European Integration underlined the importance of EU financial support - in the 2014-2020 financial perspective, it amounts to cca EUR 1.5 billion in grants. In this regard, the importance of cross-border cooperation with Bosnia and Herzegovina, Montenegro, Croatia, Romania and Bulgaria was particularly emphasised. Joksimović further stressed the significance of the fact that this year marks the beginning of the cross-border cooperation programme with Macedonia. Joksimović and Crețu agreed that cross-border cooperation contributes to exceptional visibility of EU development assistance whose projects are most recognisable at the local level.
Crețu believes that Serbia is an EU candidate country that most successfully uses pre-accession funds, which strengthens the capacity for future cohesion policy and significantly larger funds to be available to Serbia upon accession to the EU.
European Commissioner for Regional Policy Corina Crețu congratulated the Republic of Serbia for its highly active approach regarding the Danube and the Adriatic-Ionian macro-regional strategies, commending the quality of cross-border cooperation with all neighbouring countries.
Crețu informed Minister Jadranka Joksimović about the activities undertaken in terms of preparing a new EU financial framework for the period after 2020, stressing the importance of the EU Regional Policy and its impact on regional and local development.
Joksimović and Crețu agree on the importance of enhancing this cooperation, and, in this context, they discussed the possibility to also hold a conference on the Danube Strategy in the second half of the year, where representatives of the Danube region countries would participate, so as to fully use the development potential of the region through implementing projects important for this part of Europe.
(Source: Tanjug)