J. Joksimović and Maruyama: Japan is an important development partner of Serbia
12. January 2018. | Belgrade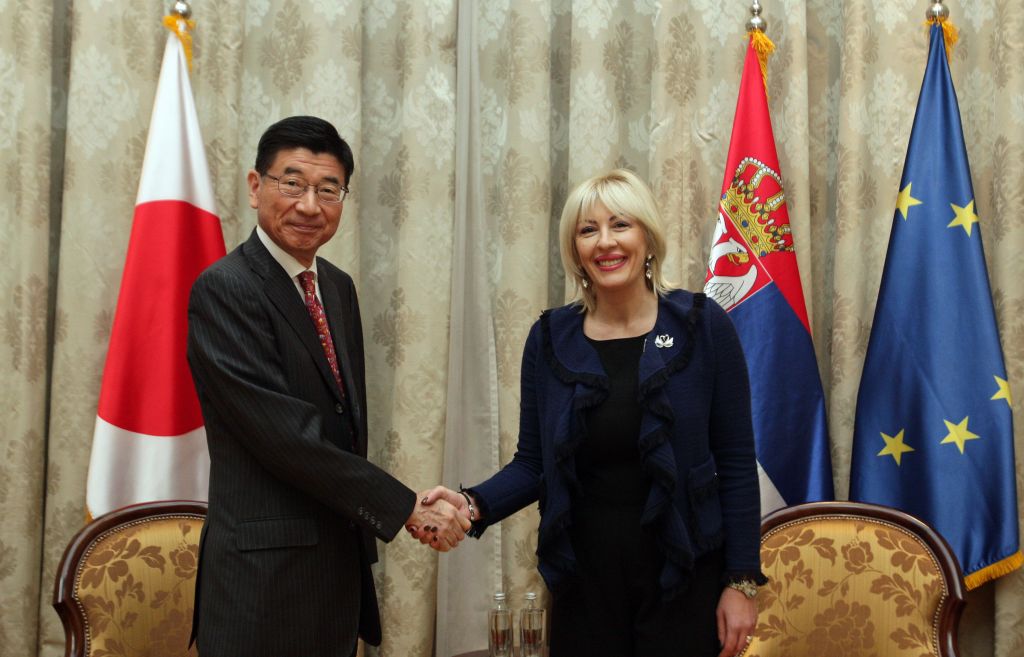 Minister of European Integration Jadranka Joksimović held a meeting with Ambassador of Japan Junichi Maruyama. They discussed the continuation of cooperation and bilateral relations between the two states − with an emphasis on Japan's development and donor assistance, Serbia's process of European integration and other current issues.
Jadranka Joksimović expressed her gratitude for the continuous donor assistance provided by Japan to Serbia, particularly important during the period of flooding and migrant crisis. Furthermore, since 2001, Japan has provided more than EUR 500 million through development assistance, entailing grants in the form of consulting services, delivery of medical and other equipment, vehicles, construction and reconstruction of facilities and favourable loans. "The aforementioned confirms that Japan is one of our country's most significant and most visible partners", stressed the Minister of European Integration.
"Japan supports the European path of Serbia", said Junichi Maruyama. He highlighted that Serbia was − according to its position, human, economic and natural potentials − a key state in South East Europe. He pointed to Japan's willingness to support reforms in areas of special importance for the development of Serbia, including environment and entrepreneurship.
Jadranka Joksimović and Junichi Maruyama agreed on the need to assure support in the fields relevant to regional and local development and expressed their belief that this would be a paramount contribution to the overall development of Serbia.
In this regard, they particularly underlined the importance of the Agreement on the Establishment of the Japan Overseas Cooperation Volunteers Programme. In this way, experts from Japan will provide assistance in the development of local self-governments in Serbia in the areas of education, culture, environmental protection, health, sports etc. Minister Joksimović and the Ambassador of Japan will sign this document on Monday, during the visit of Japanese Prime Minister Shinzō Abe to Serbia.
Source: Tanjug