Joksimović and Fabrizi about the plans for Serbia's accession process in 2018
22. December 2017. | Bwlgrade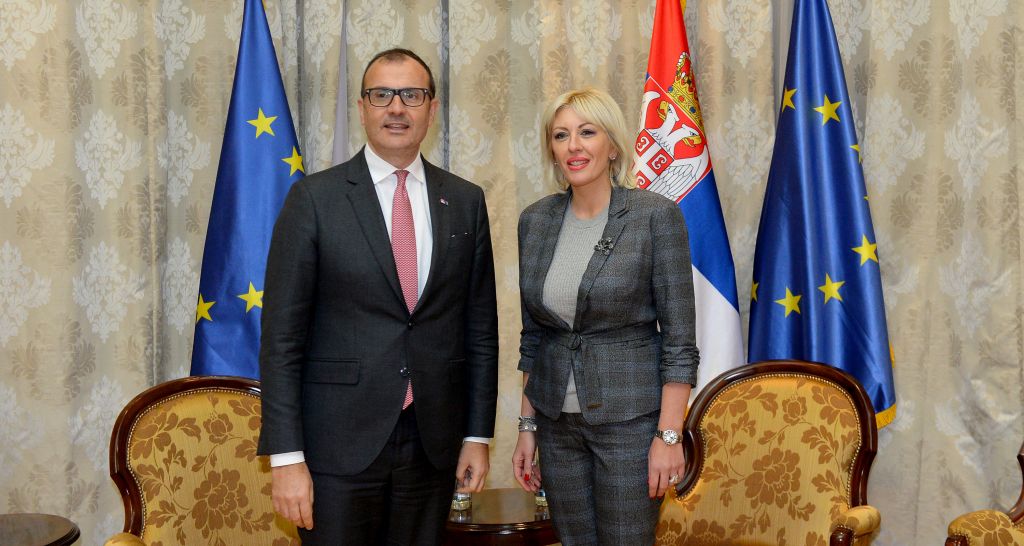 Minister of European Integration Jadranka Joksimović and Head of EU Delegation to Serbia, Аmbassador Sem Fabrizi, discussed the results achieved in 2017 in Serbian European integration, as well as Serbia's accession process priorities and plans in upcoming 2018, with particular focus on the fact that the presidency of Bulgaria and subsequently Austria, who had put the enlargement topic on their agenda, would be an opportunity for impetus and acceleration of Serbia's accession process.
Minister Joksimović underlined that Serbia can be relatively satisfied with the dynamics in 2017, the year where we opened 6 chapters, though we believe that we could have opened more. Also, she stressed that Serbia recognised the importance of the upcoming year for the dynamics of the process and that we would strive to accelerate the reforms in numerous areas, which would result in a positive progress report due in April next year. The Minister anticipated that the upcoming so-called February Enlargement Strategy, announced by EC President Jean-Claude Juncker, would bring a clearer perspective and timelines for membership and that it would recognise Serbia as a candidate country that had exceptionally progressed in the accession process. In this way, Joksimović said, credibility of the European integration and accession processes would be preserved.
Ambassador Fabrizi stated that the upcoming year was indeed important for Serbia and the region, in the sense of further progress in European integration and directing the focus and attention of the EU and the member states towards the region and enlargement topic. He expressed wishes that the dynamics of Serbia's reform process would additionally accelerate, which would contribute to acceleration of accession negotiations and opening of new chapters.
Joksimović and Fabrizi also discussed the continued use and sound planning of IPA funds, as well as the increased activity of the Ministry in terms of capacity building for absorption. Minister Joksimović underlined that the importance of regional development policy of the Ministry was particularly emphasised through the work of two separate departments of the Ministry which intensively coordinate the programming of IPA funds, cross-border cooperation, intensifying the cooperation and coordination with the institutions and organisations at the local and regional level.
Ambassador Fabrizi stated that the EU recognised the work and progress achieved with regard to good programming and use of IPA funds, as well as in improving the visibility of the fact that the EU is the largest donor in Serbia, hoping that the visibility would increase even more in the future.
Source: Tanjug