J. Joksimović: Opening of chapters – a message that Serbia is stable
11. December 2017. | Brussels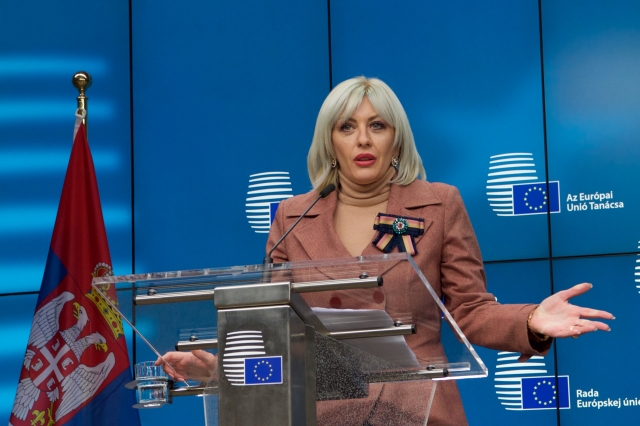 Minister of European Integration Jadranka Joksimović stated this evening in Brussels that the opening of two new chapters is a positive news, although we are not entirely satisfied because we were ready for minimum three chapters to be opened.

Joksimović said that the opening of chapters sent a message that the EU doors were open for Serbia, with a hope that the country must and can make quicker progress on its European integration path.

After the Intergovernmental conference, at the joint press conference with Estonian Minister Sven Mikser and EU Commissioner for European Neighbourhood Policy and Enlargement Negotiations Johannes Hahn, the Minister pointed out that out of five prepared chapters Serbia has opened two relating to company law (chapter 6) and external relations (chapter 30).

"I believe that it is very important that we have opened the two chapters that send a very tangible message to all potential investors that Serbia is a stable country which opens chapters at a satisfactory pace and which demonstrates, by the opening of chapters, that there is a sound mechanism of protection for all those wishing to invest in Serbia", said the Minister.

According to Joksimović, as regards chapter 30 and external relations, this chapter will imply numerous commitments all the way until the moment of accession, including Serbia's membership in the World Trade Organisation at certain moment. "When we become an EU member state, in relation to the commitments within this chapter, we shall also have access to new trade arrangements of the EU. A several-years' alignment process is ahead of us", said Joksimović.

After the Intergovernmental conference where two new chapters were opened in Serbia's accession negotiations, she said that the dynamics of Serbia's accession process has been maintained." This is indicated by a stable reform process in Serbia, which ought to be accelerated. It should particularly be accelerated for the promise that we gave to our citizens. At the same time, with all positive messages received both from President Juncker, Mrs Mogherini and Commissioner Hahn, the credibility should also be maintained by accelerating the process which would be accompanied by faster reforms in our country", said the Minister.

Joksimović announced the revision of Action plans and the definition of more realistic deadlines in order to optimise the harmonisation of internal reforms and the dynamics of opening of chapters in the accession process. "Serbia needs to be trusted, our European path and our European orientation should not be doubted. The European path has its ups and downs, but I believe that only with commitment of both the EU and of our side, Serbia will have a European perspective and European future", concluded Joksimović.

She also mentioned regional cooperation as an important national interest for Serbia, which ought to create a stable environment for better economy, communication and connection in the region. "As a candidate country, Serbia has more commitments, which does not grant amnesty to others in the region with regard to regional cooperation that must not be a replacement for the full-fledged European integration process", Minister Joksimovć emphasised.

When asked about Serbia's alignment with the EU's sanctions to Russia, she said that the question was not to be raised through negotiation in chapter 30, but that it related to alignment in the field of common foreign and security policy with the EU. The Minister of European Integration underlined that Serbia was aware that, until the end of negotiations, it had to fully align its policy with that of the EU, and added that, already in this stage of accession negotiations, Serbia was active in many fields of foreign and security policy as a partner of the EU.
Source: Tanjug